The other day Todd told me that his company created a Chris Rubino Memorial Award, in honor of the spirit of Chris, Todd's work friend who
died in a car crash
earlier this year. The spirit of the award is that Chris always liked to try new things, so the award would go to someone who tries new things at work, even if they don't work out. The story they told as an example is that Chris and Kim always traveled with a portable picnic table in their car. When they drove around the city and discovered a neat place, they would go get some food and then have a spontaneous picnic there. I liked the story and I'm now dubbing it "The Picnic Table Philosophy". It's different than trying new things. To me, it's more like they had the spirit of spontaneity, and enjoyed life's every moment. Couldn't we all be a little more that? Today Todd and I didn't have any plans, so we went to
Burger Lounge
in La Jolla for lunch. After all, we haven't been in a few weeks, it was time!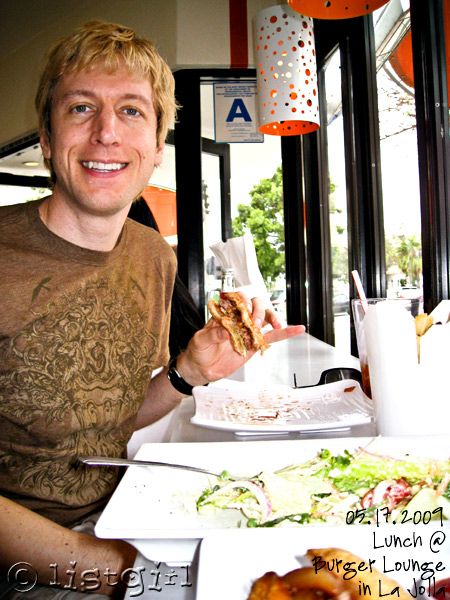 We shared a hamburger, french fries, and a salad. It was incredibly yummy and quite a treat. I can finally show you my page about my mom that I did last week on Mother's Day. It is for the current
Digi Dare #133
. I really loved this dare. It is to finish the sentence "All I really need to know I learned..." Come scrap with us and link us up to your page in the comments at the Dare site, and you will get a 25% off coupon for
Designs by Lili
, plus a chance to win $40 in GC from our four sponsors this month! My page for the Dare (credits
here
).