Our alarm went off at 5:50am today. It seemed easier than the last time we had to get up this early for a long run with West Coast Road Runners. We ate some breakfast, got our gear together, and drove down to Mission Bay High School for the start of our run today. The route was supposed to be a 10 mile loop around Mission Bay, give or take some switchbacks. I was nervous about running 10 miles, because it's been a while since I've run that long. I think ever since the remodeling started, I've only run one long run with WCRR. I had thought maybe I would just run eight miles, but the route was not an out and back route, more like a loop route, so there wasn't a good opportunity to turn around for an eight mile run. So I was nervous, but decided that I should probably run the 10 miles with the group so that I didn't get lost. I saw Cathy and ran with her for a little while. She asked me how remodeling was going. She said she wondered if I would be back for the shorter distance runs, LOL. I didn't feel great in the first mile. I don't know if this is normal or not, but I don't really get into a good rhythm until after a couple of miles. I was in the middle of the Catalina pack. This is going towards Crown Point.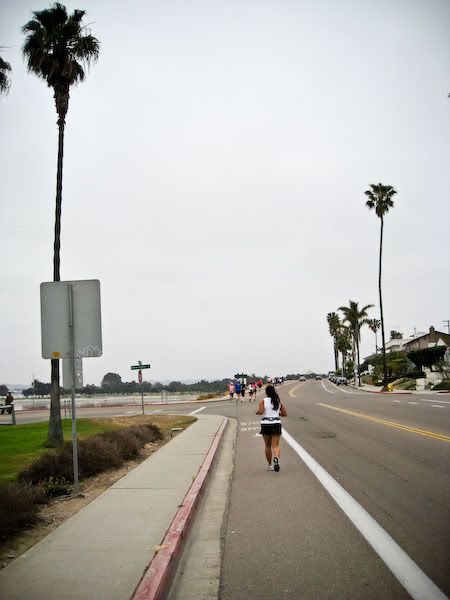 A view of Sea World, with crew rowers in the foreground.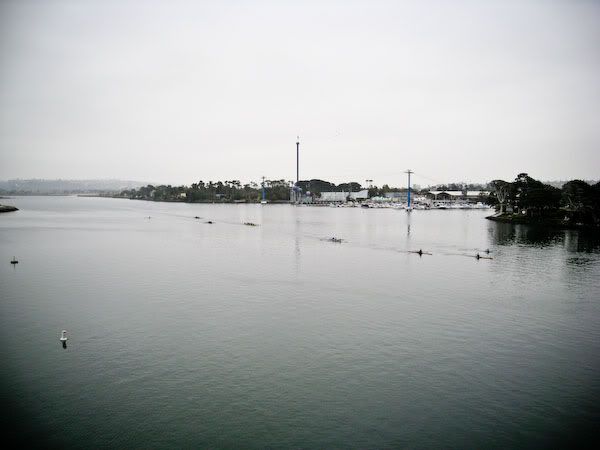 I started 20 minutes before Todd. He was going to try to run five miles today. Due to his injuries, he didn't really want to push himself. This is Todd's group, Marine, getting ready to start their run.
I felt very good until about seven miles, when the bottom of my feet started to rub against my shoes wrong. It felt like there was too much rubbing. I don't know if my socks got too thin or what. But I kept pushing and ran a steady pace. At some point, I missed a turnaround because there were no coaches telling us where the turn was, so a bunch of us ran longer than necessary. I wasn't sure how much longer than 10 miles I would end up running, so I decided to get to 10 miles and just walk the rest of the way. So at 10 miles, I stopped my Garmin watch and walked. And walked. And walked. Then I ran the rest of the way back to Mission Bay HS. It turns out it was an extra 1.25 miles. So I ended up going a total of 11.25 miles!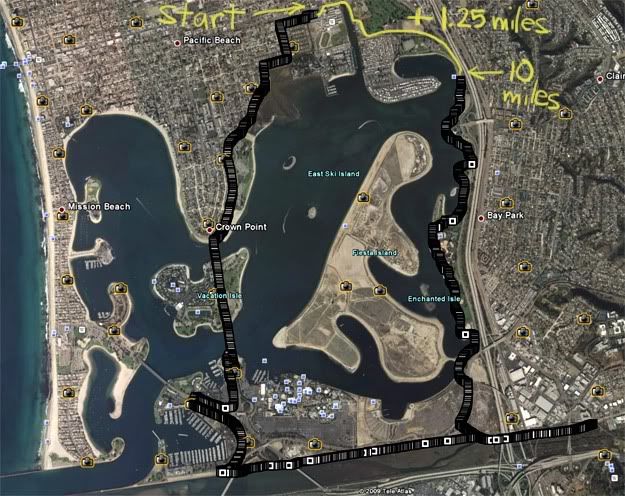 I am really happy with the fact that not only was I able to run 10+ miles today, but I kept a very steady pace and a good pace for me at that.
When I got back to Mission Bay HS, I was expecting Todd there waiting for me, because I ran an extra 3.5 miles than the eight miles that I had planned to run. Plus Todd was only supposed to run five miles today. No sign of Todd anywhere. I was just starting to worry, when I saw him and Yaiza approaching from the opposite direction. When I saw them they were walking, so I told them to pretend to run for the camera. :p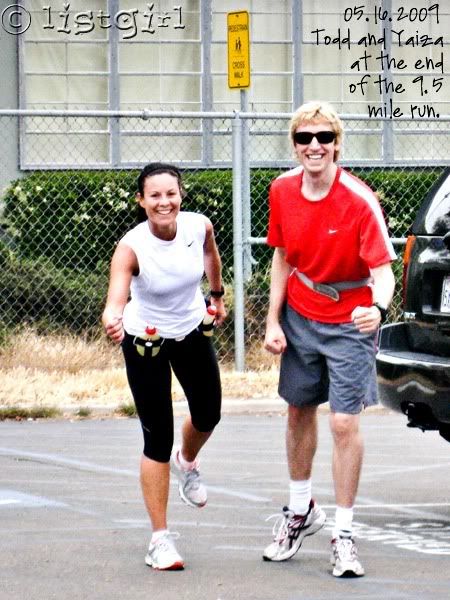 Turned out they ran the opposite direction from everyone else and ran their own route. AND... they ran 9.5 miles! I couldn't believe that Todd could run so long today! And me too! I guess we CAN, after all. I am pretty amazed that our bodies still could run that long after a few weeks of not running the long distances. My legs are a little bit sore, but nothing extraordinary. After we got back home, we cleaned ourselves up and went to Souplantation for lunch. The salad and soup really hit the spot! Then we took naps in the afternoon, and relaxed. Tonight, we went to my work friend Daryl's house for his housewarming party. We gave him and Julie a new BBQ, but this is actually his old one, since the new one was still in the box and not assembled yet.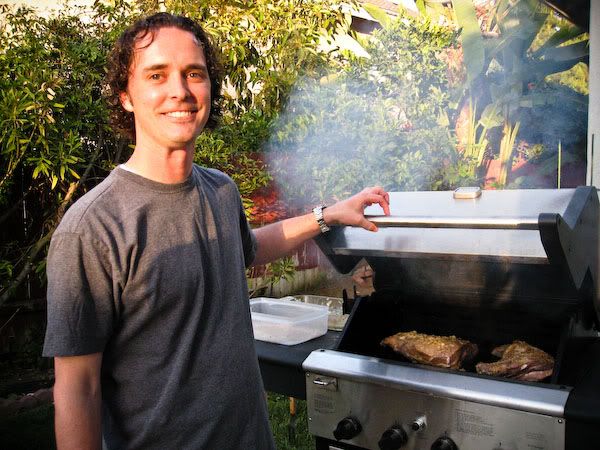 Their dogs took an interest in me, because I had food on the table. :)