I took the day off from work today so that I can stay home to consult on the kitchen backsplash. Mike, Gino, and Salvador came around 8:30am this morning to "float" the shower (basically put a big layer of concrete in) and put the kitchen and bathroom backsplash in. They brought all the tiles with them, and a ton of equipment! The work was loud and there was a lot of banging and dropping of things. I'm not sure what that was all about, but I tried not to panic. The reason I had to stay home was because I had to decide where the bigger beige square tiles go. The look we were going for was "random".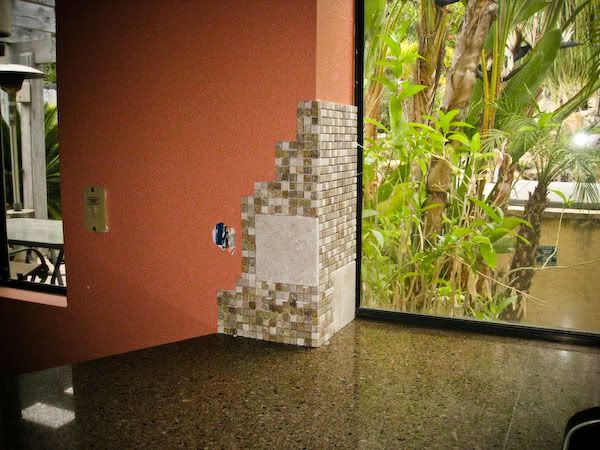 Todd came home and inspected my design, and approved. Whew, that's good, because I'm not sure it would have been easy to change stuff around.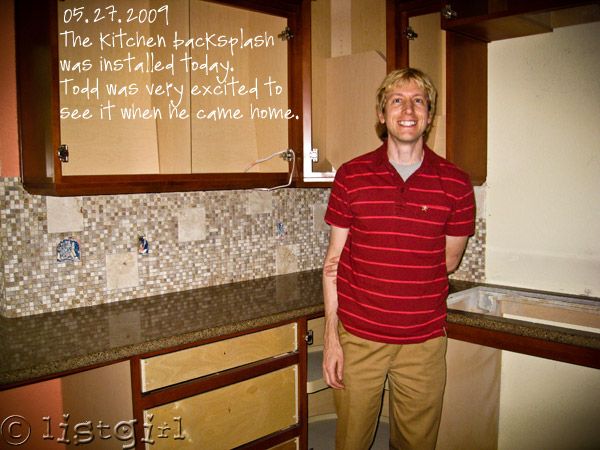 The reason the wall to the right of Todd in the photo is bare is because they brought the wrong tiles. They were the right shapes (versailles), but the colors were wrong. So those tiles will be in on Friday. The tiles still need to be grouted tomorrow. And tomorrow they're putting in the kitchen floor and the flooring in the downstairs bathroom. There is toilet take-out and put-back involved. Ew! I'm not sure why they couldn't bring our new toilets to put them in, but whatever. I asked and they said they wanted to do it this way. The house got very dirty today because the concrete stuff is nasty. They protected the flooring but of course there's still dirt lying around. We didn't bother to clean up though, because the job is not done and they'll be back tomorrow, Friday, and even Saturday. But today was a lot of progress and we're really excited about it! Todd went to urgent care at lunch today, because his eyes have been red for three days now, and he thought he had an infection. Turned out he has viral conjunctivitus, or a form of pink eye. I dunno how he got it! The only kid we've hung out with lately is Andon. Do adults just get pink eye for no reason??? As a coincidence, the head of urgent care, Dr. Smith, was the one seeing Todd. Todd asked him about the illiotibial band injury from running, and he asked the right doctor! Dr. Smith used to run sub-three hour marathons (that's really fast!) and knows all about marathon training and injuries. They talked about it and he referred Todd to a sports medicine doctor to get checked out. I finished my Week 19 and 20 layouts for Project 365. My layout is inspired by one of the papers called
Tutti Frutti
in the Basic Grey
Lime Rickey
line. I just love Basic Grey papers! (But not enough to paper scrap regularly, LOL!) I drew the wavy grid myself and used the Magic Wand Tool in Photoshop to select each wavy square to cut the paper/photo in that shape.
Week 19
Week 20