Today was another fab day of relaxing and kickin' it. I haven't had this much unscheduled time for a while... probably since the remodeling started. In the morning we drove to McDonald's for breakfast. It's a once-in-a-while big treat for me. I got a sausage and egg McMuffin (no cheese), and a large caramel iced coffee to share with Todd. He only likes the sweet syrupy bottom of the drink. Once that's depleted, he stops drinking it, LOL. I spent the rest of the morning cleaning up around the house. I vacuumed the whole house, including the stairs, which always makes me all sweaty because I have to carry the vacuum up each step. Todd measured and cut out drawer liners for the two guest bathrooms and lined all the drawers and cabinets. We went to a quick lunch at Wendy's, then went to Staples to get some more of my all-time favorite pen, the
Pentel EnerGel
, in all colors. This pens writes so smoothly, it never skips. And it dries pretty fast. I just love them for writing in my journals and making my lists. After Staples we went to Borders and hung out for two hours. We hadn't been there in months and it was so fun to read through some of my favorite magazines. I get a lot of inspiration from
Photoshop Creative
magazine. The tutorials in there are awesome and I always learn so much. Around 6 pm we arrived at AJ & Meera's house for a Cleveland Cavaliers basketball viewing party. They were playing the 3rd game of the NBA Eastern Conference finals against Orlando Magic.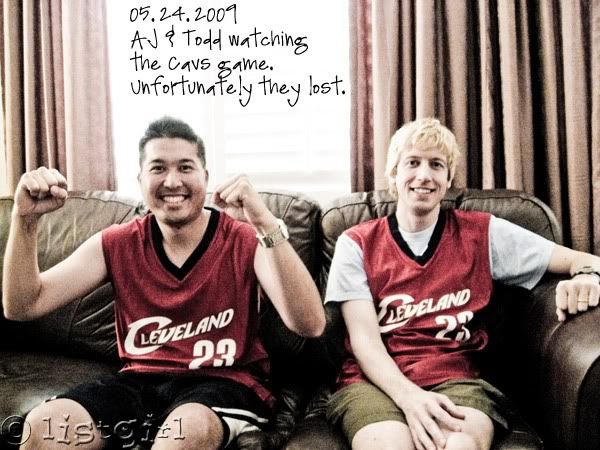 Meera made roasted pork loin, which was fantastic!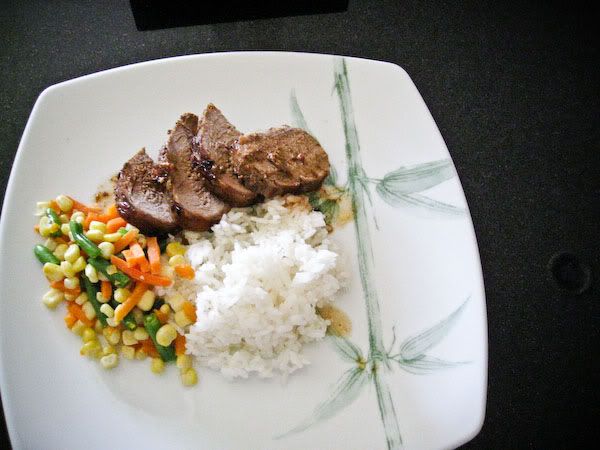 She also made these rice balls filled with a salty, sour plum filling, which she learned from her Japanese grandmother.
We brought a chocolate torte cake from Trader Joe's, which Todd was excited to eat.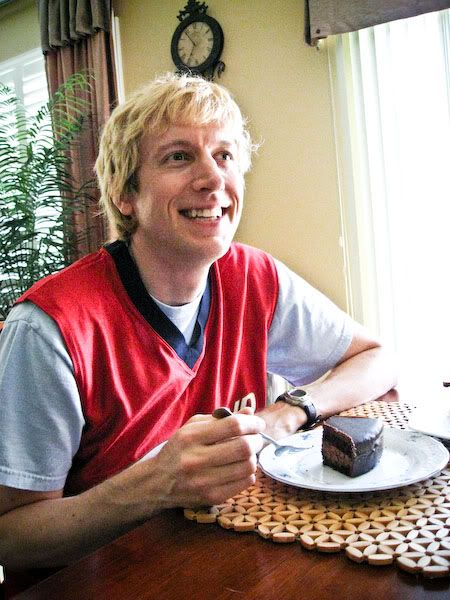 There were no photos of me or Meera. I think the boys should step it up and take some photos of us, don't you think? The whole evening was so fun, except that the Cavs lost. :( Game four is Tuesday night and we hope they do better!