and not enough hours in the day! We spent almost the whole day cleaning the house today. One thing that you can count on during a house renovation is the dust. Don't ask me why by the end of the week there is ALWAYS a layer of dust everywhere, no matter what they did that week. There just is. So we dusted everywhere, and vacuumed the whole house again. Can you say "two more weeks"??? We'll be so glad when it's done! Yesterday we didn't really get any time to ourselves, since Mike and the tile guys were here for 12 hours working. Today was taken up with cleaning. I'm ready for another weekend day to relax, but tomorrow is already Monday so I have to go to work. I've been lacking sleep lately, but I think I made up for it last night and this morning. I got up at 7:30 after about 7.5 -8 hours of sleep. After a couple of Eggo waffles, I fell asleep on the couch and the next thing I knew, I woke up and it was 11:45am! But I don't regret it at all, because I SO needed more sleep. We went to Tofu House in Kearny Mesa for lunch. It is awesome Korean food! Here is Todd with all the side dishes, including pickled radishes, cucumbers, and kimchi.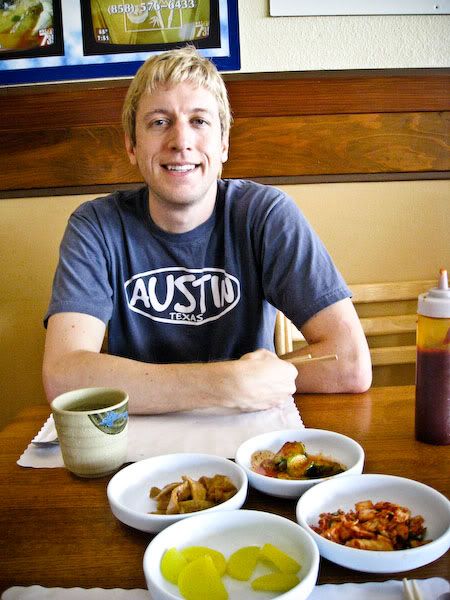 Here I am with my bowl of BBQ beef and mushroom tofu.
Todd's meal was called "Hot Stone Meat Party", which I found funny and yummy at the same time.
I was so inspired by the other Digi Darers in this week's
Digi Dare #135
. We are scrapping about our defining moments, and I was SO incredibly blown-away by the journaling on the layouts by my Dare teammates! The layouts and journaling touched pieces of my heart and I can relate to some of them as well. Please go
check it out
and join us this week! Here's my layout for the dare. It is about the day we moved to San Diego.
Full credits at the Dare site or
here
.