Sometimes I feel like I live life in fear of what bad things might happen to me or people I love. This really impedes me from enjoying the here and now. This is partially due to the bad/sad things that has happened to me the past five years. Todd's mysterious illness (Spontaneous Intracranial Hypotension) that kept him bedridden for two months in 2005. Todd's layoff from his job in 2005. My mom's cancer in 2006 and subsequent battle, and loss, in 2007. My sister's seven year old autistic son who does not speak. My sister's husband's father's sudden death in December 2008. Todd's work friend Chris dying in a car crash earlier this year. My friend Barbara dying of breast cancer last month. Todd's uncle Marshall dying after falling and hitting his head last month. See what I mean? I am always living in fear for the other shoe to drop. I recently came upon a paper scrapping challenge blog that really moved me. It is about something bad that happened to this woman (you can read about it
here
). And how it changed her life. In
her words
: "I don't need to be afraid anymore. Fear sucks the joy out of life. I spent so much time feeling afraid of bad things happening. Guess what? Bad stuff does happen. People get sick, they die, sometimes people you love hurt you, you can lose your job, your kids can get into trouble, gas prices can go through the roof,your house can be worth less than you paid for it, you may not have enough money to retire.....you can be attacked and bitten by a rabid raccoon during an idylic walk in the woods. The only thing you can do is get through it..and if you have to, strangle it dead. There is no point in being afraid of it happening. Life is big and messy and complicated but I'd rather take it all than nothing. So I decided to say
NO
to fear from that day on. Since then, I have experienced some of those very things I was so afraid of and I have to say I have been calmer, happier and more at peace than ever before." This is my wish for myself: to stop living in fear for the other shoe to drop. To be able to enjoy the great moments in my life without being afraid. And to live each year of my life celebrating my life, instead of worrying about getting older. I won't always succeed, but I will try. I made this layout for the Little Dreamer Designs blog challenge "
Birthday Wishes Journaling Challenge
", in honor of LDD's 2nd birthday.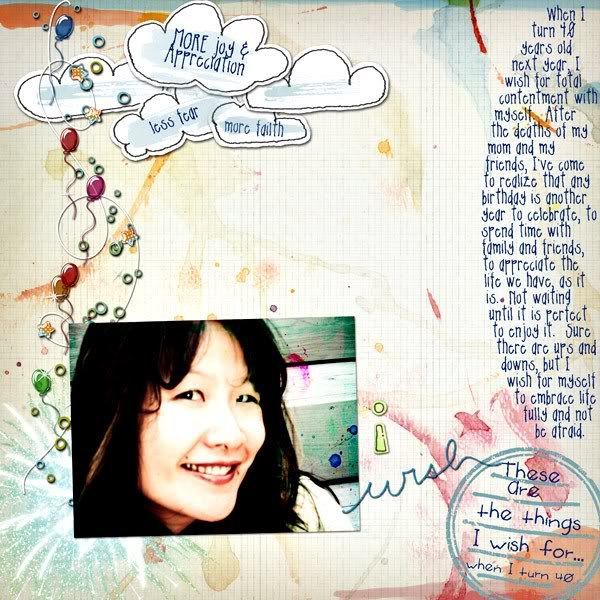 Full credits
here
. Tomorrow is the last day to turn in all the Little Dreamers Designs birthday challenge layouts for your % off coupon to the store! I've been listening to some new-to-me music lately and thoroughly enjoying them while scrapbooking. Mellow and awesome music. I've put some of them in a music player on the right side of my blog, in case you want to check them out. My new favorite is Joshua Radin's album "
Simple Times
". It's really awesome. Oh, I almost forgot my photo today! We've got COLOR on the walls now! I picked a light blue color for the bathroom ceiling. I like to think it's like looking at the blue sky! :)
The kitchen: