Did you know that remodeling a house is more art than science? I was talking with Eric our foreman today. I asked him why is it that we purchased the same exact brand of paint, in the same paint number, yet it doesn't match our old paint color EXACTLY? He said it never does. I thought the paint was mixed by a computer now? Still the color doesn't match exactly. I can't understand it! Our orange wall isn't the SAME exact shade of orange as before, even though it's the same exact paint color. Why is this not possible? It totally baffles me. I guess even the dye lots are different? Then Ben the templating guy came to template the countertops for the quartz counters we're getting. He had trouble with the templates for the new bathroom sinks. Guess what? Every sink isn't EXACTLY the same! I asked Eric again, how is this possible? He said it happens all the time. This is news to me. I can't believe this kind of stuff isn't a more precise science. The art of the curved countertop.
Todd had drawn out the curved countertop shape on graph paper in the dimensions that he wanted. So Eric and Billy measured it out and used some ingenious MacGyver-esque method with screws and a long piece of wood and created the curve. Then Billy cut it into shape for the templating.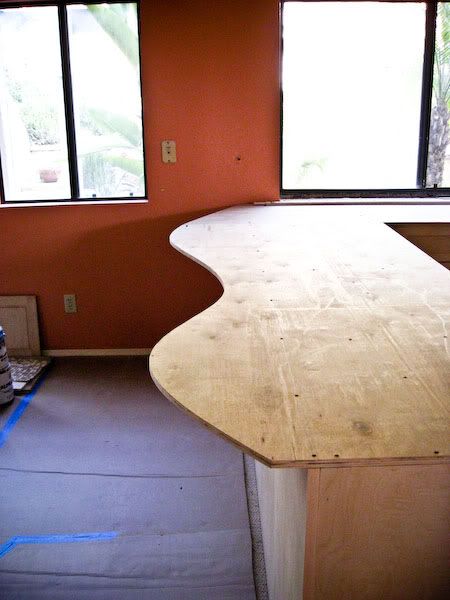 Todd is super-excited about his curved peninsula countertop that he designed himself. I'm super-impressed with it! He didn't even use Photoshop! :p Billy worked very hard today. He finished installing all the cabinets, and put crown molding and toe kicks in. It really looks fantastic!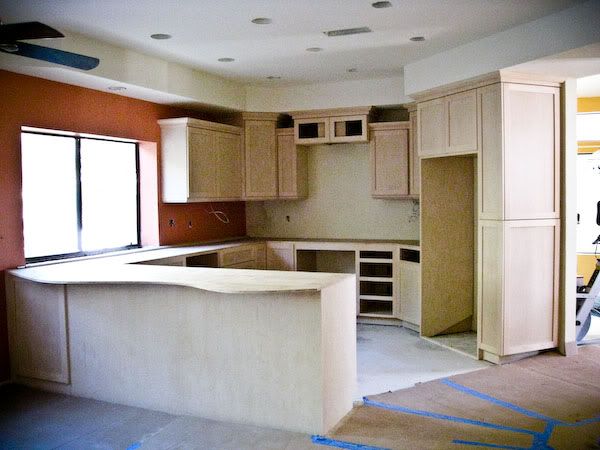 AND he fixed the master bath cabinet so now it lines up perfectly.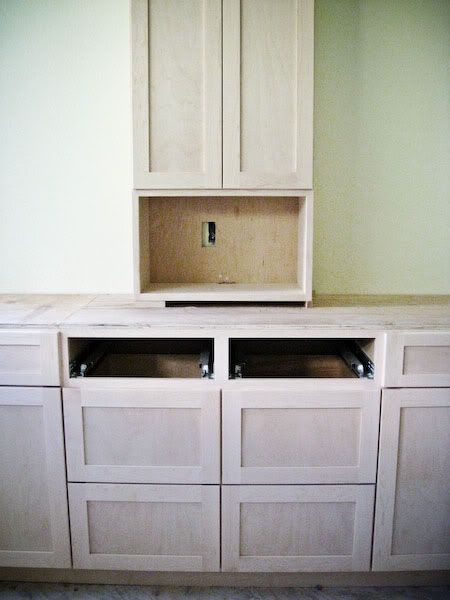 Cabinet staining starts tomorrow and lasts for a few days. All of a sudden things are picking up speed after a lull!