I have received a few requests to make more templates for scrapper's personal projects that they're working on, either more numbers or more alphabets. The sad fact is that I really just don't have the extra time to do these for each and every request that I receive, especially at the requestors' time frames. Please understand that I work a full-time job, which can be quite demanding with extra hours sometimes. Any spare time I have is taken up with my personal scrapping, CT commitments, and Project 365 blogging/documenting. I wish I had more time to exercise more and to read, but I don't even have that extra time right now, especially with the remodeling going on. So my apologies up front. Any templates that I give away are because I made them for myself to scrap, or because I'm committed to do the twelve months of the year. I'm not able to make the monthly templates ahead of time, because it takes me several hours to make one, and I simply don't have the spare time right now. I do the templates for free out of the love of scrapping. I just can't do them on demand. Again, I'm really sorry if that's disappointing to some of you. I really do appreciate the fact that you like them and are using them.
We've had some overcast weather here the last few days. Even mist and drizzle. But today I was walking out of my work building at lunch to pick up something to eat, when I looked up and saw some blue skies and a beautiful canopy of palm leaves.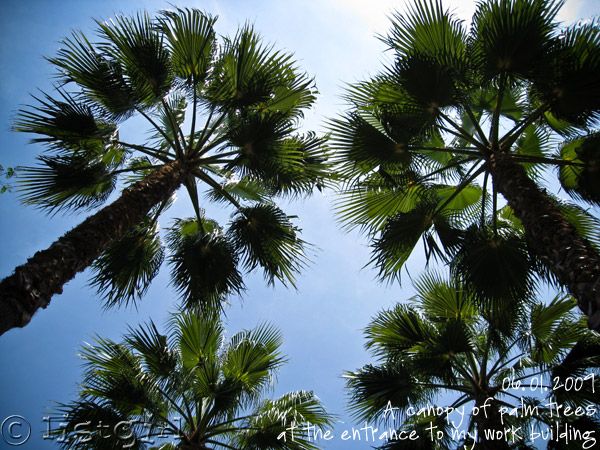 I received a PM at DST yesterday that I won a 2009 Scrapper's Choice Award in the "
Best Use of Multiple Photos (Nominated)
" category. It came as quite a surprise, since I had no idea I was even nominated! So I just want to thank whoever it was that nominated me. They closed the nomination threads, so I really have no idea who it was that nominated my layout. If you're reading this, feel free to comment in this post so I can thank you! I really appreciate it and it was a nice surprise!