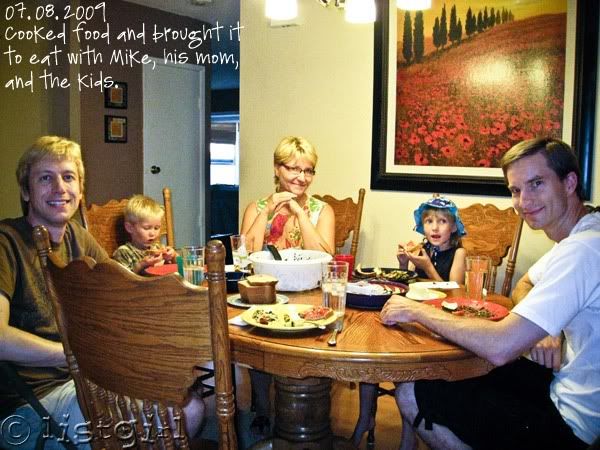 Today we used our new kitchen to cook for other people for the first time. We made pesto pasta and Mediterranean chicken kabobs and brought it to our friend Mike's house. His wife, my friend Barbara,
died of breast cancer back in April
. We hadn't seen Mike and the kids since Barbara's
memorial service
. So a couple of weeks ago I sent Mike an email to see how he was doing. I had meant to send it earlier, but I hadn't gathered my thoughts of what to say to him. I told him that I didn't know what to say at Barbara's memorial service, and the only place and experience that I could come from was the loss of my mom. So I simply told him what my past two years of grieving and healing has been like. Mike wrote back today and we made a date tonight to cook some dinner and bring it over to eat with them. It was a great time and we're so glad to see them doing well. Mike's mom Shirley is there this week with them as well. We had a good time playing with the kids in the backyard. Mike showed us photos of their trip to Disneyland. The kids looked like they had so much fun! We enjoyed the evening very much and look forward to doing it again. This was our first time visiting their house since Barbara's been gone. It wasn't hard when we were there, but I feel a small lump in my throat now that I'm here thinking about it.