After a good night's rest, we started the morning with some breakfast. Then we headed down to North Park to visit a church called Mission Gathering that we had been wanting to check out. It is a very diverse church that welcomes people from all walks of life. I took this without flash during music worship.
After church, we went to the
Hillcrest Farmers Market
, picking up Sally along the way. We had been wanting to check out the BEST farmers market in San Diego for a long time. After Sally and Yaiza raved about it last night at our house, we decided today we need to go see it. There were a ton of booths offering fresh fruits and vegetables, and ready to eat foods. The prices were not cheap, but the stuff was high-quality with many of the produce being organic.
(Poor Todd had his eyes closed!) We walked around a bit, looking at all the food choices available. We finally settled on a carne asada burrito. It was one of the most delicious carne asada burritos I've ever had. The meat was flavorful and lean, and the sausa was very good. The tortilla was heated up over the grill. Yum! We shared one because we didn't want to over-eat after our dinner party last night.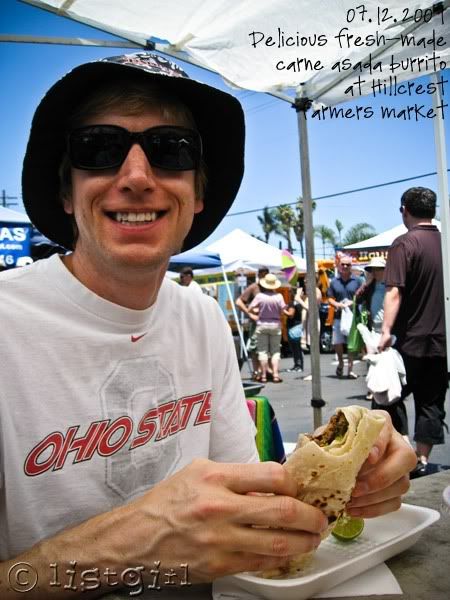 Todd found The House of Jerky and got intrigued.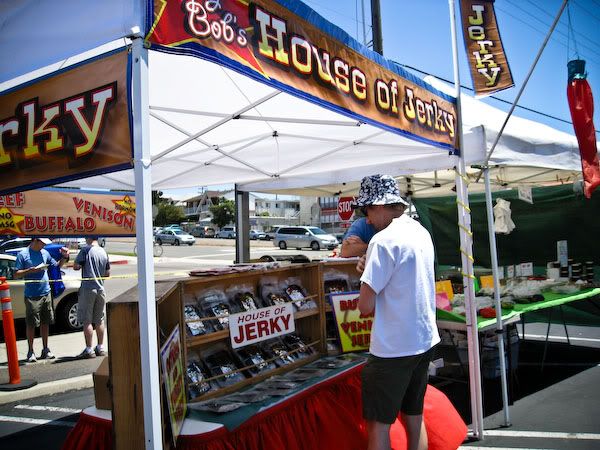 We would have stayed longer but it was so darn sunny and hot outside. We did stay long enough for the fruit vendor to start discounting their fruits at 50%! We got some organic peaches and nectarines. Then we dropped Sally off and came home. Here's some of our loot from the farmers market. A HUGE clam shell worth of blackberries for $5! The blackberries themselves were HUGE and super-sweet as well. Probably the best I've ever had.
And fresh-made garlic sausa and guacamole.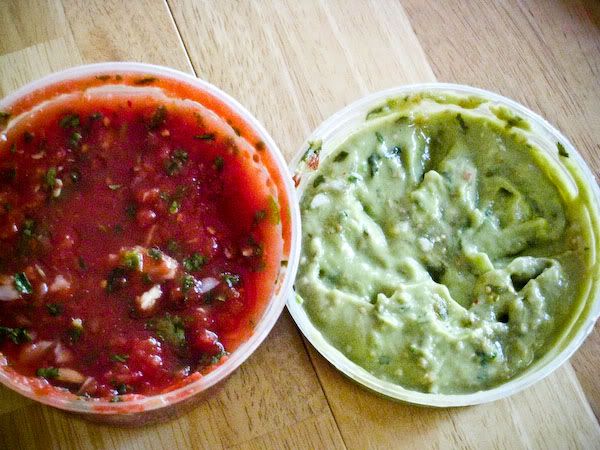 We watched a documentary movie this afternoon about the founder of the NYC Marathon, Fred Lebow, called "
Run For Your Life
". He was an eccentric and had some emotional problems, but he created the NYC Marathon through the five boroughs of NYC in the 1970's, and running hasn't been the same since. He united a divided city and basically made running a hobby for the everyday man. It was very inspirational.