Sometimes the best things in life are unplanned. Unscripted. Today while I was at work, Sally emailed me and asked if I wanted to go boogie boarding after work. I had brought my gym clothes and planned to go to interval gym class after work. I was reluctant to go because I didn't want to get out of my routine and what I had planned to do. But something stirred in me and there was an inner voice that said, "Go! Why would you put this off? When else would you do this? Your friend invited you! It's summer, have some spontaneous fun." So I listened to the inner voice and told her I'd meet her at the lifeguard building at La Jolla Shores at 6pm.
It took me a good five minutes to get my wetsuit on, maybe longer! I've gained weight since I bought it years ago, and I felt like I was stuffing meat into a sausage casing! Why the wetsuit? Because even in the heat of summer, the water temperature here only gets to about 70 degrees. Our water flows from Alaska! Today was the perfect chance to test out our
Olympus Stylus 1030 SW
, which is supposed to be shockproof and waterproof. We haven't taken it into water since we got it months ago.
We each caught a few good waves. Last weekend when we went to La Jolla Cove with Peppermint & Tom, the waves were ginormous. Today? Not so much. It was actually pretty flat, but that didn't dampen our adventurous spirit.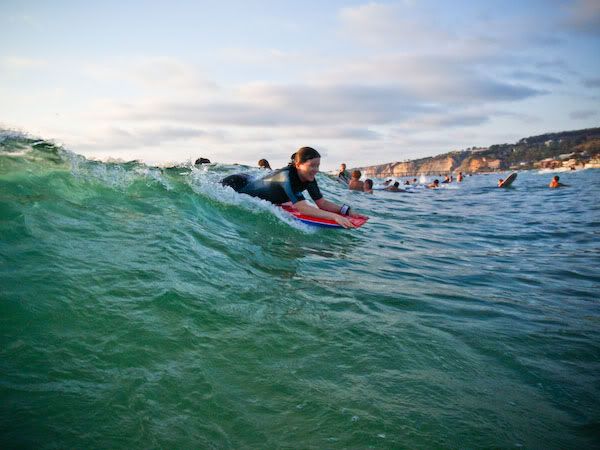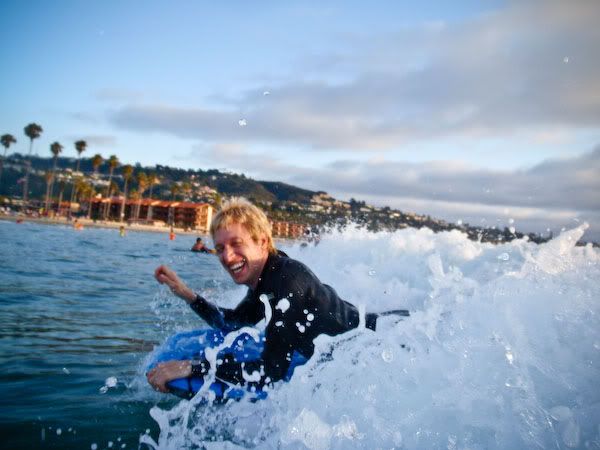 Even though some of the photos were slightly blurry, or people were partially cut off, I still love the photos because they remind me of the goodness of some unscripted fun. It's haphazard, it's spontaneous, it's unplanned. But it's so darn fantastic!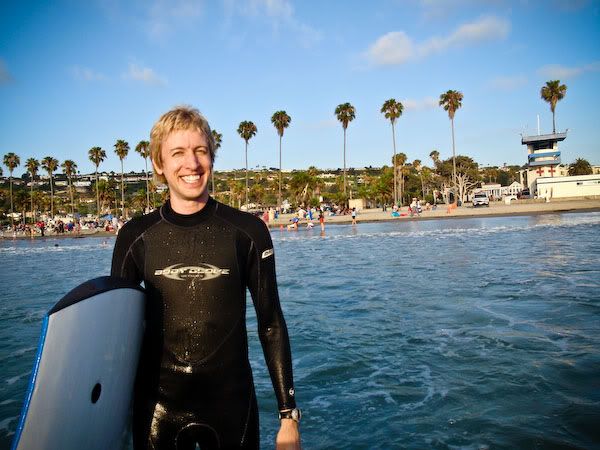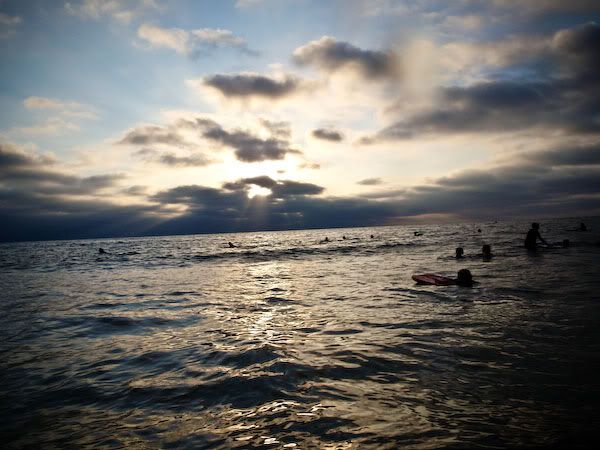 As the sun set over the Pacific Ocean, we cleaned up and carried our boards back to the car and headed home.