Today is Day 183 of
Project 365
, which means we are halfway there! I can't believe that I've kept up with the photos and blogging every single day this year, for six months. Of course, now I have my recruited helper, Todd, for the
Tuesdays With Todd
series. That should take about 1/7 of the load off me, for the rest of the year. Heh heh. Brian and Mike came over today with the intention of fixing the electrical problem and get our oven working. They figured out it was actually a loose wire in our circuit breaker, so they went to the store to get a new one. BUT, they came back without it. Brian told me he found out at the store that we have very SPECIAL circuit breakers that are only sold in ONE store in San Diego. Boo! I don't wanna be special! Again, where's the easy button when we need it? I told them that the guy who used to own our house before us was an electrician. Maybe that's why our circuit breakers are so "special". They're coming back tomorrow with the part and hopefully then our oven will work. Because I am expecting baked goods this weekend! On the upside, Brian did put in the frosted glass for the cabinet doors above the hood.
We went to Home Depot after work and got some stuff we need, like big bags of mulch, light bulbs, and an extra dimmer switch for the vanity lights in our bathroom. Todd was going to wait until tomorrow to put it in, because he only wanted to do "fun stuff" tonight, due to tomorrow being a day off for Independence Day for us here in the U.S. But he got too excited about the dimmer switch and put it in tonight.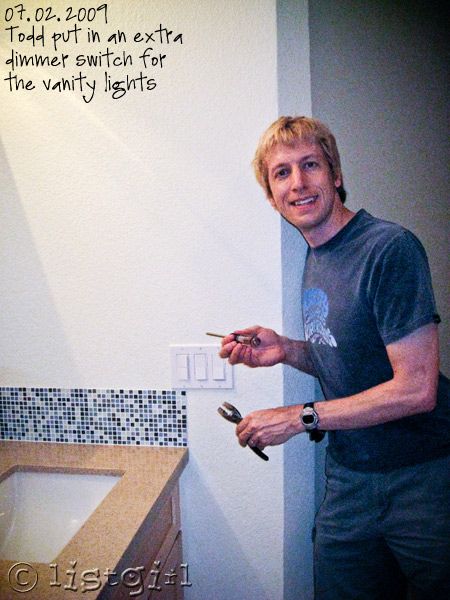 Doesn't it look beauuuutiful?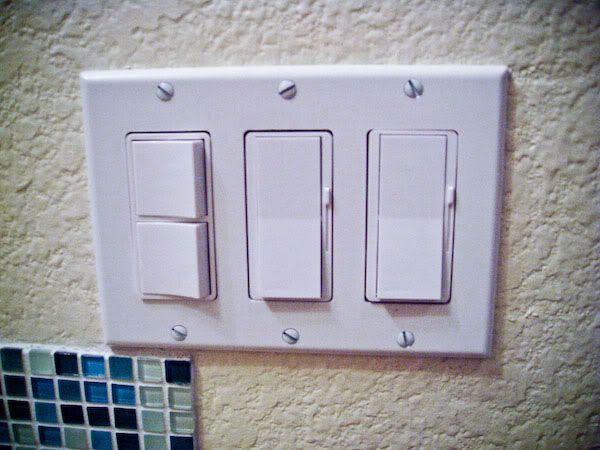 Sigh. The stuff we get excited about nowadays. We had Peppered Steak in Beer and Garlic for dinner tonight, along with corn on the cob. Todd marinaded the steak for 22 hours before grilling it. He liked it. I thought it was slightly less flavorful than I had anticipated, considering there's garlic, peppercorn, and beers involved.
I can't find the recipe on the interwebs to link you up. Boo! Lastly, I got the download for the photos I purchased from
Action Sports International
. Their photographers took photos of me (and everyone else) along the marathon route in Seattle, and also at the finish line. They also took photos of the famous sights of Seattle. What an amazing photo of Mt. Rainer! I can't believe it was so clear last Saturday in Seattle!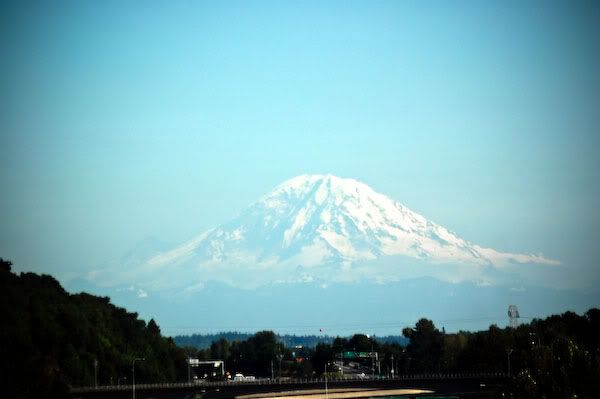 Whenever I saw cameras on the route, I raised my hands, waved, and smiled. Gotta be photogenic even while running 13.1 miles, right? ;)
Here I am at the finish line. I like how you can see me holding my own camera, LOL!
My official finisher's photo, with my medal.
Well, that is all for tonight. I am SO looking forward to the long weekend! I plan to read, scrap, exercise, eat, and all that good stuff. And clean the house. (Ugh.)