I had so much fun running four miles today at Mission Bay with
West Coast Road Runners
, even though it was so hot and humid! We started running at 8:00am and it was pretty hot and humid already. Todd's group took off in one direction while my group took off in another direction. I ran and chatted with Perry. Then on the way back, I chatted with Pam for a while. The last time I saw her was at the 14 mile lagoon run way back in March. She joined this season again, just like me. I also chatted with Cathy, who reads my blog now. It was so funny - last week she ran up to us and said, "I love
Tuesdays With Todd
"! And this week she said to Todd, "Why don't you like cheese?", referring to his
latest post
. My group ran along Mission Bay.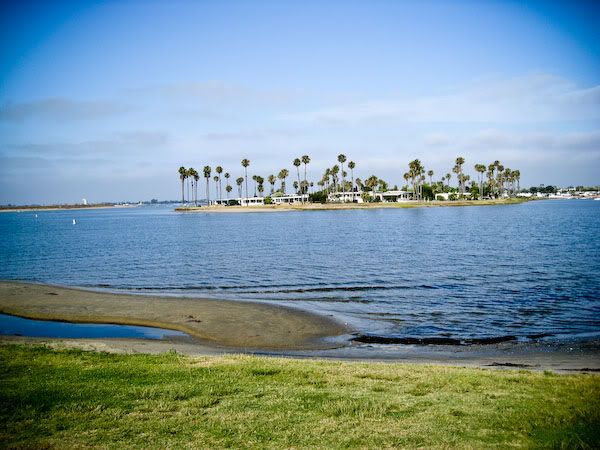 Todd's group ran closer to the beach.
Robert ran ahead and took a photo of Todd and the group.
Boy, it was a very sweaty four miles due to the heat. But I finished in under 45 minutes, so I was happy with it, especially because it was so hot.
I got to wear my new Nike knee-length running pants. They felt great except for it being a little too warm today to wear them. The fit and the function were both great. Now I have both the Nike running skirt and knee pants and I love them both. :) After the run, Todd and I went to Ikea to look at curtains, because we need some, and Ikea has good and cheap ones. We got there around 9:35am and they didn't open until 10am, so we went across the street to Costco and read some magazines. It had been about two years since we've been to Ikea. That store is always so packed! We spent a lot of time looking through all the bedding and curtains, and purchased some curtains for various windows in our house. By 11am, we were so hungry because of running four miles, so we headed to the Ikea cafeteria and had some Swedish meatballs! I love the Swedish meatballs there.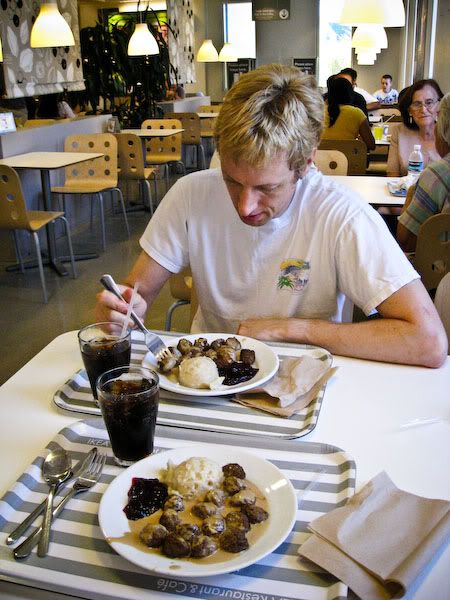 Our house kept us busy for the rest of the day. I cleaned the upstairs guest bathroom. Todd cooked dinner. I talked to my sister on the phone. Todd washed our cars. I did laundry. Now I'm getting ready, finally, for some rest and relaxation tonight. Maybe I'll make some progress on my book that I'm reading. Don't forget to enter in
this post
for a chance to win a $5 GC to
Pixel Gypsy Designs
! I'm giving three $5 GC's away if you comment with a link by Sunday night at 9:00pm US Pacific time.