The warm days of summer in San Diego has finally arrived. Today we turned the A/C on at our house for the first time. But you say, hey, it's July 11th, hasn't it been hot there already? No, actually not. Our temperatures are quite mild all year, since we are only seven or eight miles from the ocean. It doesn't get cold in the winter, and it doesn't get hot in the summer. We're usually between 60-80 degrees. Our previous house up the street didn't even have air conditioner and it was fine. This morning we got up around 6:50am because it was our first day back running with the fall season of
West Coast Road Runners
. Yes, I know it's not fall yet. But these are six month seasons and they only have "spring" season and "fall" season. We are not planning to run a race this season, just running with people, for the fun of it. Today was an easy three mile run from Road Runner Sports. Or so I thought. I ran with Cathy the whole time, and it was almost unbearably HOT! We were inland with no ocean breezes. And we didn't stop to walk at all. I even drank my water on the run. We made it, with Cathy leaving me in the dust at the end. I could not tell you how much I was sweating, it was so hot. Look at me glistening in the sun! Here's Todd, Gloria, me, and Cathy.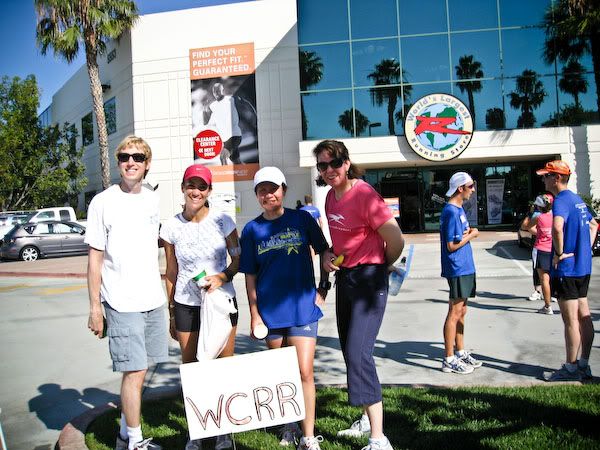 In the afternoon, we started cooking at 4pm for our first dinner get-together with friends. A brand-new kitchen is just a kitchen, if we don't use it to cook for our friends. We want it to be a place where friends can come over, hang out, eat good food, and have fun. This was our vision for our house, and we were excited to get started. Sally, Brian, and Yaiza make themselves at home while we cooked.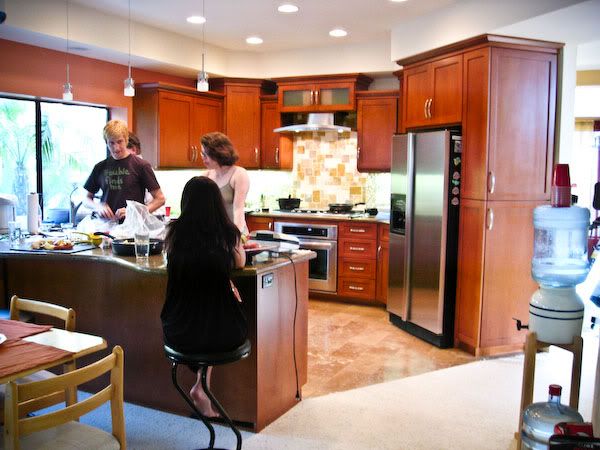 We also invited AJ, Meera, and Andon, but only AJ could come because little Andon wasn't feeling so well. We missed you Meera! Chef Todd hard at work.
Todd had planned a very extensive menu and I actually was in the kitchen for over an hour cooking too. Here's the big spread for dinner.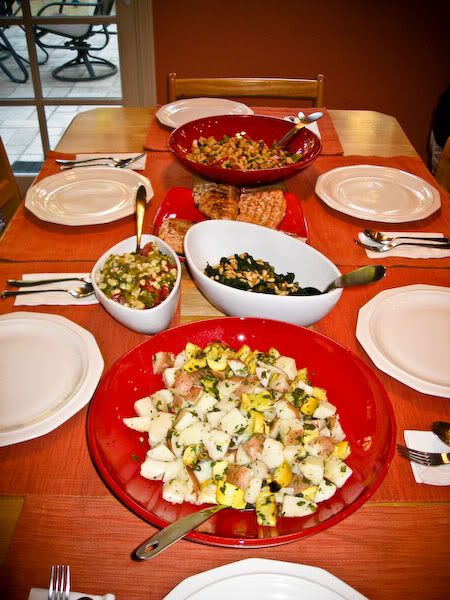 Thai Chicken Barley Risotto
(left) and
Grilled Salmon with Roasted Corn Relish
.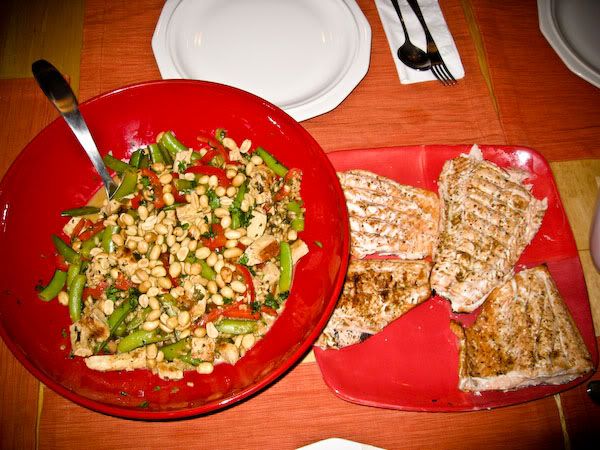 Spinach with Pine Nuts and Golden Raisins
(top) and the corn relish that went with the salmon (bottom).
Potato Salad with Herbs and Grilled Summer Squash
(right).
For dessert, Todd made an
Apple & Blackberry Crumble
, which was completely delicious, but I forgot to take a photo. After dinner we showed the remodeling videos that I made for the kitchen and the master bath on our TV. Everyone was amazed at the transformation, especially when we got to the part that showed everything gutted, including the walls ripped out. Sally & Brian said they didn't realize that the renovation was that extensive. We played Mario Kart on the Wii and everyone really got into it.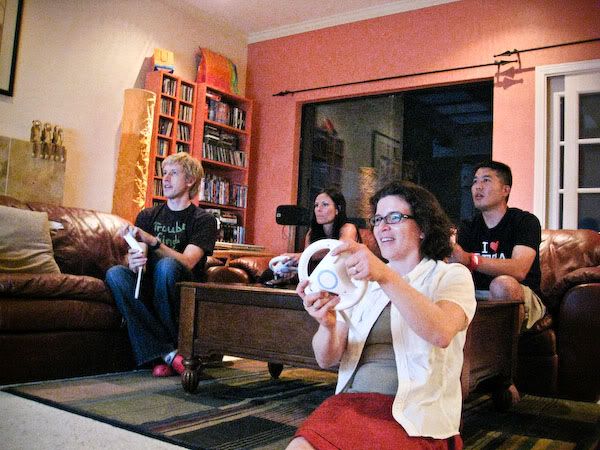 It was such a fun evening, but we were exhausted by the end. I think we over-cooked because there was a ton of leftovers. However, Todd was very clever and sent everyone home with leftovers. Our first dinner gathering since the remodel was a success. Nobody got sick from eating our food, ha ha.