The
Pixel Gypsy Designs pick-a-product game
has ended. Thanks everyone for playing! I hope you found some awesome designs there for your scrapbooking needs. Like I said before, the girls there are the friendliest and funnest bunch around. It's kinda like "Cheers", where everybody knows your name. So stop by the
forums
sometime and introduce yourselves and hang out with us! Since only six of you officially entered into the game, and I'm feeling generous, I will give a $5 GC to all six of you who participated! Abby, Tracey, Peppermint, bwstamping, latz, and Side by Side, please email me at iamlistgirl at gmail dot com and I'll email you the $5 gift code! My google analytics showed many people stopped by the blog. Maybe next time you should play along and win too! (And don't worry, google analytics doesn't know who you are. I only know that people did stop by the blog. I don't know who you are, LOL.)
Today we did stuff around the house again. Remember the IKEA curtains from yesterday? Todd iron-glue hemmed them today.
He cut off the excess and laundered them. Now they are the perfect length.
Guest bedroom before:
Guest bedroom after: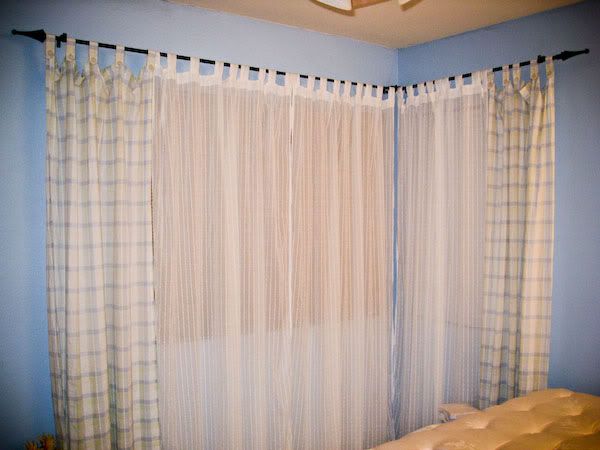 I organized my new bathroom drawers. One of the things that I really love about our newly remodeled bathroom is that there is finally enough drawers and cabinet space for all our stuff to stay hidden and off the countertops. I consolidated my cosmetics into one drawer, thus making room in the other drawers for other stuff. The big plastic organizer was a $3 purchase from IKEA.
Drawer before:
Drawer after: