On the weekend of the 4th, we headed out to
see the Padres
. Although we enjoyed the 5 for $5 food, Listgirl missed out on one of her favorites - nachos! I promised to remedy this injustice by preparing a Nacho Night sometime at home. Not only that, I said I would make the best nachos she's ever had! We soon realized that the MLB All-Star game wasn't far off, and decided that would be our Nacho Night.
And that night came tonight! As I type this, the AL has taken a 4-3 lead late in the game and threatens to win it for the 13th year running. We had taco-ish beef, tortilla chips, salsa, guacamole, jalapeños, and some disgusting yet appropriate cheese sauce. (I don't like cheese if you didn't know.)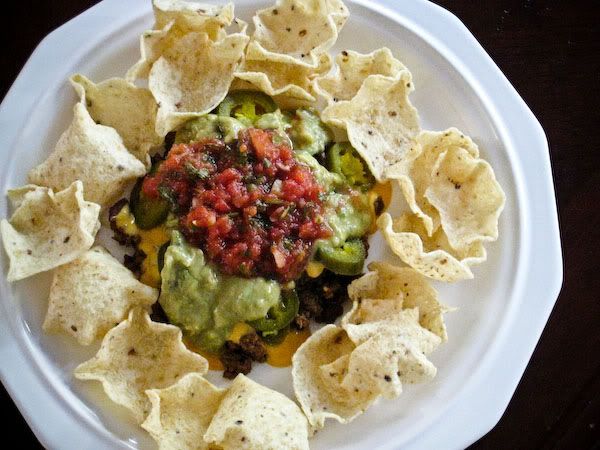 So did I succeed with my "best nachos" promise? According to Listgirl, it was "too sour." In my defense, the salsa and guac came from our
trip to the Hillcrest Farmers' Market
. Thus I had no control over the sourness ratio. She then told me she's never had the nachos at Petco park so in her mind these are certainly better. Such a sweet one she is.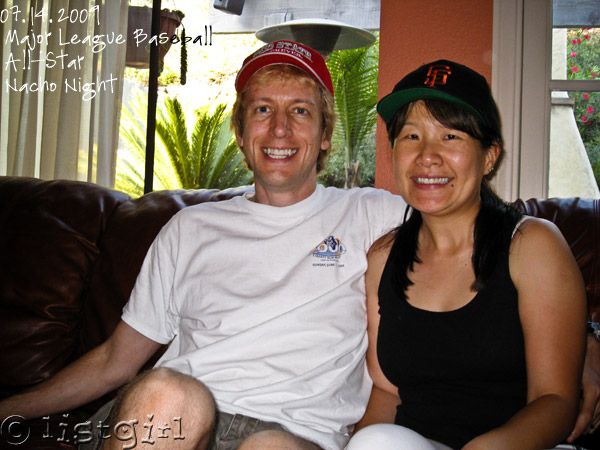 A bit earlier today was my second trip to the physical therapist (not counting the consult). These trips are an assault on my muscles and dignity - there's always at least one reminder of some weakness I have somewhere. Nonetheless, I love it. It reminds me that I'm on the road to running recovery. Plus, it's like having a personal trainer paid for by the HMO. Continuing through the day backwards we come to my weekly Toastmasters meeting. I was awarded the "Funniest Speaker" award which is always fun to receive. However, I will admit that I cheated. I told a hilarious story I heard on
Wait, Wait Don't Tell Me
about watermelon. It turns out that watermelon can have
Viagra-like effects
. However, one must consume a pretty large quantity of the fruit to achieve the effect. And since watermelon is also a
natural diuretic
, the presenting combination may not be so desirable for most men. The guys and gals of Wait Wait are so preternaturally funny that using their stories while competing with mere mortals is most definitely cheating in my mind. But I'll take the award and run. I will run as far as my injured leg and nacho-fuel will take me! Until next Tuesday...