I modified the April template so that there are 31 pieces for all the days of August (besides the bits that are too small for photos).
**Download link no longer available**
You can use this for Project 365, or whatever starts with "A".
If you're linking to my blog about the freebie, please link directly to this post, rather than my blog in general. That way people who are only interested in the template don't have to scroll through all my posts, since I blog everyday. Thanks!
Somehow I missed it yesterday, but I had officially hit 500 posts on this blog. So this is the
501th
post today! Of course, 225 of it is from this year, so the other 276 posts span from 2003-2008. Wow, I never thought I would get to this point. :) Which brings up something that I thought I would mention again: Backing up your blog! I
posted before about a utility
that I use to backup my blog, which downloads all the posts and comments into xml files. If something ever happened to my blog, I can restore all the posts right from the
Blogger Backup
utility. Recently someone hacked into one of my running friend's blogs and deleted all her posts, hundreds of them. She was devastated. So if you have a blog full of memories that you don't want to lose, you really should back it up regularly. I back up once per month.
Today Todd and I FINALLY exchanged our 15th wedding anniversary cards! Mind you, our anniversary was on
June 25th
. But because Todd had a card prepared, and I didn't (gasp!), we didn't exchange cards that day. I planned to make a card, but as time went by I forgot all about it (another gasp!). Finally today I remembered, so I made the card after I got home from work, before Todd came home. I used items from the
Basic Grey Blush
card kit I purchased a while ago.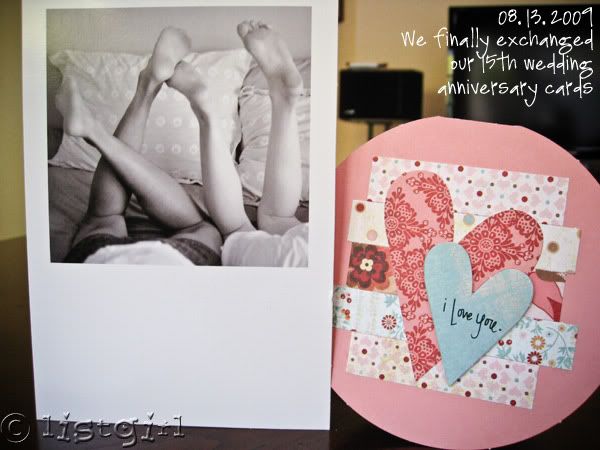 The card on the left is from him to me. The one I made is on the right. :)