Todd had lunch with some friends who used to be his coworkers.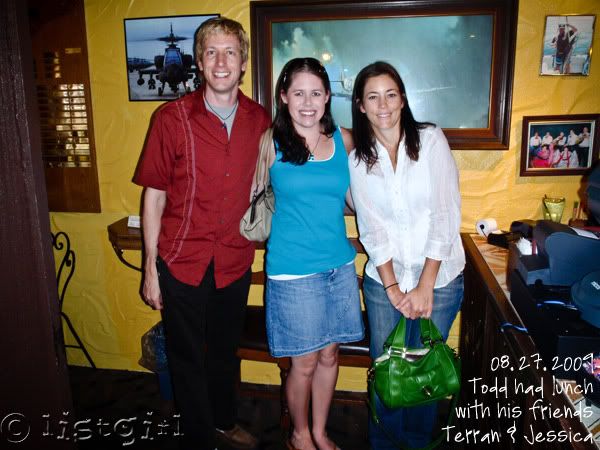 Today we worked in the dark at my office building. This is what happens when we reach high temperatures in the high 90's in mid-afternoon. Our local power company San Diego Gas & Electric issued a
power curtailment
early in the day, in anticipation of the high demand for electricity during the
heat wave
. The curtailment meant that all unnecessary electrically-powered items should be shut off. Businesses that participate in this curtailment program get rebates/credits from SDG&E. So my company complied and shut-off all overhead lighting. I wasn't completely in the dark, I was allowed to have my desk light on. This heat wave will last until Sunday evening. Yikes! What's even crazier is we had planned to go running (me) and rollerblading (Todd) at Lake Miramar after work. We still did! It was pretty warm even when we got there and got started around 6:20pm. I had planned to run five miles, but decided that wasn't so prudent in the heat, so I only ran three miles. My time was 32:08, which wasn't too bad considering the heat. Todd had a lot of fun rollerblading. He hasn't done it so much this year, but it's perfect for him now that he's injured from running. Despite the heat, the lake was pretty.
By the time we finished running it was 7:15pm. We usually go to Chile Peppers for Mexican food after running at Lake Miramar, but decided to try the pizza place called Pazzo's in the same plaza. I had a roast beef sandwich but it wasn't great. Todd had a personal pizza and that was yummier.