Todd was craving some homemade food today, since he ate out all week last week while in San Francisco. So we went grocery shopping today and bought stuff to make four meals this week. First up is carne asada tacos tonight. I made the fresh salsa, consisting of chopped up tomatoes, corn, anaheim chili, garlic, cilantro, lime rind, lime juice, and a dash of salt.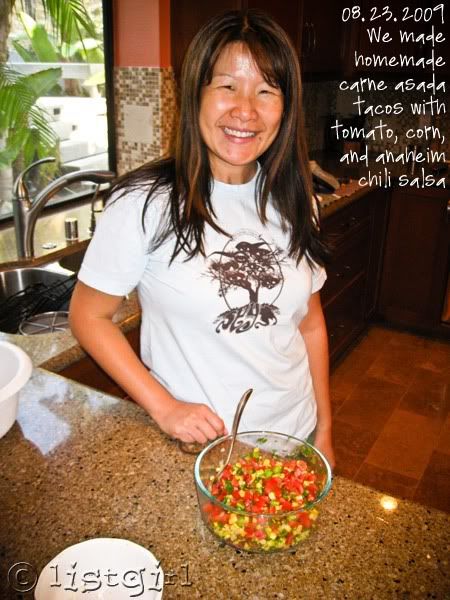 I love chopping up the fresh ingredients and making this stuff.
And it was something I made up too. The original recipe called for diced avocado, but the one we bought today was still hard as a rock, because we had planned to make this dish later in the week but changed our minds. So I substituted corn for the avocado. Still delicious! Todd was in charge of the meat and the fresh homemade tortillas.
Fresh homemade tacos!
I spent a good part of today scrapping. Shutterfly sent me a coupon for a free 8x8 photobook, but I have to use it by this Thursday. Since I just printed out some single 8x8 pages, I don't need to make a book with those anymore. So my big idea is to finally make a vacation album of our trip to the Big Island of Hawaii last November. I have two single pages made before already. So today I made this double-page spread.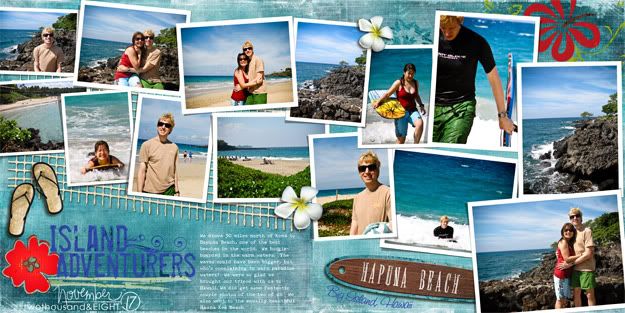 Credits: Template 91 by Yin Designs; Island Adventures & Hand Stamped Alpha by Michelle Coleman; Handy Dandy Dates by Danielle Donaldson; Sandy Toes by Gina Miller; Fonts are SBC Distressed Typewriter & Saginaw.