Greetings from Seattle! Today marks fifteen years that I've been married to the most awesome, talented, affectionate, wise, funny, forgiving, smart man. Looking into his eyes still leaves me with a warmth in my heart. He's my most favorite person in the whole world. We are here in Seattle to both celebrate our anniversary, and for me to run the inaugural Rock N Roll Half Marathon. We took a direct flight from San Diego and it was three hours. Three hours filled with a screaming baby in front of me. But I somehow still managed to take a couple of naps. As we got closer to Seattle, I saw some mountain tops above the clouds. I'm guessing that this is the top of Mt. St. Helens?
This could be Mt. Rainier. I need to do more research to figure this out.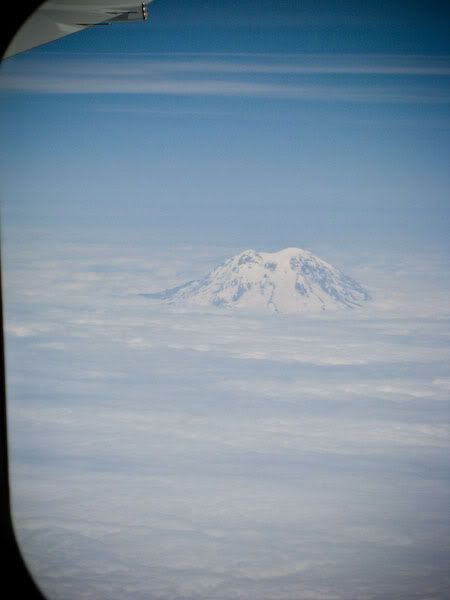 After landing, we had a hard time finding where we were supposed to go catch our shuttle bus downtown to the hotels. When we finally found it, we just missed the bus so we had to wait another 25 minutes. Then the bus took an hour to get to the stop near our hotel, no joke. The rush hour traffic was pretty bad, but we didn't expect the shuttle bus to take so long. Not only that, but we still had to walk four blocks to our hotel. But, we did get to see the city's beautiful skylines.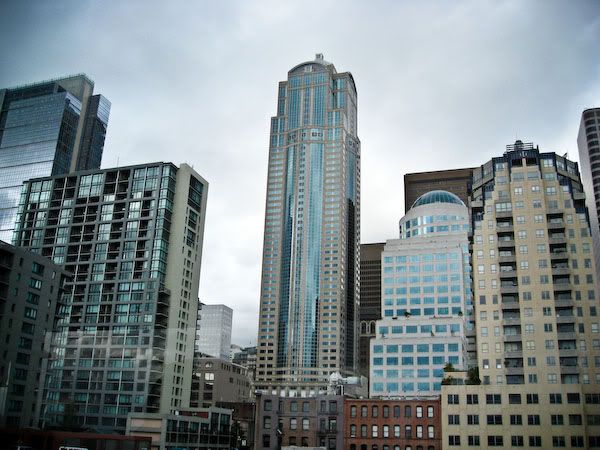 We were slightly tired from the traveling when we got to our hotel, but we hurried and changed clothes and took a taxi to the
Space Needle
. We had dinner reservations at 6:30pm! The elevator ride up to the Sky City Restaurant at the top took 30 seconds. The Space Needle is 60 stories tall. Once we got up there, we were in awe of the view. The restaurant rotates 360 degrees every 47 minutes, so we got to see the whole city! When we were taken to our table, I was surprised to find special champagne glasses and a chilled bottle of Martinelli's apple cider.
Turned out that Todd had called ahead before we arrived and arranged for the chilled Martinelli and glasses, and it also came with a silver balloon with "Happy Anniversary" on it.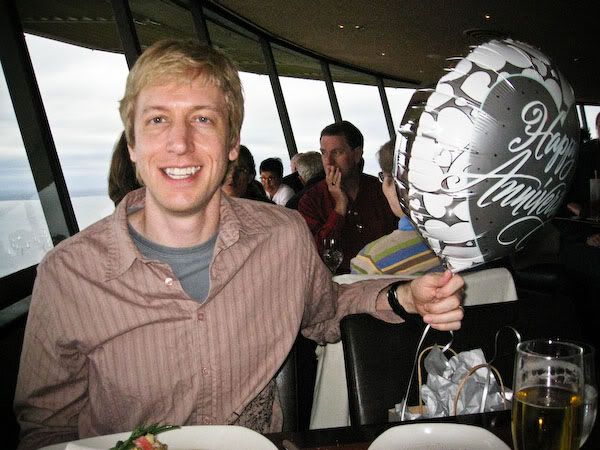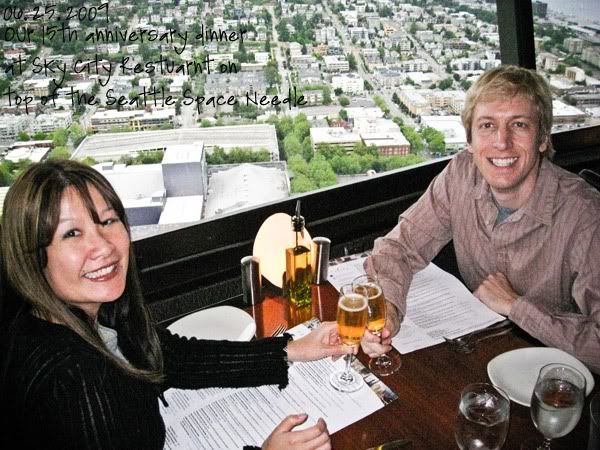 We got some "happy anniversary" wishes from two elderly couples who sat next to us. They asked us how many years we've been married, and we told them fifteen. One of the guys said, "You must have been married at eleven years old!" Heh heh. The views from the Space Needle were spectacular.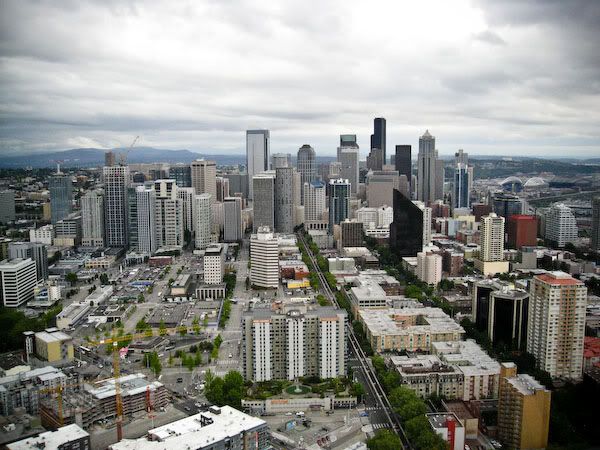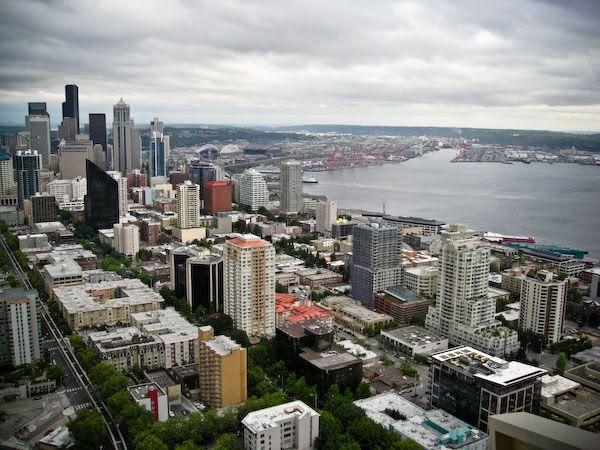 The food was really good too. We shared a caesar salad to start.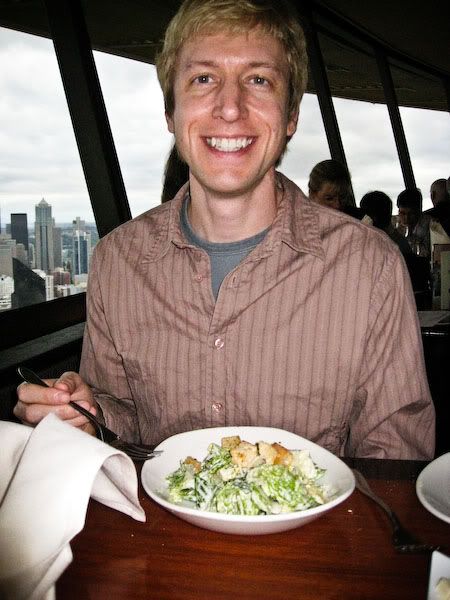 Todd got the halibut.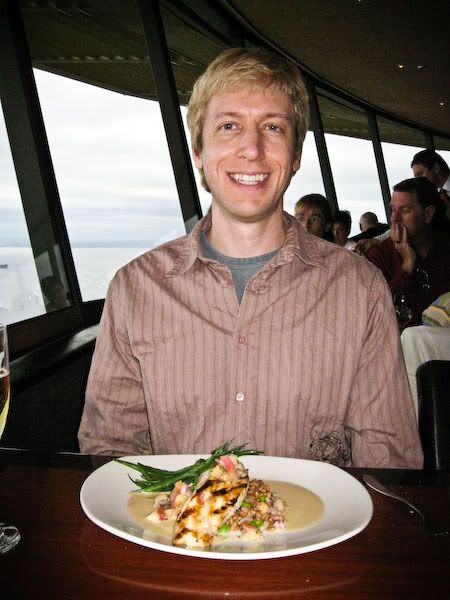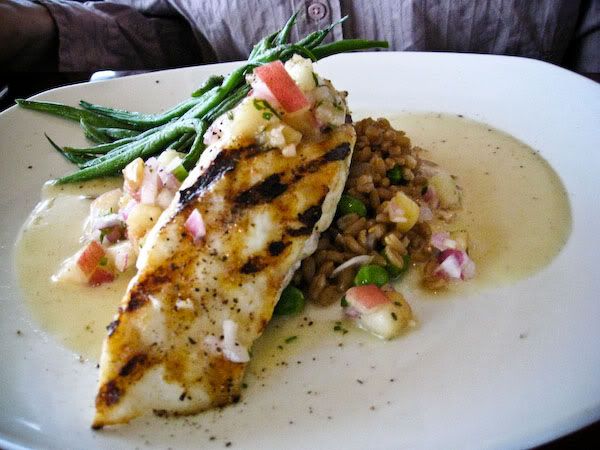 I got the lobster. (He was paying! Ha ha, just kidding. We share all our money.)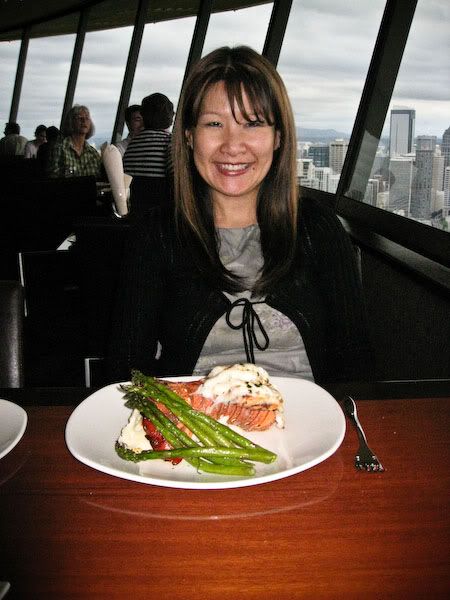 We got desserts of course. Because Todd said they're calorie free if you eat them on your anniversary. Todd got a marion berry fruit cobbler with ice cream, while I got vanilla creme brulee.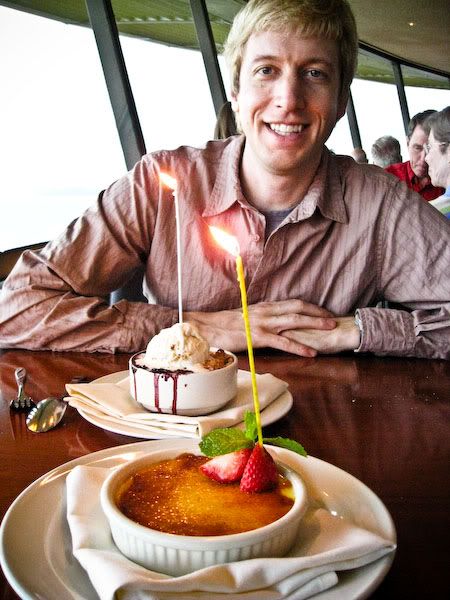 After dinner we went upstairs to the observation deck and stepped outside for a couple of photos.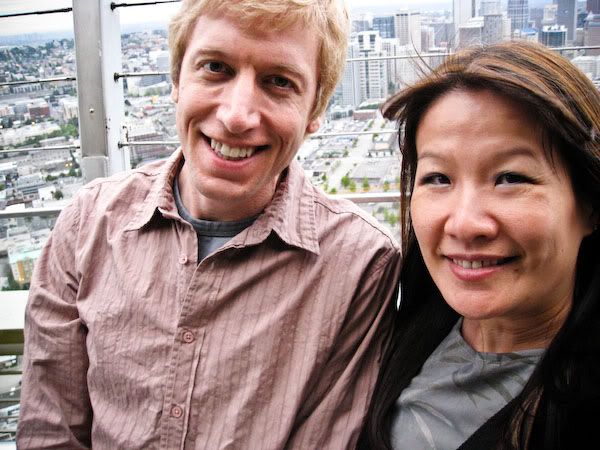 It was windy and cold, so we quickly returned inside. Here's the Space Needle from the ground up.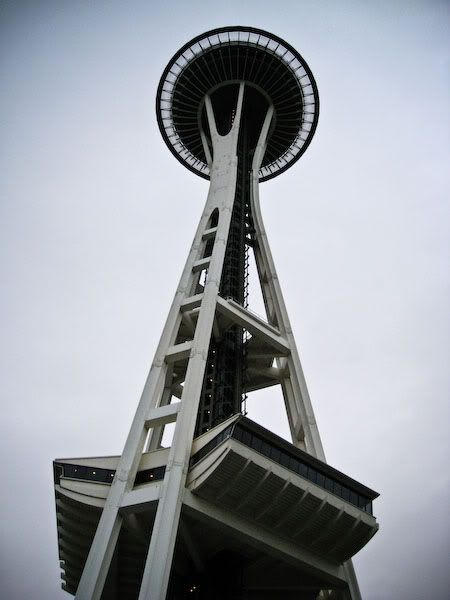 We had a great anniversary and it was a great way to start our Seattle get-away. Tomorrow I get to go pick up my race number and goodie bag and go to the health expo by Qwest Field.