This morning we ran with West Coast Road Runners at Mission Bay. It was nice & cool, and cloudy, so we had that going for us. Here's Todd group starting out.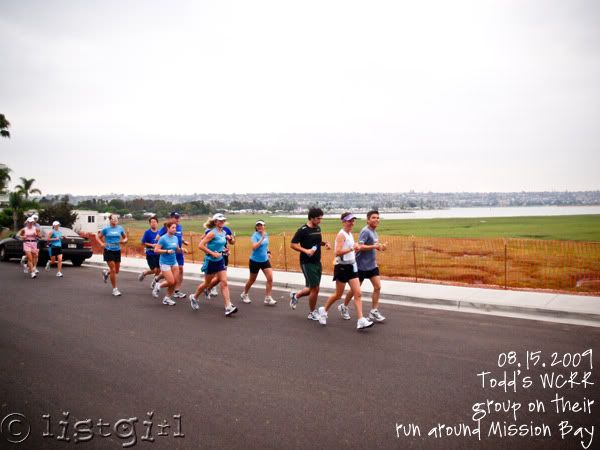 Todd's group ran eight miles today, but he ran six because he's still in recovery from his injuries. My group ran seven miles today, in the other direction from Todd's group. On the left is my friend Cathy.
We ran by the Hilton Mission Bay.
The bay on the left, right after I turned around at 3.5 miles.
The big story today is what happened after the 3.5 mile turnaround. My first three miles were average. I didn't get as much sleep as I had hoped, so I was feeling somewhat tired. After the 3.5 mile turnaround, I remembered something my friend Anne said about "Chi Running" on her blog, and how I found
this article
about it and read it. So I improved my posture, relaxed my shoulders, and tightened up my core muscles. Suddenly I felt like my running was totally effortless! I felt like my legs were propelling themselves forward and I was exerting very minimal effort compared to the first three miles. So I kept going, and going, and going. I ended up running faster my last three miles, with my fastest mile being the last and 7th mile. Not only that, but I looked at all my long run stats this year, and that was my fastest mile on a long run this year!
I really can't believe the difference it made to "run from the core". I was faster, stronger, and felt like I could go on forever. I consider this a breakthrough for me and I can't wait for my next long run to do it again. Tonight we had Todd's Toastmasters friend Ashley and her husband Andrew over for dinner. I had never met them before. Todd decided to start the food prep early today. He had all the prep bowls ready by early afternoon.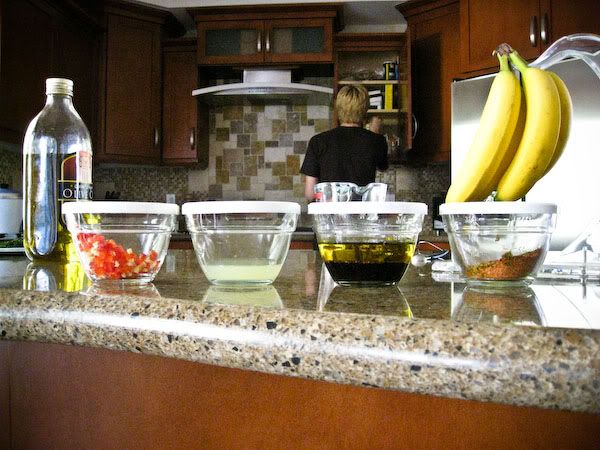 He marinated the beef and made a spice rub for it also, before putting it on the grill.
Then he made some
Lemon-Scented Blueberry Cupcakes
for dessert.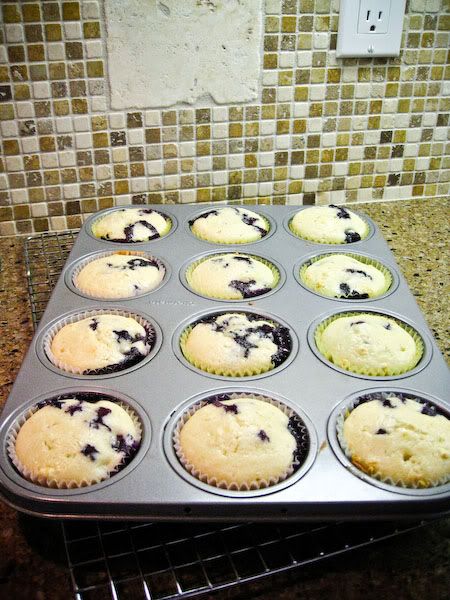 The icing is made from reduced-fat cream cheese. My favorite cake icing is made from cream cheese. Yum! Here's the rest of the menu.
Clockwise from left:
Everything was delicious, but I did manage to save room and eat two cupcakes, LOL! Good thing I ran today!