We first heard about
Pizzeria Luigi's
in San Diego when we saw it on the Travel Channel's "
Man vs. Food
" show. (Which, incidentally, is one of my favorite shows.) Then I discovered while reading
Chowhound
and
Yelp
, that Luigi's is one of the most popular pizza joints in San Diego, and there's a cult-like following. But they're located in South Park, which is quite a far drive for us. Then, a few days ago, I read on a San Diego food blog that Luigi's opened a new location in North Park, which isn't as far! So today we decided to go get some pizza for dinner there. I just love long summer days when we can pick a weeknight after work and go do something special! :) When we got there, we were able to park RIGHT IN FRONT OF the restaurant. You don't know how rare that is in San Diego, LOL! And wow, what a serendipitous discovery! Look what's next door to Luigi's...
Eclipse Chocolat
! Pizza AND chocolate, I think I'll move in next door!
Upon walking in, I see big pizza dough being tossed. I was mesmerized.
They sell pizza by the slice, and cheap too! You can get two slices plus a soda for only $5.50. So that's what we got.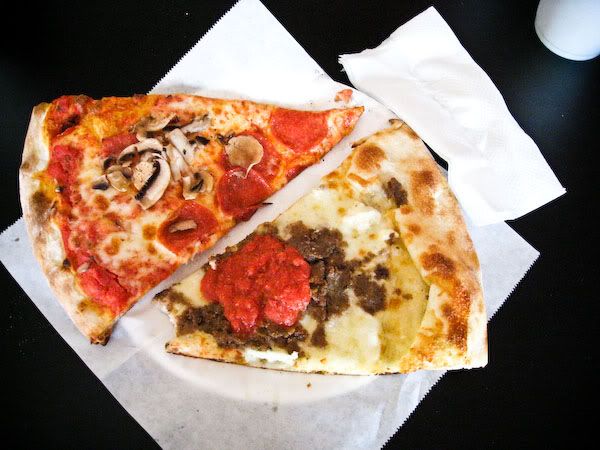 Todd patiently posing before taking a bite...
The obligatory "Todd taking a big bite" out of food photo.
I think this sign describes our life philosophy quite well indeed.
The verdict? I thought it was just as good as Bongiornos. Todd thought it was good, but not quite as good as Bongiornos. But it was so reasonably priced... and it was next door to Eclipse Chocolat, where we found...
All kinds of brownies, as far as the eye could see... we shared a gingerbread crumb brownie, which was delicious, and sampled a couple of pieces of sea salt chocolate that they had out for sampling. We were pretty excited about discovering the chocolate place, but I also discovered something else that's awesome:
Dani Phaneuf Photography
. There were these awesome Italy travel photographs on display inside Luigi's, and I wandered over to see who took them, because they were absolutely wonderful, colorful, and fantastic. It was Dani Phaneuf Photography. They are located here in San Diego. I took a look at their website and they have some fantastic photos! I'm excited I discovered them today. I love checking out new things, so today was quite a fun day! :)