I have a hard time not eating free food sometimes. If it's there, and it's free, I eat some. I also have a hard time leaving food on my plate, even if the portion is too big for me. I don't like to waste food. I need to learn and realize that eating all the food on my plate, when it's too much, does have a personal cost to me. And that cost is extra fat so I can't run as fast. Extra taxing on my heart. Extra money I have to spend to keep buying bigger clothes to fit me. All these extras are not what I need. So today someone at my office pawned off this extra doughnut on me. I had politely declined but he insisted and left it on my desk. I took a bite. Then left it alone. I'm extra proud because of it. :)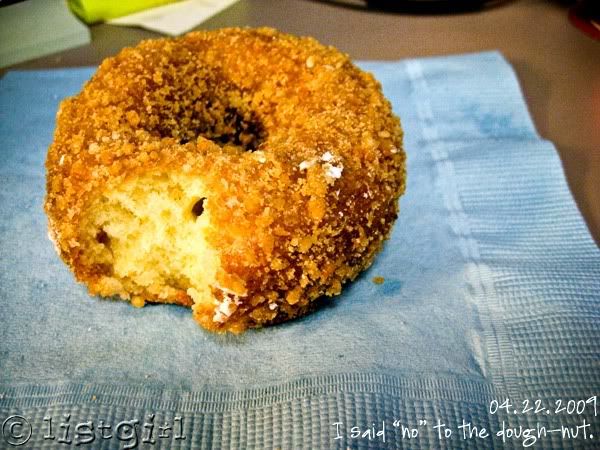 This morning started out not-so-good. The drywall guy, who is a sub-contractor, showed up at 7:20am. We were not expecting him so early. Remember how I said they took down all the plastic tarps that they taped up to function as room dividers yesterday? Well, they shouldn't have done that, because they knew today was drywall day. I didn't realize that putting up drywall is almost as dusty as demolition. So, we were upstairs showering and getting ready for work, and Mario the drywall guy got started hanging drywall downstairs in the kitchen. When I went downstairs over an hour later to go to work, I saw that Mario did not put up plastic to divide the room up again before hanging drywall in the kitchen. There was a thin layer of drywall dust in the family room, and the stuff was flying everywhere. I was going to leave and call our foreman Eric, but this other guy from the drywall company showed up. He told Mario it was too much dust and brought in plastic to tape up on the walls and ceiling. It was a little too late as a bunch of dust had blown into the family room already. So, I got to work and called Eric, I was pretty annoyed and angry. He called me back right away and apologized. He said he didn't know that Lou had taken down the plastic yesterday. And that this wasn't how they do things and he was going to call Jack, the owner of the drywall business, right away. He did, and called me back immediately. He apologized again and again and said he told them so many times to protect the area and they just don't seem to have common sense. He said the subcontractor knows they were wrong and he told me they would clean it up, and to tell him if the cleanup wasn't good enough. I was satisfied with Eric's sense of urgency. I know I would not want to have his job, that's for sure. After work, I made it to the gym again. And this time, I was the ONLY person there for over half an hour. I had all the machines to myself! Two more people showed up later. I did the elliptical machine to warm up, then I did 15 minutes of stairmaster. Then I did all the leg machines. Then I did abs and upper body machines, finishing up with a five minute elliptical cool-down. I went home and inspected the family room. It was clean enough. The walls are up! Here's the kitchen:
Here's the double shower: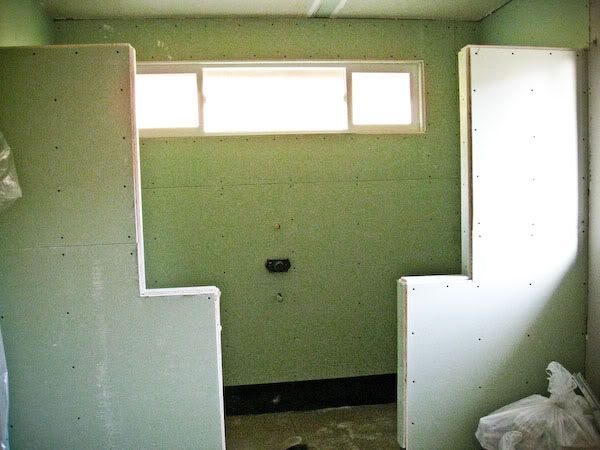 We got a late start on dinner, but we went over to our next door neighbor Fred & Annie's house to cook dinner.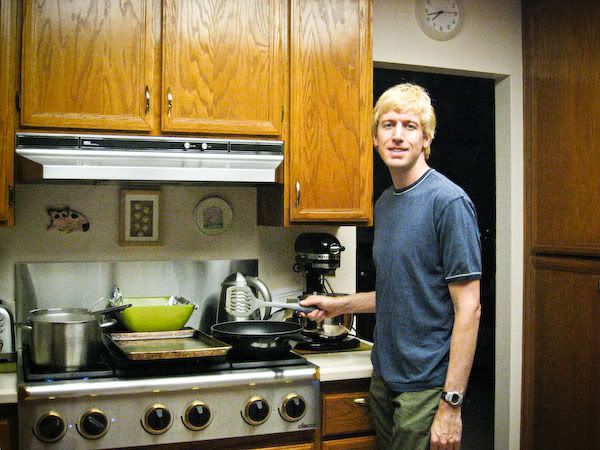 Todd made pasta with roasted veggies and fresh sausage in marinara sauce. It was simply delicious! Then we made strawberry milkshakes with the strawberries we picked on Sunday. Now I'm extra-glad that I didn't eat the dough-nut! :)