Happy Easter to everyone! Christ has risen indeed! I'm thankful for the death and resurrection of Jesus Christ my Savior, so that I have salvation and eternal life. We woke up in our hotel room in Long Beach this morning, and I tried to log on to the internet, but it was broken and I couldn't log on after several tries. So I didn't end up blogging about yesterday until earlier today. Please scroll down if you want to see photos from yesterday. Today's photo: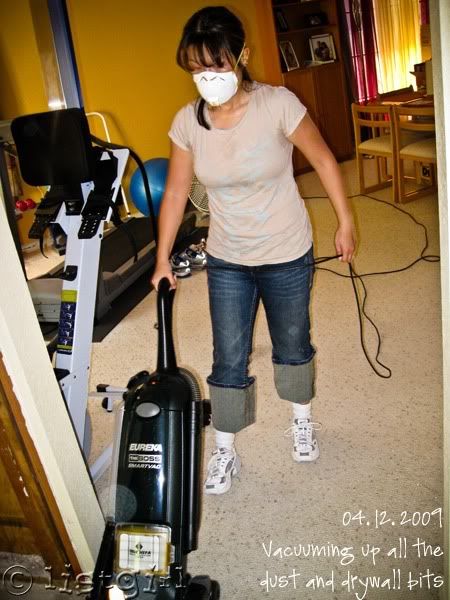 I spent some time today vacuuming our whole house. The contractors demolished our kitchen and master bath this past week, and took down drywalls. There was so much drywall bits and dust on the carpet. They put some tarp down, but this stuff gets everywhere. I vacuumed it good today, but I know it's a losing battle since the workers will be here working again tomorrow. Sigh. The OCD clean freak in me is going to freak out before this remodel is over. So, back to yesterday. After running and eating and showering, we drove up to Long Beach at 2:30 PM and arrived at the hotel around 4:00 PM. We checked in and discovered that the hotel is right by the freeway and the Long Beach Airport, so it was quite noisy. Sigh. Oh well, live and learn, right? Todd went on Yelp.com and found a place for dinner called
At Last Cafe
. I was skeptical because the storefront looked unassuming. But the small restaurant was completely packed and most people had reservations. However, they were very nice to us and squeezed us into a two person table in very close proximity to other diners. We looked around at other people's food and they looked delicious, so my concerns were alleviated. Then I looked at the menu and all the items were really reasonably priced. I ordered the shrimp bisque soup
We shared the Brick Chicken (I ate 1/3 of it, while Todd ate the rest):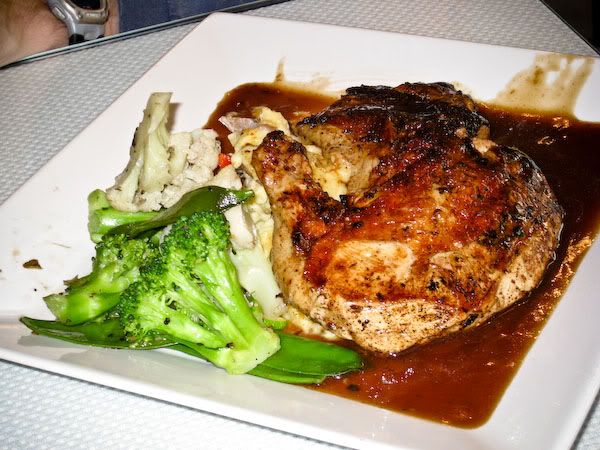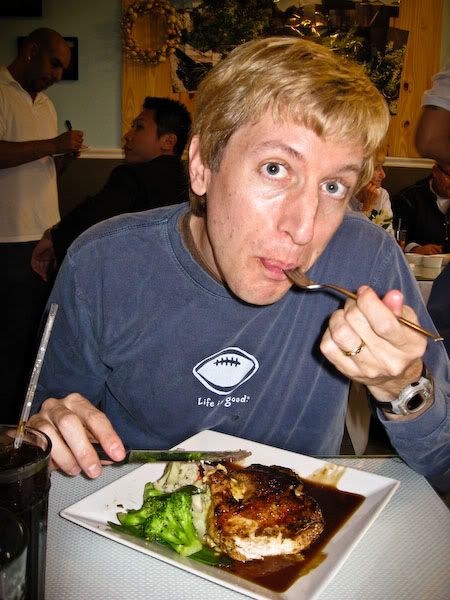 and we shared the apple crisp with ice cream for dessert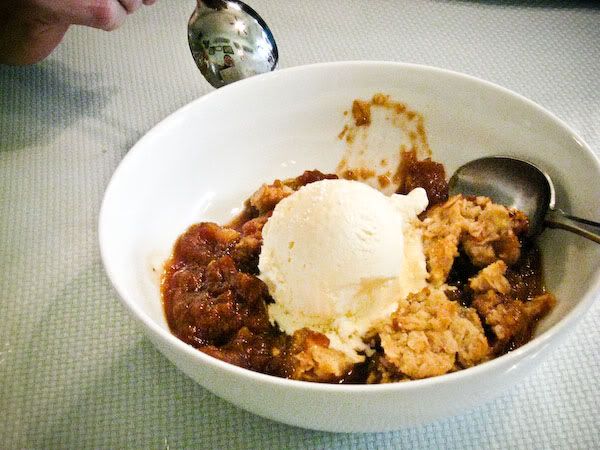 Overall it was very good, and the bill came to only $25, which is a great deal. Todd made a good find! After dinner, we drove through downtown Long Beach and it was beautiful at sunset.
Check out this huge side of a building painted by
Wyland
.
We arrived at our destination, the Terrace Theater in Long Beach, to see two of my all time favorite contemporary Christian music artists, touring together in the United Tour....
Steven Curtis Chapman
and
Michael W Smith
!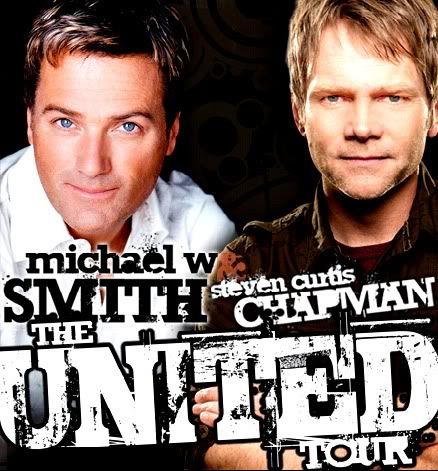 Regular readers of this blog will know that I love the music of Steven Curtis Chapman and his songs have ministered to me many many times. (Read about it
here
and
here
.) I was very excited to go see him in concert, since I've never seen him live in concert before. The place was packed, but we got pretty good seats. The show started pretty promptly at 7:30 PM. During the opening numbers, both SCC and MWS were on stage, playing together.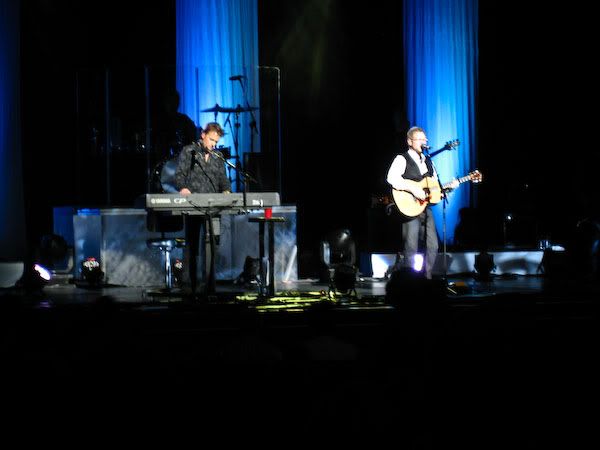 They switched it up a bit and SCC played the keyboard while MWS played the guitar.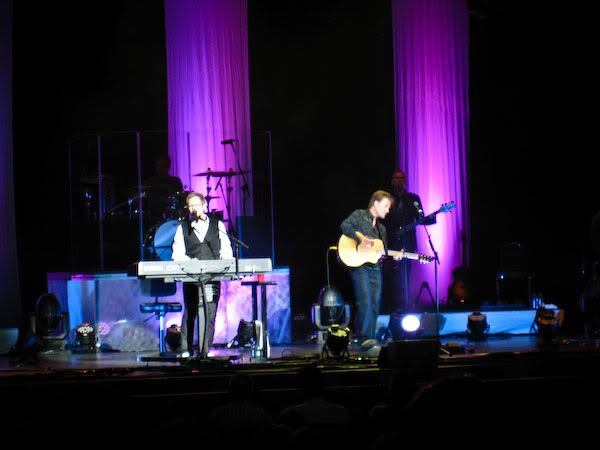 Then Steven Curtis Chapman played for about an hour. I was amazed as this musician really ministered to my heart. He talked about losing his daughter Maria last May to a tragic driveway accident, and how that has affected him. I admired how honest he was with God, and with other people. He said there were a couple of songs, "
Everything Is Yours
" in particular, that he didn't feel like he could sing again. He didn't feel like he could sing the song if he didn't completely believe in what he was singing. After struggling, praying, and searching his own heart, he could sing the song again. God is in control, even if we don't understand why things happen. I SO needed this message this week, after my friend Barbara died. Going to this concert the night before Easter was totally a coincidence, since I didn't know it was the night before Easter when I bought the tickets. But this was a great celebration of our faith and how God redeemed us. Many of the songs that Michael W Smith sang were from his praise and worship albums, and the whole audience was singing along. I felt like instead of just watching a concert, that I was a true participant in the music. I believe God was there last night, ministering to many people's hearts. Here are some more photos: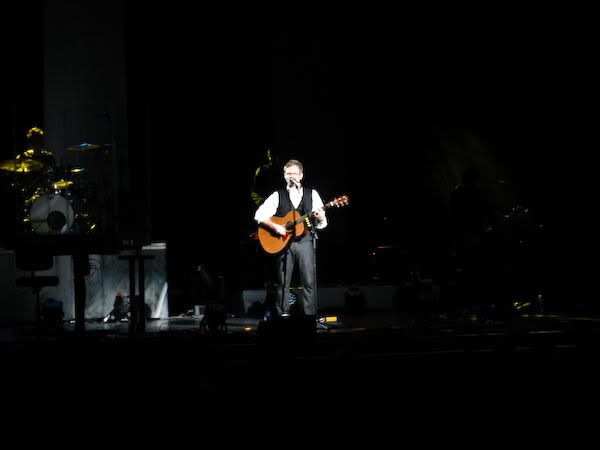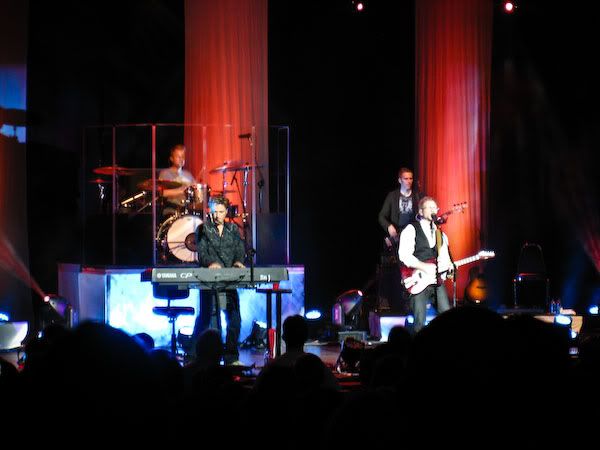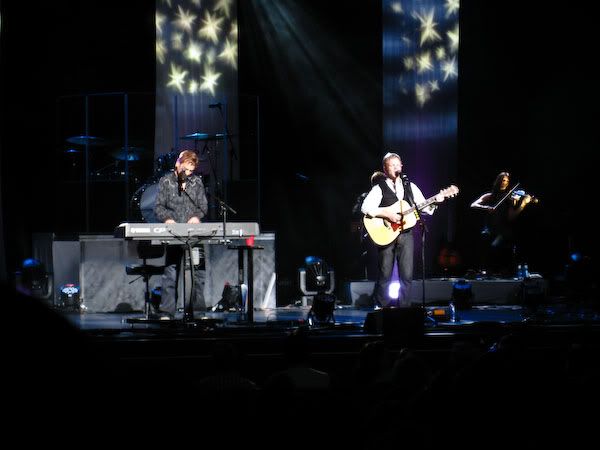 Michael W Smith played the second half of the concert. The praise and worship songs brought everyone up on their feet.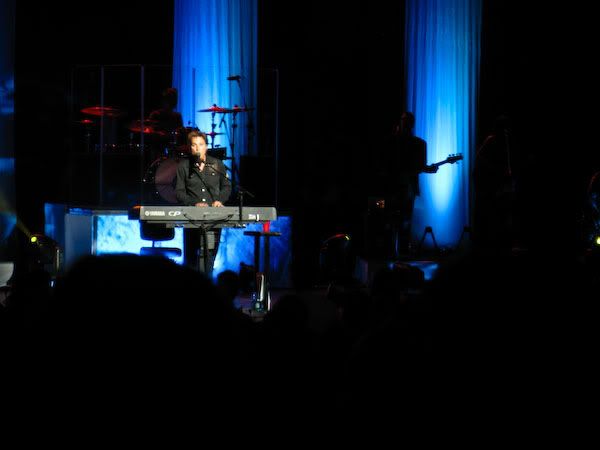 For the last song, they were joined on stage by
Geoff Moore
: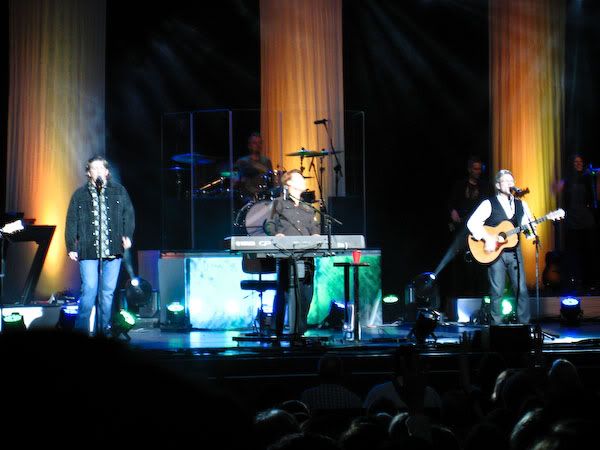 For much of the concert, I had tears on my face. I felt God really ministering to me about my mom, Barbara, my sin and distrust, my questioning, etc. It was definitely a night to remember.