The April template for Project 365 is here.
**Download link no longer available**
If you're linking to my blog about the freebie, please link directly to this post, rather than my blog in general. That way people who are only interested in the template don't have to scroll through all my posts. Thanks!
Today's photo: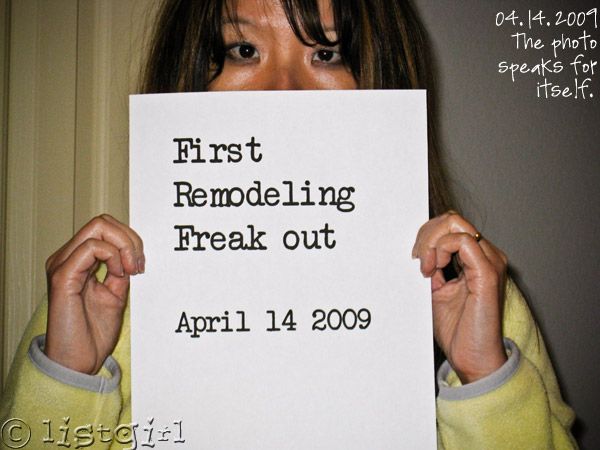 I came home from work and basically freaked out. Your home is your sanctuary and mine isn't right now. We had asked the people working in our house to use the downstairs bathroom and not the upstairs one, which is our bathroom, now that we don't have a master bath. I discovered that someone used the upstairs bathroom again today. It really made me mad. So I made a sign that says "Please use downstairs bathroom. Thank you." and put it up on the door to my bathroom.
Then there's the story of the canned lights in the ceiling of the kitchen. I have always told them that I wanted under-cabinet lighting. They never put it in our estimate and statement of work. So when I brought it up again two weeks ago, the owner of the company, Tom, said that he had planned 9 canned lights in the kitchen, and 3 pendant lights over the peninsula counter. He said that seemed like an overkill of overhead lighting for a kitchen our size, so we can put less canned lights in and use the money to pay for the cabinet lighting. Today I came home and found that they've installed all 9 canned lights in the kitchen. Todd's going to call Tom tomorrow and straighten it out. I don't wanna spend another $800 for cabinet lighting. It just frustrates me so much that they weren't listening to me! We have mentioned at least twice that we wanted under-cabinet lighting. GEEZ.
So because I basically freaked out and couldn't function like a normal person, we had to cancel our dinner plans with our friends Anne & Gilbert. I just could not socialize after freaking out like that. I'm so sorry Anne, I hope you guys will take a raincheck!
So I've officially had Freak Out #1 over the remodeling.