This morning was the "Train Run" with West Coast Road Runners. I've done the Train Run once before in 2000, when I was training for the Honolulu Marathon with Team In Training. This is where we take the train from Solana Beach to Oceanside, then run the 16 miles back. Alas, because of my shoulder injury and Todd's calf injury, we decided it would be a bad idea to run the whole 16 miles. So Todd came up with a scheme where we would drive two cars and drop his car off at the finish by the Solana Beach train station, then he would get in my car and drive eight miles north to Carlsbad. We would time it so that I would start running about 15 minutes before him, and he would start running when his normal running group came down from Oceanside. The whole scheme would have worked very well, except that the group taking the train had a 15 minute pep talk at the train station in Oceanside, so that Todd had to wait a long while before he saw his group arriving at Poinsettia Lane in Carlsbad. I ran the whole time by myself, since I was ahead of the WCRR schedule. Boy I found the eight miles difficult today! I think it's because I had been taking my muscle relaxant medication all week before bed each night. While it helped my shoulder and back so that I didn't wake up all stiff and sore, it didn't help my legs. My legs felt weak and I was pretty slow with the eight miles. I finished with a 1:39:39 time and was really just glad that I finished. It was a bright sunny day too, but not too hot. Lifeguard station at the beach in Carlsbad.
First of two
Roberto's Taco Shops
that I ran by.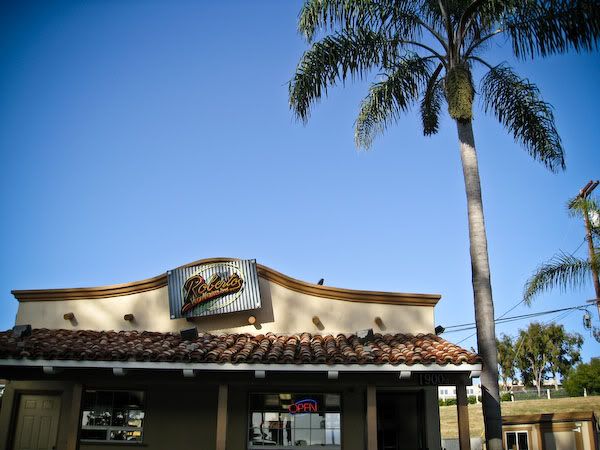 (If I would have ran from Oceanside, there would have been three Roberto's!) The Bar Leucadian. When Todd played with the band
Blizzard
, they played here twice.
A huge line in front of the famous coffee shop
Pannikin
in Encinitas.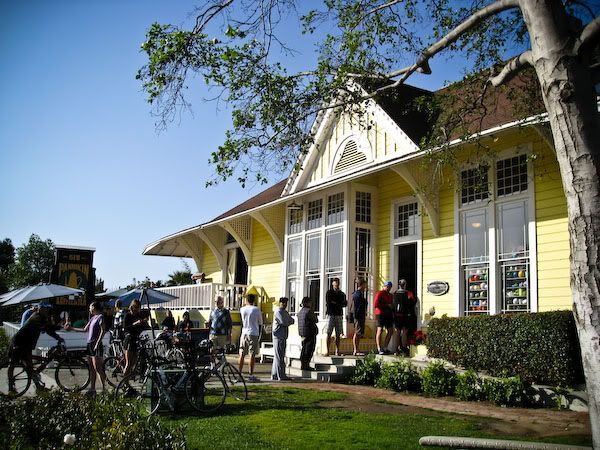 Lou's Records
in Encinitas, where we saw Jon Forman of Switchfoot play once.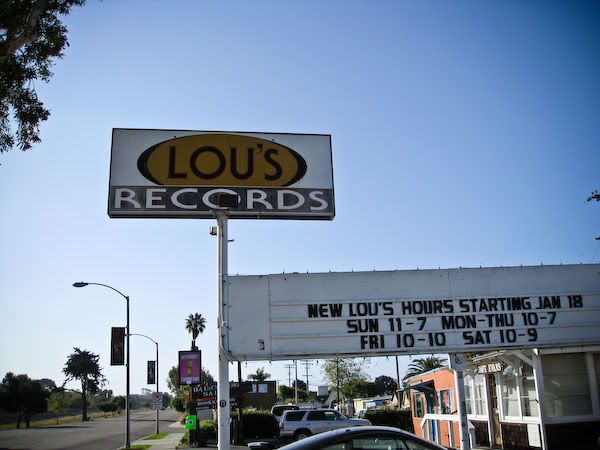 City of Encinitas sign:
This place used to be called the Martini Ranch. Todd played here with The Northstar Session many times.
View from Swami's in Encinitas. This is our usual running route, so I was in familar territory.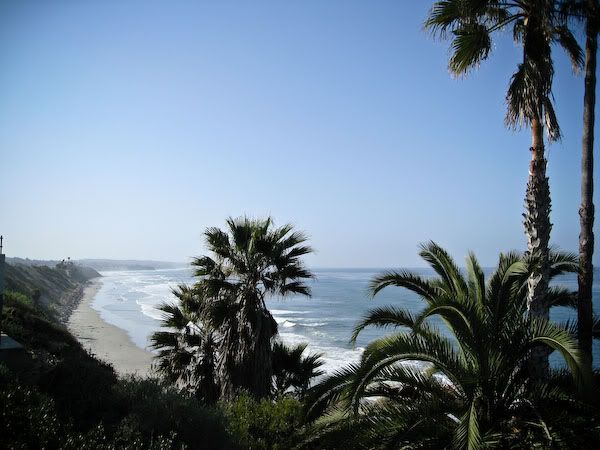 The little dots in the water are surfers in their wetsuits.
A view of Swami's from the south, as surfers walk down the path to the beach.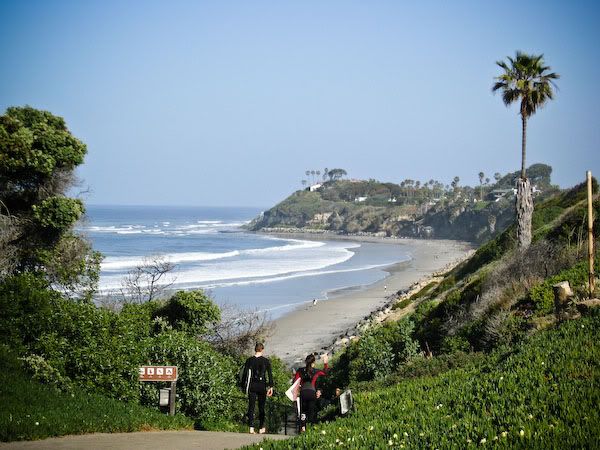 I'm just really glad to finish the run and feel pretty good. No major aches and pains! I came home and rested. Then ate lunch and took a nap. Then it was time to meet up with two of my friends from high school, Lara and Sara, and their families, at
Sammy's Woodfire Pizza
in Point Loma. I just saw Lara two weeks ago when the two of us and Sally got together. But I haven't seen Sara since December 1988! So I haven't seen her in 20 years, but she still looks the same!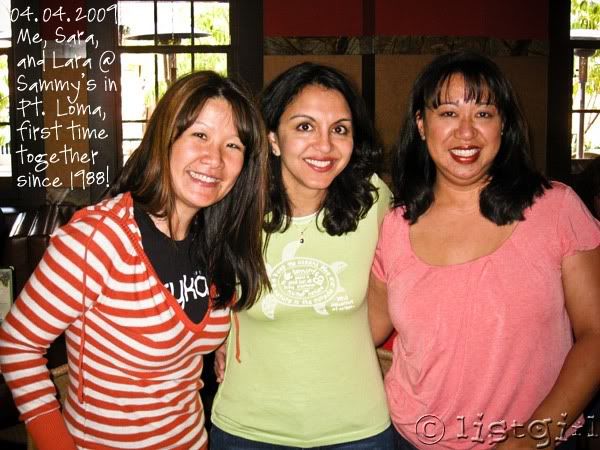 There were lots of reminiscing and catching up. I also met Sara's husband Joydeep and her two kids as well. It was such a joy to see her again, after all these years. They are visiting San Diego from Virginia, where they live now. But they used to live in San Diego in the 90's, when Sara went to med school here. Everyone but Todd, he was taking the picture.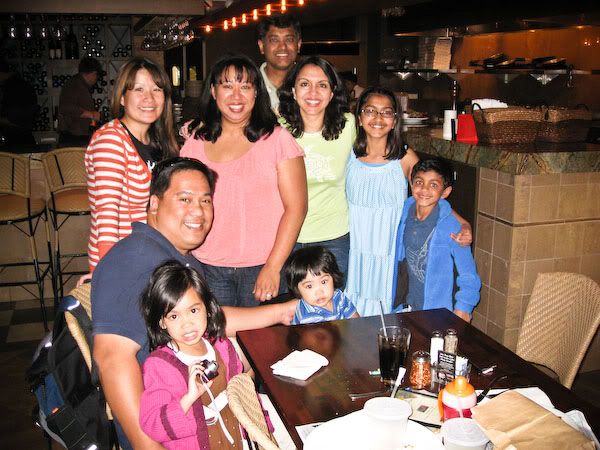 The husbands: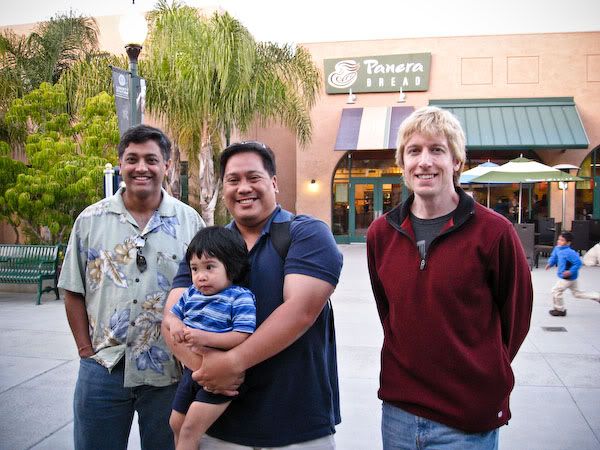 After dinner, we drove down the street to
Sunset Cliffs
to watch the sunset. I've been living in San Diego for almost 10 years and I've never been here! It was gorgeous.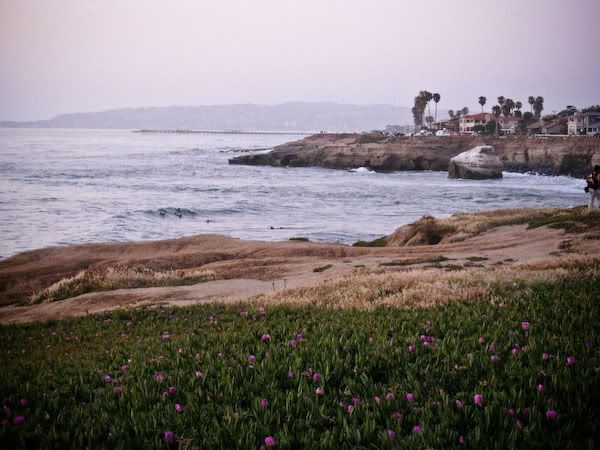 I love this photo with the some of the houses lit up: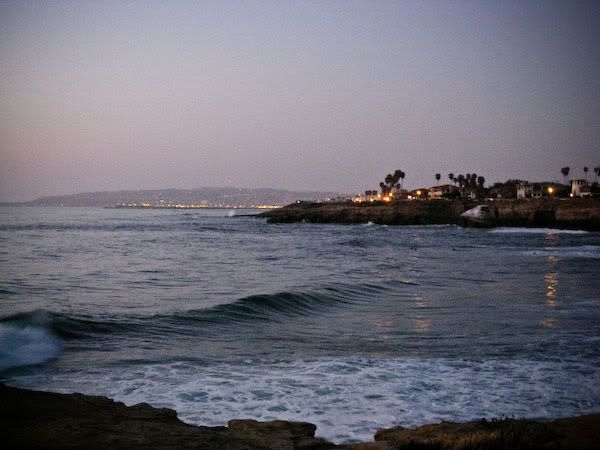 Catching up with Sara (and Lara again) was so much fun. I wish Sara and her family lived closer. Now I'll have to find some old HS photos of us and post them next to the current photos, just for fun. :)