Today our next door neighbors Fred & Annie invited us over for lunch, along with Yvonne and Andy (both coffee/espresso nuts and baristas). Todd made blueberry scone (from the mix we got at World Market) and brought it over.
Annie made Fettucini Seafood Carbonara
and a fresh green salad
Fred brewed some decaf coffee, especially for me!
Here's us, enjoying Annie's cooking: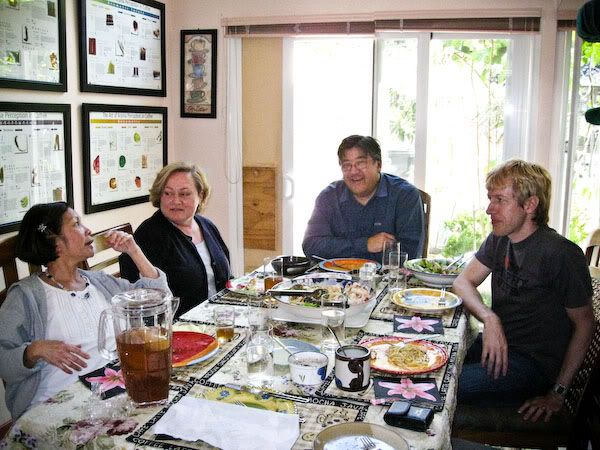 Then Annie brought out a surprise for me! She knew my birthday was in March, but thought it was later in the month. So a couple of weeks ago during our Battlestar Galactica party, she asked me when my birthday was. I told her it had already passed. But that didn't deter her from making a chocolate cake for me!
It was totally delicious. On top of that, she made a necklace and some matching earrings for me, and a cardigan sweater!
After lunch we gathered around the coffee bar in their living room and just chatted and had fun.
Fred made more lattes for us: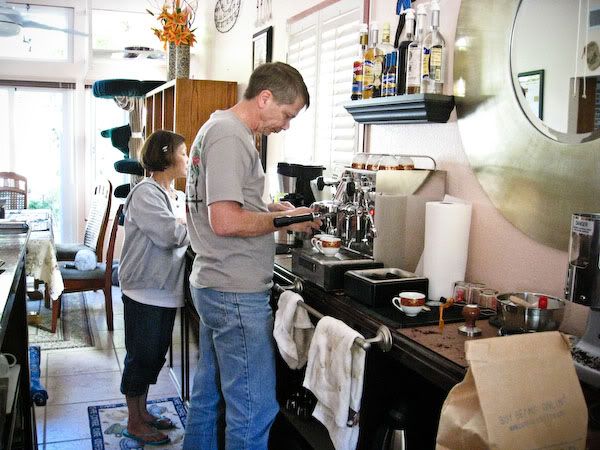 Fred's latte-pour art (bad focus on the pic, but you get the idea):
Lunch turned out to be four hours. We finally took the long trek home (next door) and started our dinner of homemade chili. It takes 2.5 hours to cook and simmer. This is one of our last meals we're making in our old kitchen before it's demolished in a few days.