The alarm went off at 5:50 AM this morning and I really did NOT want to get out of bed for the run. But alas we did. After some cereal and getting our stuff together, we drove to Moonlight Beach in Encinitas for our 11 mile run with West Coast Road Runners. We got there early enough to find parking. Yay! Here's Todd's group, the "Marine Corps", in the parking lot getting ready to go off. Photo courtesy of Todd.
Of course I didn't see this because my group the Catalinas started running 30 minutes before that, at 7:00 AM. We're slower, so we get to start first!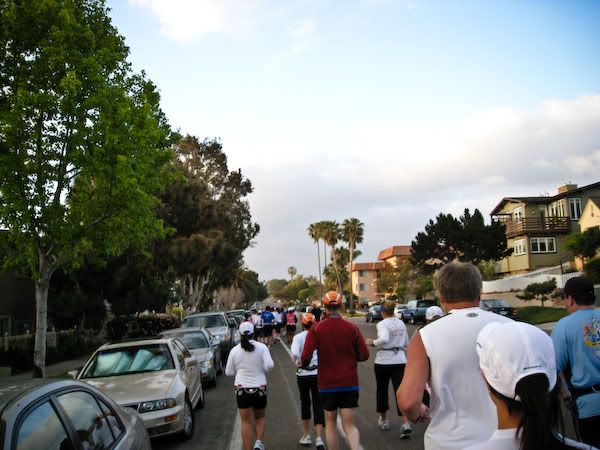 I felt really good starting out. I was running relaxed. I stopped taking my muscle relaxant medication (for my shoulder and upper-back) two days before, so my legs didn't feel like jelly for this run. I felt pretty strong actually, until around 8 miles. Then I got tired and my legs started to feel tight. I ran the whole time with coach Tim, who was pacing an "over 11" minute mile. That was perfectly fine with me! I was glad to have someone push me along the pace, at least the first 8 miles. The last three was just tough for me, and with hills and all, I was feeling very tired. During the run, my hands got really cold. I don't know if it was because of misting rain at some points during the run, but my hands got so cold that it was bothering me. I found the remedy by bringing my hands up to my face, because my face is always hot when I run, LOL. Along the way I saw some pretty scenery along the coast.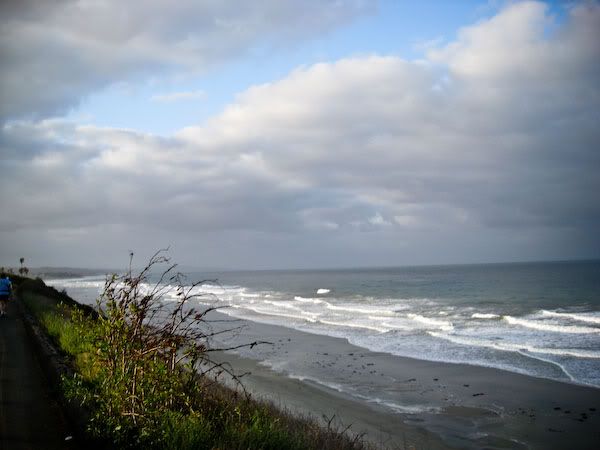 Aren't these houses super-cool?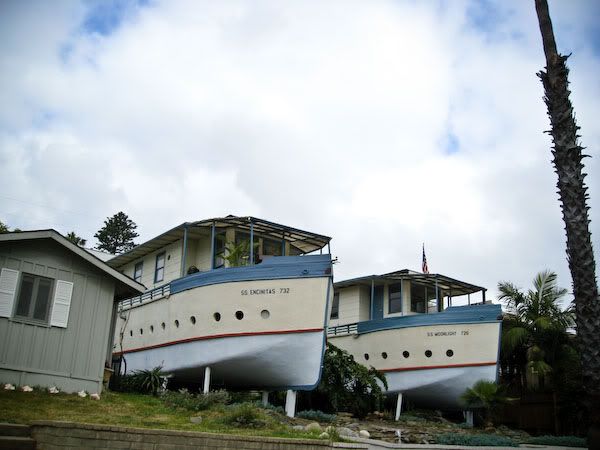 A little while after I turned around at 5.5 miles, we ran into Todd's group. I got a shot of Todd waving at me.
That was before he strained his knee and still ran the last three miles back. He's limping around today. :( Here are some photos that Todd took of his running mates on the run.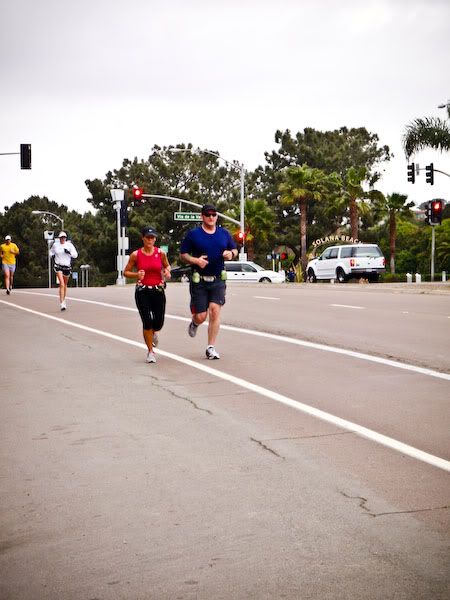 We didn't stay for the nutrition seminar after the run, because we had to to get something to eat and then head home so we can shower, pack, and leave for Long Beach. We had brunch at
The Naked Cafe
in Solana Beach, right across from Fletcher Cove. We had gone there once before. This place is very popular during breakfast time, and they serve whole/organic foods. We had to wait about 15 minutes before we got seated. Todd got the Ying and Yang, vegan style. It's got potatoes covered by beans.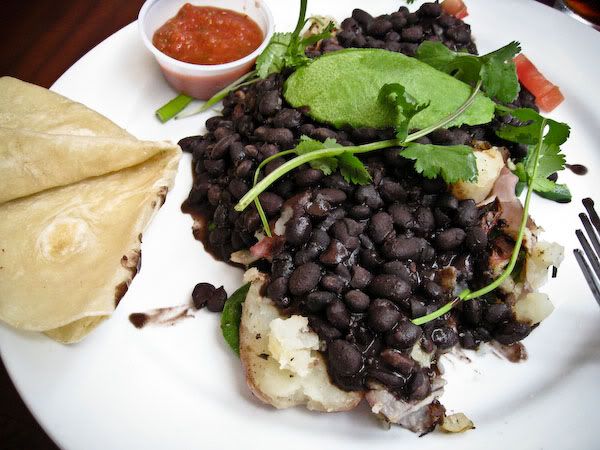 I got the Pesto & Artichoke Heart Quesadilla.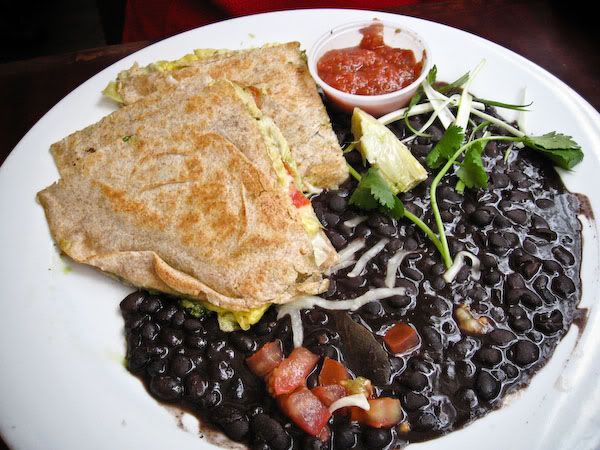 The food was okay. We go there and we always expect it to be really tasty because of the fresh ingredients, but it just didn't taste that flavorful and we don't know why. Plus the food is a little pricey for what you get. Then when we got the bill, it says that because there are so many people who work behind the scenes there, they add an extra 5% to the bill. But if you look at the line items, they hide it in the sales tax line, so you don't really know it unless you really do the math. I bet most people still give another 15% in gratuity. We think this is deceptive and immoral. If they need to cover so much of their costs, they should just raise their (already high) prices and not try to deceptively charge another 5% buried in the tax line. We won't be going back again. We went back home and showered and packed up for Long Beach. Details in tomorrow's post.