Hi kids, it's Todd. I'm finally pulling my weight around the clubhouse by sitting in for a blog post. Should I write about what happened today or cover the ground since
my last guest post
which is months ago? I'm swimming in the options! I guess I'll go with just today to keep from getting too dizzy. Today I was able to slip away from work to attend my friend Jessie's birthday lunch. Here she is with several friends/coworkers.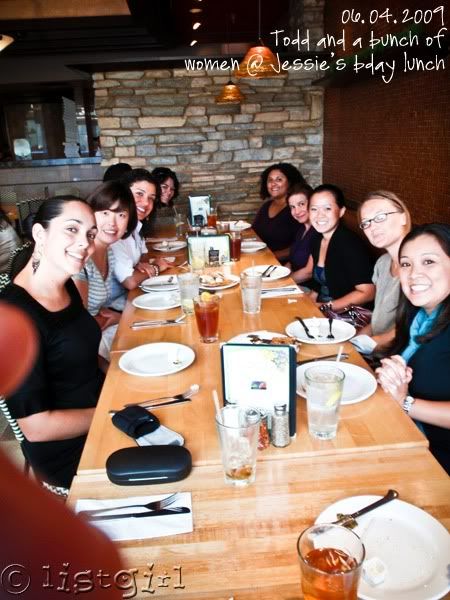 Do you notice there are no men in this photo? Not a bad deal for me, eh? Actually there were two other guys there but they apparently both got shy and hid. I think many scrapping wives understand this phenomenon well. I was not in that picture either obviously but later I got a shot with the birthday girl.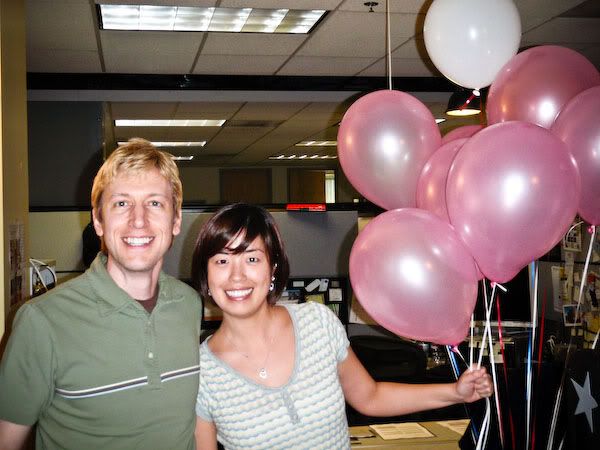 Happy birthday, Jessie. You'll love being 19! Sadly, I had to carry my food out and leave early to take a conference call with a vendor. Boo on work! Not only that, but I missed out on the free dessert! Some days having a job is just no good. I mean really, is there ever a justification for keeping one from treats? I think I'll ask that at my next philosophy club meeting. It's a question that everyone can relate to! I'll undoubtedly be celebrated for bringing philosophy back to the masses. And my sacrifice today will not be in vain. Brilliance! Regular readers here know about our remodel-in-progress. And if you've been paying close attention, you'll know that we're in the midst of tile laying. The tile was scheduled to be done Tuesday. Then Wednesday. Then... well you get the picture. It's now scheduled to be done Friday. Here's hoping! We decided to flee the house rather than stay home while the tile layers worked past dinnertime (as they always do). So we went out and got a mediocre dinner. We had a Friday's gift card which made our dinner nearly free. That was the good part. But not being regulars there, we didn't make the best menu choices. On the bright side, we had the "Loaded Potato Skins" appetizer which we used to eat somewhat regularly as dating college students a few years back. So points for nostalgia. How many years back, you may be wondering? Well if you don't know, I am certainly not giving up my wife's age. What do you think I am, a maroon? Finally, a funny note - literally. Below is something we received in the mail.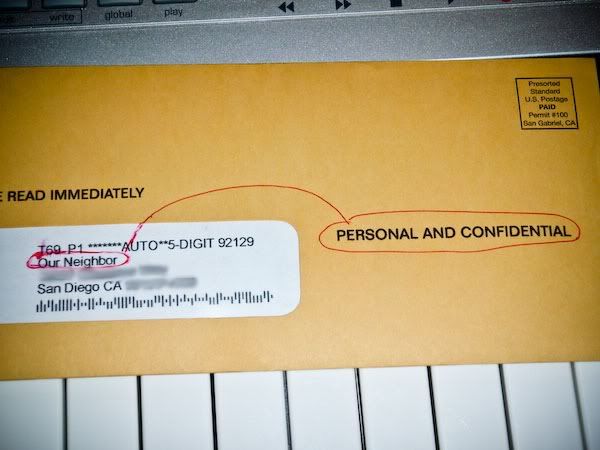 That's right, a "personal and confidential" note to us, "Our Neighbor." I bet very few of you knew that listgirl's real last name is Neighbor. I'll let you guess which of us has the given name Our. Here's a hint: it's not who you think. Listgirl will be back tomorrow. I'll be back some months later but for now it's back to my regular schedule of trying to touch my nose with my tongue and creating post-it-note sculpture art.