This morning I stayed home to wait for the appliance repair man to come take a look at the brand-new oven. Mark/Boris (more about his name later) showed up around 9:00am. He unscrewed the oven and pulled it out of the cabinet. The oven clock and control panel works, it just doesn't heat up. So he thought maybe the 220 volt circuit was off, but we checked and it was on. He used an electric continuity tester to check if the wires had power at the circuit breaker, and they were fine. So he opened up the oven and checked the wires coming into the oven, and there was no power coming in. Uh oh. We took the drawers out and he tested the wires in the 220 volt outlet, and sure enough, the red one doesn't work!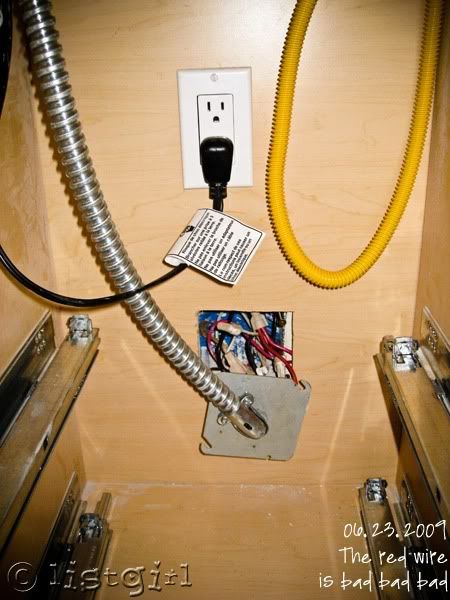 So he came out for nothing. I don't think they will get money from Kitchen Aid for warranty work, because the oven's not broken. During the time Mark was here, he was very talkative. And because I am working on my people skills, I chatted along and asked him questions. He's originally from Russia. He's 42 years old and has a wife who is 39, and a daughter who's 19. He tried to remodel his kitchen himself. Some pipes burst behind the wall and there was water damage and mold. He said his wife ended up in the ER because of it. I said, "from the mold?" He said, "no, she tends to get very emotional about things like this." He told me that I was handling this very well. If it were his wife, she would be freaking out about the red wire. His name is Mark, but there is another Mark where he works, so he just told them to call him Boris, LOL. He told me that he's only been repairing appliances for a month. He used to be an electronics engineer at a high-end car dealership in Orange County. With the economy being down, and the car industry in shambles, he got laid off. He said he was depressed for three months, because he didn't know what other jobs he could do. His wife suggested he repair appliances, so he did. Everyone has a story. And everyone has hardships. But really, the best part of the conversation? He thought I was no more than 26 years old. For reals! I was so happy for the rest of the day, LOL. Today I put our photos back onto the BOW (Big Orange Wall) in our circular staircase. I had taken them down before the start of remodeling, because I didn't want them to be knocked off the wall or get all dusty.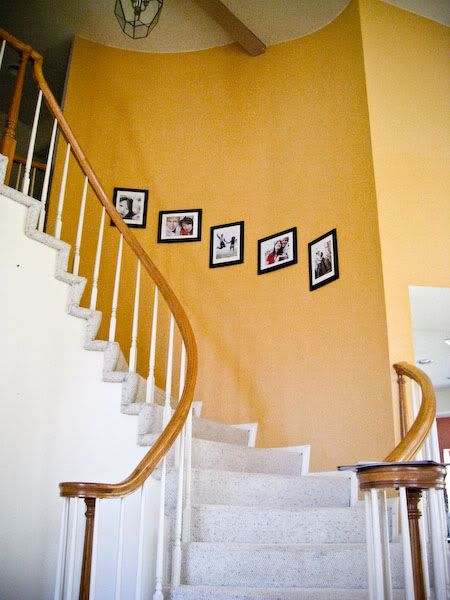 I wanted to show you the cake that Todd made last night from scratch.
It's called
Cinnamon-Apple Cake
, and I got to eat one piece of it. It was delicious! But Todd took the rest to his Toastmasters meeting today to share with everyone. He's the president of his chapter of
Toastmasters International
, until the end of June, when his one-year term is up. Tonight is the third consecutive night that we've used our wonderful new kitchen to cook our dinner. We made
Szechuan Spicy Noodles with Carrot-Cucumber Relish
.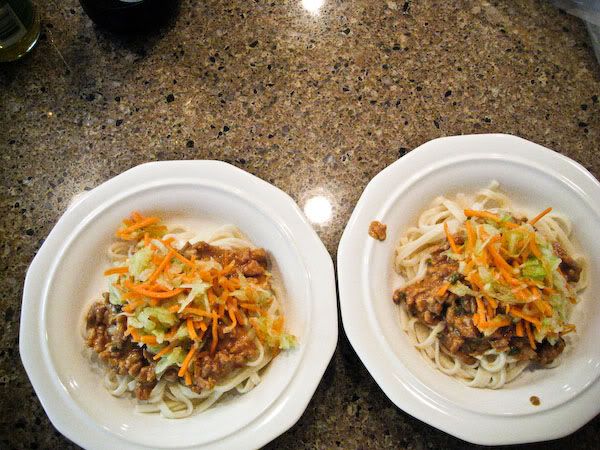 It's one of our favorite dishes. Even with the remodel not done yet, I am already so thankful and excited about the new kitchen and master bath. I love it and feel like I got a brand-new house. The kitchen really is the heart of the home. The hassle of the remodel is worth it. Tune in tomorrow for my iPod Shuffle playlist for the
Seattle Rock N Roll Half Marathon
that I'm running this Saturday! Yes folks, this is what I've been training six months for. It is fast approaching!