Sigh. I thought the remodel would be finished today, at the latest by tomorrow. But not really. Now the aim is to finish by Friday. Todd worked from home today in order to give instructions and monitor the remodeling, since now the installation of stuff like the exhaust hood, mirrors, and lighting need our input. Well, by 10:00am, nobody showed up yet, and no one called us. So Todd called Rhi, the project manager. She said they had a big meeting first thing this morning regarding what to do about our microwave trim not fitting into the space between the surrounding drawers and doors. This is what I mean.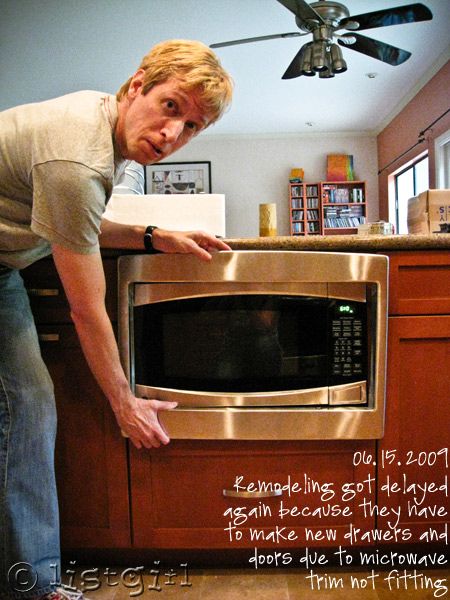 It doesn't fit vertically or horizontally. They came up with a plan to totally redo the drawer fronts and cabinet doors so that there would be new spacing to fit the microwave trim. Reason is, there are only two microwave trims, and this was the smaller one already. So they have to make two new doors and four new drawer fronts, at their expense. It is a good solution except for one fact: when you open the drawers, you will see that the drawer fronts aren't centered. The OCD in me is naturally horrified. But there's nothing else they can really do. They cannot make bigger cabinets because the countertops are already on. So, from the outside everything will look fine. When *I* open up those drawers, I will see that the front is off-center. It's hard to explain without a visual, so I'll just have to take a photo at the end of this week and show you. This development was a little depressing to me. Then, because they weren't going to finish today anyways, they pulled Louis off the job and put him to work at someone else's remodel today. Without telling us. Todd stayed home for nothing. I was really angry about the lack of communication. That angers me more than unexpected things actually happening. So we called Eric, our project foreman. His phone was off. I could not wait any longer. Todd found the cell phone number of the owner of the company, Tom, and we called him. Talking to Tom made us feel a little better, because he always says, "We'll make it right". I hope so. Todd says that the solution to the microwave trim problem is a good one, but he understands why it still upsets me due to my OCD need for things to line up. He says the way I am is a difficult way to live. Well duh. I know that. But it's hard to let it go. In the afternoon, Eric called us back. We asked enough questions for him to agree to come to the house and measure and explain things to us. Even more of a bonus was that DJ was coming too. DJ is the person responsible for the cabinet design and drawings. Together, they figured out the measurements they needed and what they needed to do. This issue wasn't completely DJ's fault. They were supposed to build the cabinets according to the appliance manufacture's detailed spec sheets. The spec sheet for the microwave trim said 26 5/8 inches across. DJ designed the space at 26 1/8 inches across. Yes, it is half an inch short already. But the actual measurement of the trim is 27 1/8 inches! So even if DJ would have designed it to spec, it still wouldn't have fit. So my whole day was pretty much spent thinking and talking about this issue. I can't think of a more fun way to spend the day. ::very sarcastic face:: On a way more positive note... Audrey Neal asked me to do a layout for a challenge on her blog called
Letters & Words: Font Collage
. I took inspiration from the website
Wordle
, and came up with this: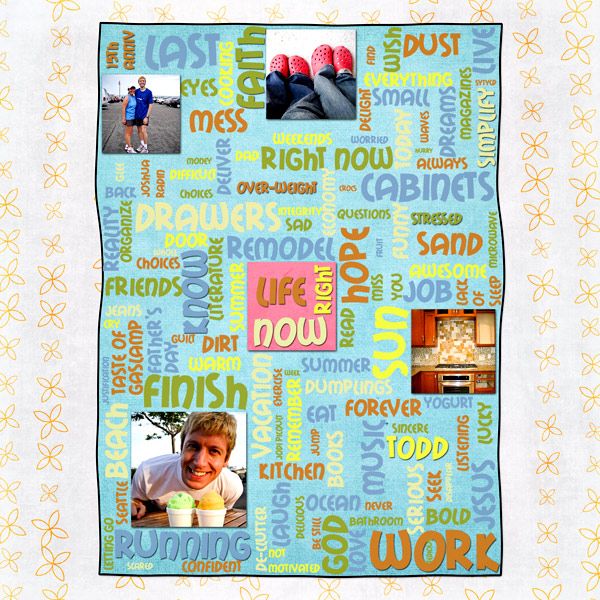 Full credits
here
. It was really fun and I hope you will play along and link up on
Audrey's blog
!