{Like whistle while you work ,but not exactly the same.} :) I finally slept well last night, so when the alarm went off at 5:50am this morning, I was loath to come out of my freshly laundered sheets. Oh the sacrifices I make for the privilege to run 8.42 miles by the ocean... :p We went to
Moonlight Beach in Encinitas
to meet up with our
West Coast Road Runners
teammates. I *just* found out this week that there is a group running the
Seattle Rock N Roll
. I got added to the group email list and the google group for it, so now I can be in the know about all things Seattle Rock N Roll, plus meet some people who are also going to Seattle to run it. Sounds like it's going to be fun. I enjoyed the smaller group quite a lot today, as I got to chat with some people that I normally didn't have a chance to chat with. One thing that I had come to believe about myself in recent years was that I am not good at initiating conversations with people I don't know well. I just had it in my head that I wasn't good at it. But this year I've found myself making some efforts in this area, and I think I'm not bad at it! I think running with a club like WCRR has helped me be better at conversing with strangers. I mean, what else can you do but chat with someone if you're running with them for almost two hours? I find out so much about people while running and chatting with them. It feels natural and not strained. Today I got to run with assistant coach Karen, and just had a blast talking with her about everything from weight-loss, to being a Christian, to our running histories and much more. She made the run so much faster for me. Before I knew it, it had been 8.42 miles and I was back in the parking lot. Todd ran with Yaiza today and got peer-pressured into running 6.25 miles. He did it and wasn't hurt! Yaaaay! Yaiza took this photo of us after our run.
We came home and showered, then went to lunch at
Nozomi's
, our favorite Japanese/sushi place in Kearny Mesa. Todd got his favorite, the Chicken Katsu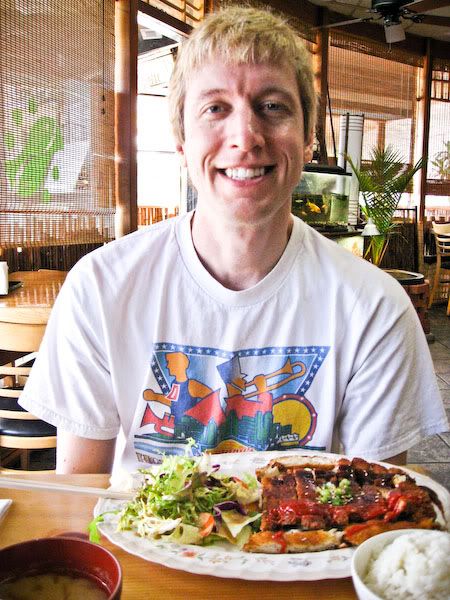 I got my favorite, the Hawaiian Roll
After lunch, we were beat, so we went home and took naps. AJ & Meera dropped by in the afternoon to take a peek at our remodeling, since they haven't been here since the renovations started.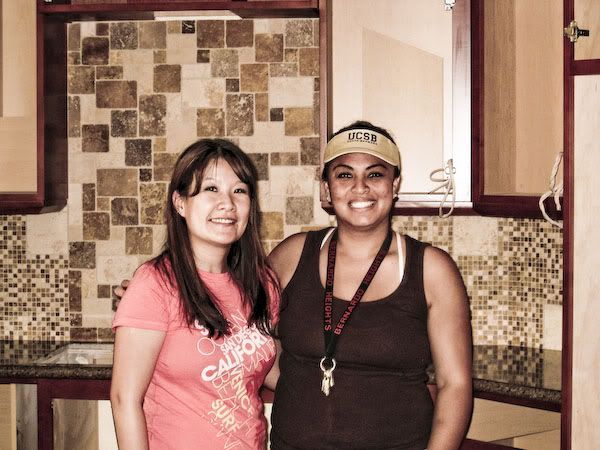 (I used Jen Wilson's Rockin Love Bus Tour Lightroom Preset on this.) Well, it's been very dirty and dusty here, so we haven't invited people over at all. That will all change in a couple of weeks when our remodeling is done. I'm so excited to have friends over for dinner again! Todd found some great "
flying dog
" photos tonight. They're very cool, so check them out if you have time.