It was another misty June Gloom day for a run. It was my last training run before my half marathon! We got to De Anza Cove on Mission Bay around 7:20am, and started our group run at 7:30am. It was a relatively small group, since most of the people who were there are the ones going to Seattle next week to run the inaugural Rock N Roll Marathon and Half Marathon. I was very excited to see Cathy there. We run about the same pace, and I haven't seen her since she finished the San Diego Rock N Roll Marathon three weeks ago. She has come by my blog with "drive-by" comments, but since I didn't know her email address, I couldn't talk back to her or get in contact with her. Now I have her email address and I can talk back! Yaaaaay! Hi Cathy! We started running and Cathy, Caryn, and I naturally fell into our same pace, so we just ran together the whole time and chatted. Caryn just rescued a four-year old golden lab named Gidget, so we talked about her dog. Gidget sounds really sweet. Caryn said her previous owner had her "de-barked", meaning they had her vocal cords cut! How cruel is that?! I can't believe people do that to dogs! Poor thing. Cathy told us about her cat George, and showed us some really cute photos of him on her Blackberry. He's 15 lbs! So the three of us, Cathy, Caryn, and Christine, ran the six miles and it was over so fast! Now if I just get a dog or cat and named him/her with a "G" name, then we would be the three C's with the three G's! (I know, I'm so clever...) So anyways, during the run I solidified my decision to join the fall season of West Coast Road Runners again. I love making new friends, and to have friends to run with on Saturday mornings is a GREAT thing! And since I won't be training for a race, I will just be social running and I won't feel like I HAVE to run at a target pace. I think it will be really freeing and I hope to become better friends with these two very interesting women. Plus Todd said it will make us be more disciplined about Saturday long runs. I probably won't be running more than 10 miles anymore for the next few months, but Cathy and I can help with aid stations for the team when they have really long runs. I'm excited about the decision, since I really wasn't sure about it before. Cathy and Caryn:
We ran on this path, with a view of Sea World: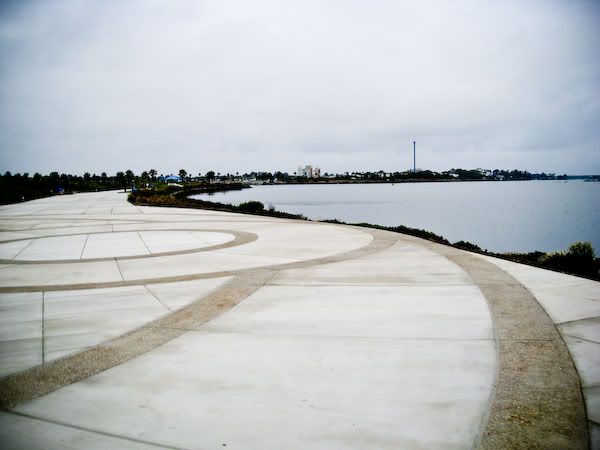 Todd didn't end up running. His friend Yaiza said she was coming, but she didn't end up showing up. I hope she's okay. Todd's doctor said he shouldn't run too much right now, so he just stayed in the car and read his book, and listened to the radio. When I got back and Todd tried to start the car, it wouldn't even turn. He was chagrined that he had blithely listened to the radio and drained the car battery! Good thing we found a nice teammate (who is also running the Seattle Rock N Roll) and she gave us a jump. So embarrassed! :p After we came home, I took a shower in our new big shower and then I vacuumed upstairs. It took me a long time because I went over each area probably about eight times. I had to get the carpet really clean because tomorrow we are renting a steam cleaner and cleaning the carpet in our entire house. We finished moving into our master bathroom by putting our stuffs into the drawers and cabinets. Todd unpacked most of the kitchen stuff into *his* kitchen. He was very excited to move-in.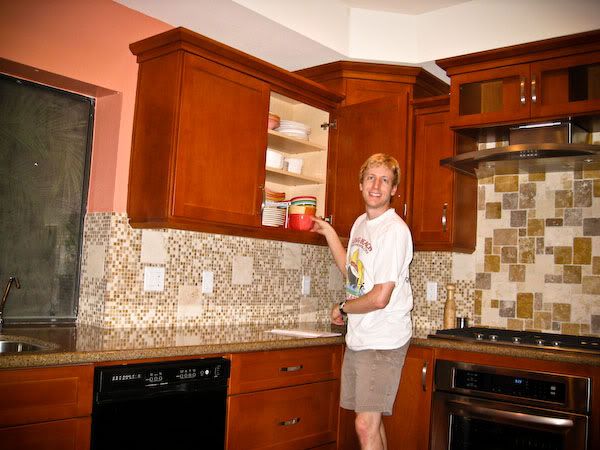 We spent a couple of hours in the afternoon grocery-shopping. This was our first extensive grocery shopping trip since April 8th, when the remodeling started. We were excited to purchase so many fresh produce from Henry's. FRESH food! We decided to cook our inaugural meal in the new kitchen tomorrow, since we were so tired from running, cleaning, grocery shopping, etc. So we purchased a frozen pizza to cook in our brand-new oven. Guess what? Brand-new oven didn't work. :( We read the operating manual, and did everything it said to do. The oven wouldn't heat up. So it's either an installation problem, or this brand-new oven was DOA (Dead on Arrival). I guess we'll find out next week. In the mean time, we were very sad we couldn't use our oven for our frozen pizza, since we were so looking forward to it.