We left the curtains open when we went to bed last night, and set the alarm for 4:50am. I woke up at 4:30am, because the sun started to rise in Seattle already!
Seattle's days are so much longer than San Diego. Sun rises before 5:00am, and doesn't set until at least 9:30pm. In San Diego, the sun rises around 5:30am and sets at 8:30pm at this time of the year. I got dressed and got my gear together. Todd walked me down four blocks to the Westin, where the shuttle buses took the runners to the starting line in
Tukwila
. The lines were really long and went around the block, but I got on a bus after 15 minutes.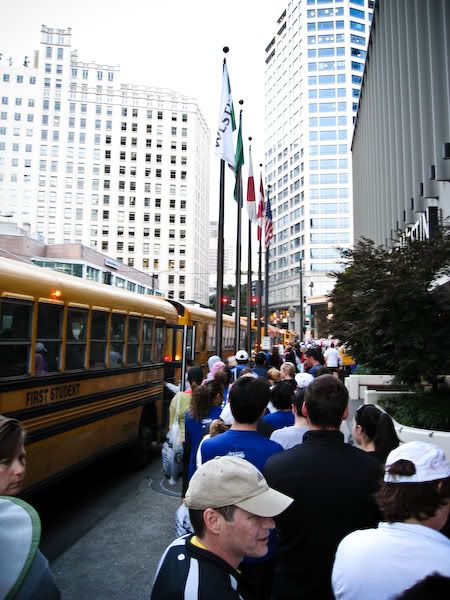 We spent about half an hour in traffic exiting the freeway to the starting line in Tukwila, no joke. Tons of cars stopped on the freeway and runners just streamed out from the cars right there on the freeway and walked down the exit. The traffic was BAD! They need to rethink that next year. After I exited the bus, I went to gear check to drop off my sweater.
It was still a little chilly but I didn't want to carry my sweater for 13.1 miles, obviously. I ran into Robert and Cassey from West Coast Road Runners, also checking in their gear. I started walking towards my corral, #27, when I saw the really long lines for the porta-potties.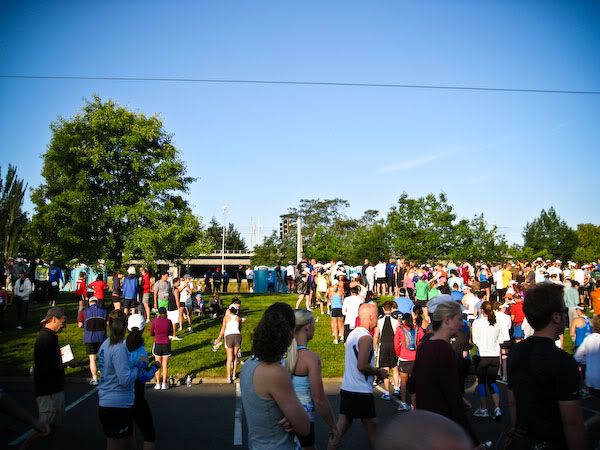 Good thing I didn't have to go! The orange tag is my
ChronoTrack
RFID. It is scanned at the starting line, 5k, 10k, 9 mile mark, and at the finish. That is how they know I ran the whole course, and also how I get my actual time, since I didn't cross the starting line until a good 45 minutes after the race gun went off.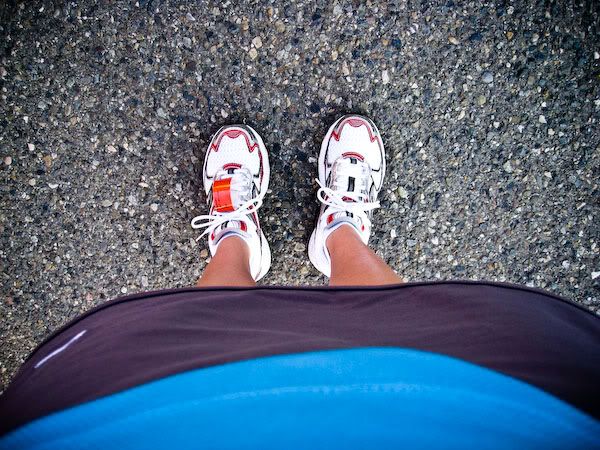 I got into my corral and I was ready to go.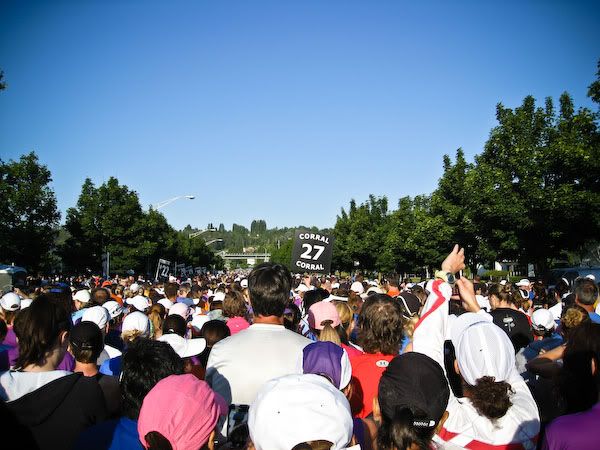 Unfortunately, it would be an hour before I actually got to the starting line. There were a ton of people behind me too.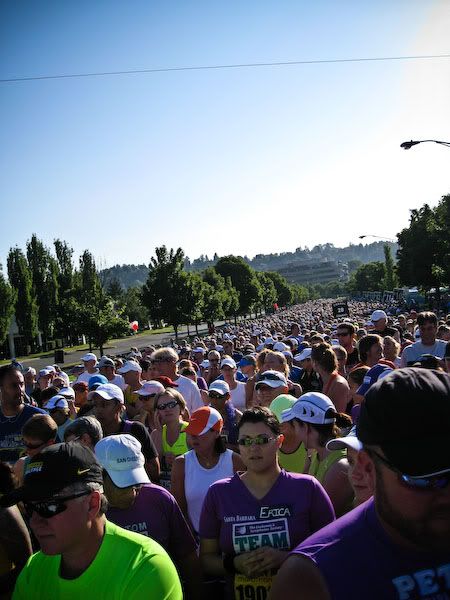 Finally... here we go!
While waiting in my corral to start was slightly annoying, it was nice to start the race with people who ran the same pace as me. You are assigned a corral based on your estimated finish time when you registered for the race. When I registered in March, I had told them 2:40 for the half marathon. The first band on the course.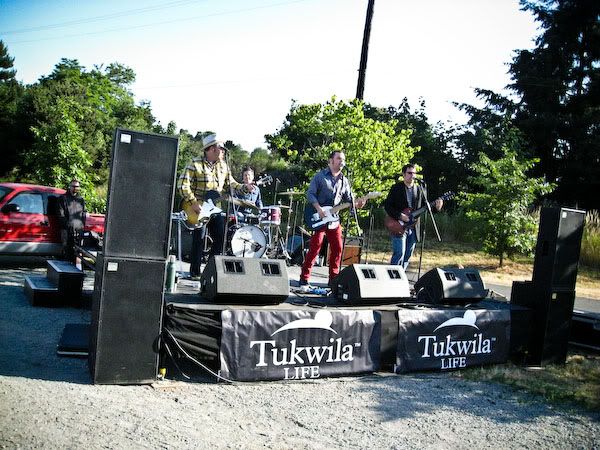 The beginning of the race was not very scenic. It was kind of industrial and then residential.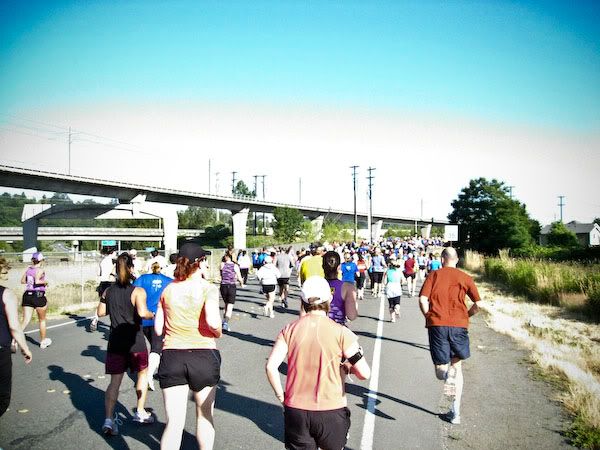 There were more hills than I had anticipated. The scenery didn't really get good until around mile 6, when we got down to the shores of Lake Washington.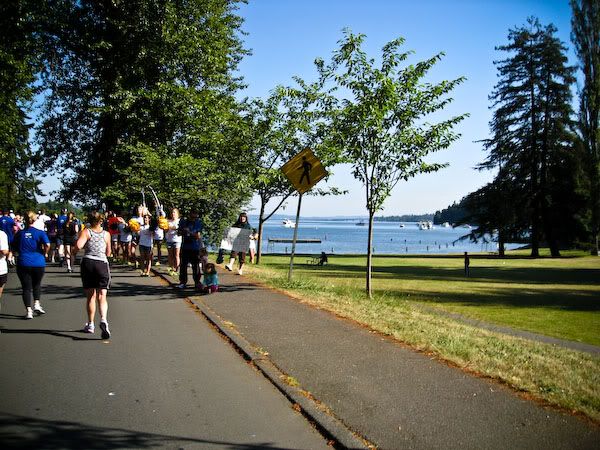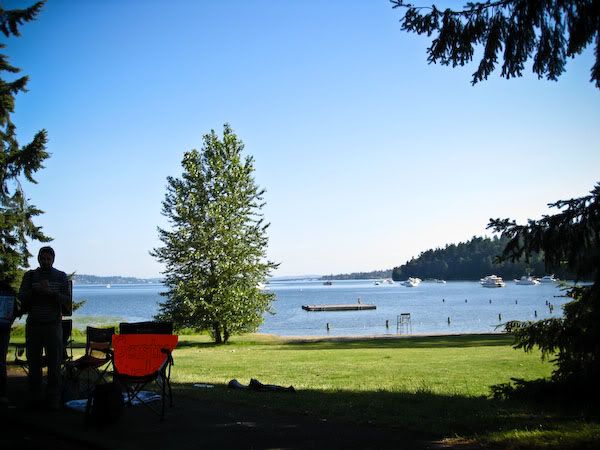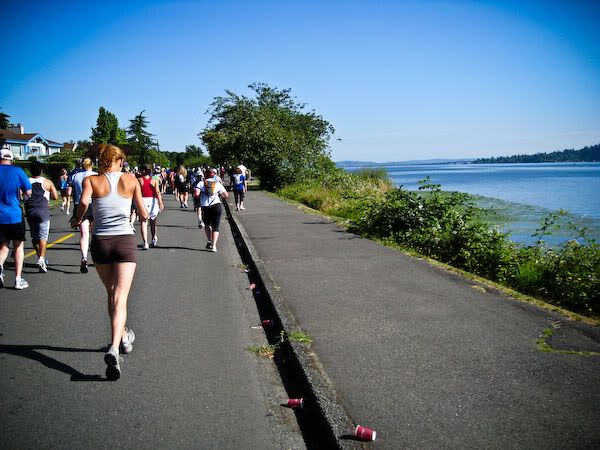 The balls of my right foot started to get sore around mile 9. Around 9.2 miles, we had to run almost a mile inside a tunnel. My Garmin had no reception, so I couldn't tell how long I was in there. But the Garmin restarted at the tunnel exit, it just started from the 9.2 miles, so both my mileage and time was way off. I am slightly annoyed that my Garmin wasn't smart enough to extrapolate the difference. After the tunnel, we headed west on I-90 towards downtown Seattle.
Safeco Field came into view (where the Seattle Mariners baseball team play).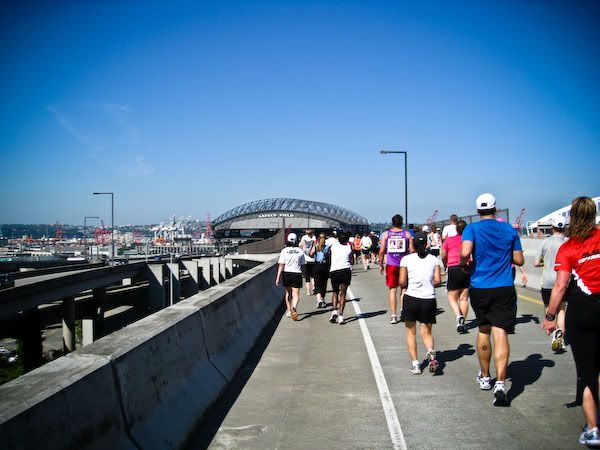 Then Qwest Field, where the NFL Seattle Seahawks football team plays.
I was so excited that downtown Seattle was getting closer and closer, because my legs were starting to stiffen up.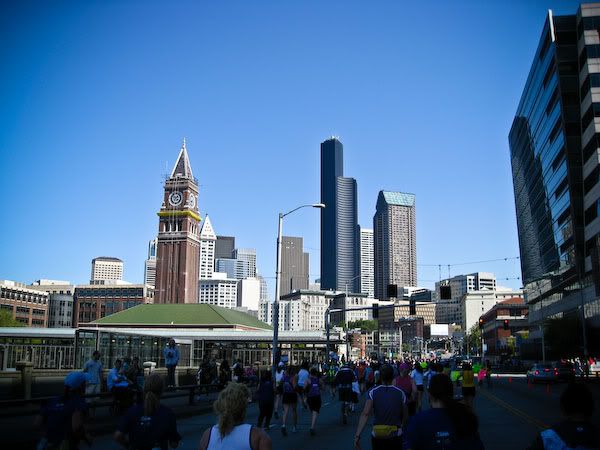 We made a loop downtown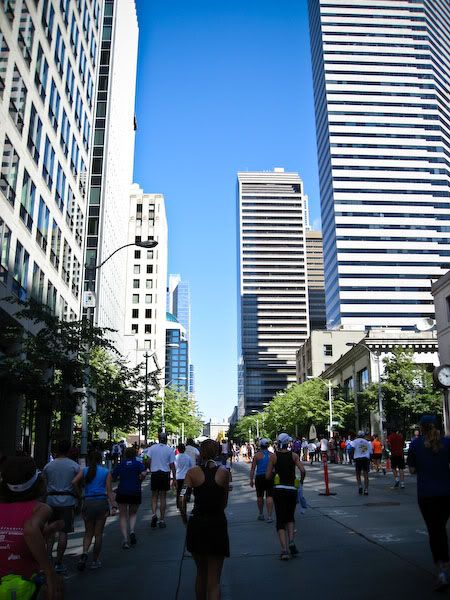 before heading south past Qwest Field, then U-turning to go up north on Occidental Drive.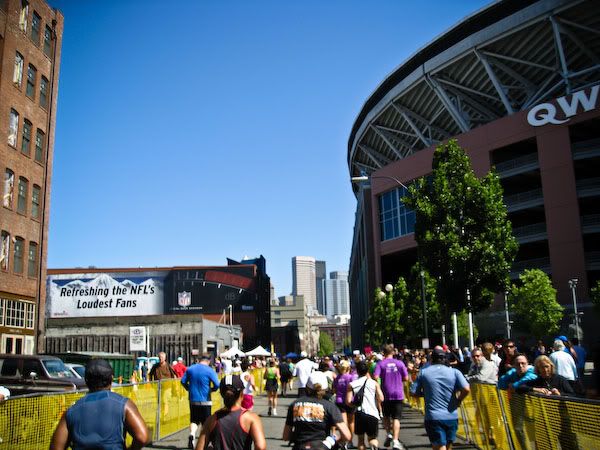 I am so close!
I finished, but I didn't know what my time was, because of Garmin tuning out in the tunnel.
I got my finisher's medal and some food and drinks, before heading to the "V" section (for Victory!) to find Todd.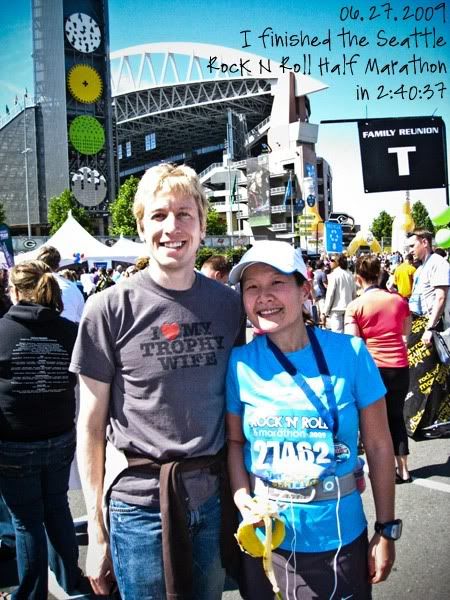 I was so happy to finish relatively pain-free! Todd looked up my time on his iPhone and it was 2:40:37. Damn I was good in predicting my time, LOL! We planned to walk back to our hotel, which was two miles away, but after a few blocks we found a taxi. Sweet! After showering, we had lunch next door at Whole Foods Market, then I rested the whole afternoon. We had a nice dinner at Wild Ginger, based on a recommendation from Todd's friend Ashley. Now it's time for bed, because I'm really tired from getting up at 4:30am and running the half marathon! We'll be back in San Diego tomorrow night.