I took a total of 66 photos today. I was quite surprised when I uploaded my photos that I had taken that many. The scenery must have been good! Once again I did not want to get out of bed this morning when the alarm went off at 6:20am. Todd finally got me out of bed and I groggily put my running clothes on. This was already the lazy plan. If I really wanted to be hard-core, I would have gotten out of bed at 5:30am so that I would make the 6:30am start time for those running 12 miles. But I was just not that into it. We made it to La Jolla Shores around 7:20am for the 7:30 start of the five mile run. What I had not planned on was that the whole run was on the beach. I dislike running on the beach for several reasons. I don't like sand in my shoes. I don't like the unevenness, it causes the bottom of my feet and my ankles to be sore. And it's hard. Everyone ran ahead of me at the start, including Todd and Yaiza.
Since I was so slow, I decided to just stop and take photos whenever the scenery was nice, which was quite often. It was overcast the entire run. We are experiencing what San Diegans call "
June Gloom
". It is similar to "May Gray". Basically, we have two months of the year when almost every morning has a thick marine layer like this and is gray. This doesn't burn off until after noon. We always tell people if they're thinking of visiting San Diego, don't come in May and June. I've actually never run north from La Jolla Shores before. The cliffs are high and stunning, and the beach is VERY rocky.
After passing the Scripps Pier, I looked back and took a photo. I love piers.
One of my teammates noticed I was taking photos, so she ran back to tell me that she saw some star fish.
Isn't that cool and awesome? In the middle of the run, both on the way there and on the way back, we had to scale some serious rocks. I was climbing so slowly that my Garmin GPS watch beeped because it didn't know I was moving at all.
And these were the flatter and smaller rocks! It was some serious rock scaling. At that point, I was not happy. I would much rather run on the road, with no sand and rocks. This wasn't running. Since I was so slow, I caught Todd and Yaiza on the way back.
Yaiza was nice enough to take a photo of me and Todd.
I tried to suck in my tummy, but it didn't help much. Then Todd and Yaiza ran away, leaving me in the dust (err...sand).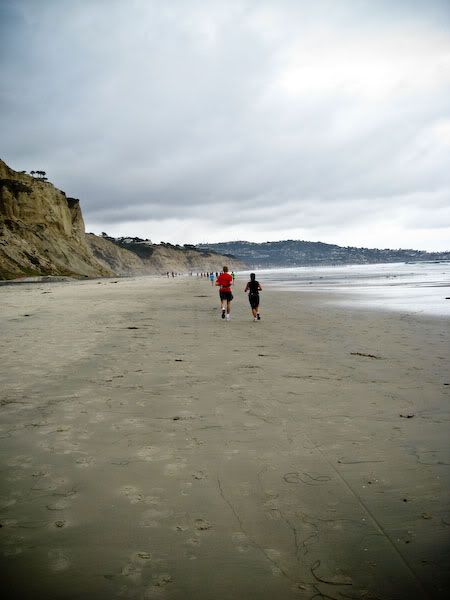 On the way back, I ran by the pier again and took a photo underneath it. I really love this picture.
When I was almost back to the starting point, I saw these bird footprints in the sand. I thought they were cool.
After the run, I wasn't tired cardiovascularly, but the bottom of my right foot hurt. Boo! It started to rain, and we were hungry, so we drove to the La Jolla
Elijah's
and had breakfast there. I've never been there before, but Todd's been to the Elijah's in Del Mar.
Todd had a plate with potato pancake, and two blintzes (one apple, one cherry). Before today I didn't know what a
blintz
was. They're basically crepes wrapped around fruit fillings. I had hash browns with eggs scrambled with onions and lox (salted salmon). Oh and coffee. It was a nice meal and enjoyable. We came home and took the inaugural shower in our new double-shower! (No photos of that. Sorry.) I have to say... the river rock floor has grown on me already. It really wasn't that bad, except for the occasional rock that sticks up too much. I'm sure I will learn the terrain and feel comfortable soon. The shower is totally awesome. There was no loss of water-pressure, even with two showerheads turned on. I guess that control valve that I poo-poo'ed as too expensive and was sad to buy, really was worth it. I did notice that there was a lot of collateral splashing outside of the shower though, due to not having a door. I hope the splashing can be reduced when we get our side glass panels installed. Since we ate breakfast late, we also had a late lunch around 2:00pm. We went down to Dumpling Inn, because Todd decided he wanted to buy an extra dish and then we would have enough leftovers for dinner, which was the case.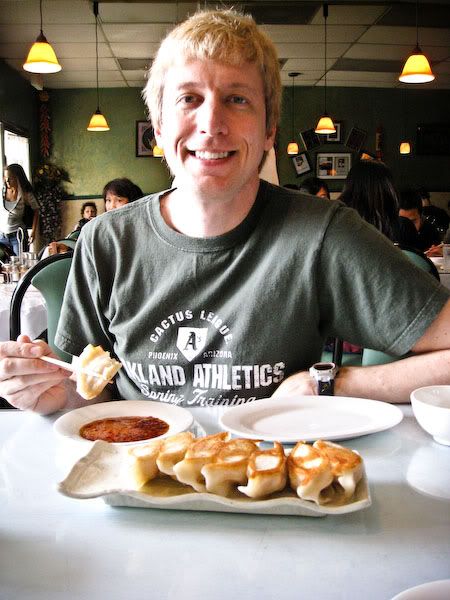 We had sauteed Chinese greens, cod with black beans, potstickers, and shrimp dumplings, which are my favorite. I dip them in a mixture of vinegar, sesame oil, soy sauce, and some red hot chili oil. Mmm... delicious! We definitely had enough for dinner too. We are debating whether to join the fall season of running with West Coast Road Runners. I will share those thoughts a different day. As with any daily endeavor, some days I feel like processing photos and blogging can be a chore, especially if I'm tired or had a hard day at work. Todd is very encouraging to me though. He reads my blog daily, and goes back to especially memorable days sometimes and reads those again later. The other day he read one of my posts from earlier this year, and told me, "That sure was a fun day, wasn't it?" He said he really appreciates that I am documenting our memories together. It's comments like that from him that keeps me going sometimes, when I don't feel like it.