Todd and I love to wear our matching Ohio State crocs around the house, because they're so comfortable.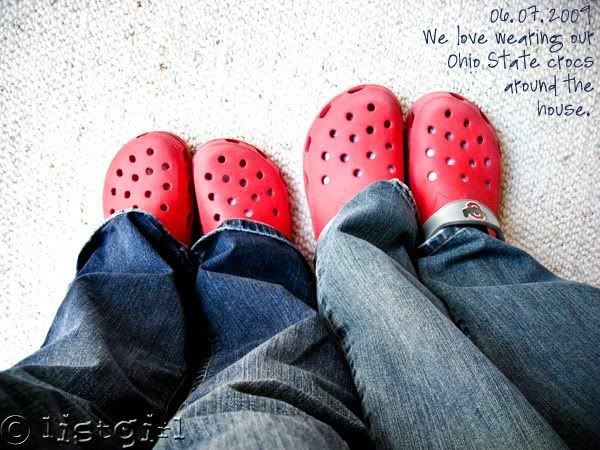 I bought them during a sale last year, and Todd didn't wear them for the longest time. Then he brought them to Hawaii in November of last year, with the intention of wearing them at the beach. I caught him wearing them around our vacation condo. I asked him why he was wearing them around the condo, and he said he didn't realize how comfortable they were. Hee hee, now he's a convert. He was all worried that his crocs got so dirty during the remodel. So I looked around searching for a good deal on these Ohio State crocs, and found them on sale at Amazon for half off. I bought him a couple of pairs, to ease his mind. He likes to stock up! :D Our neighbors Fred & Annie told us that there is an Italian ice shack in the Home Depot parking lot and they really like it. We finally decided to give it a try today.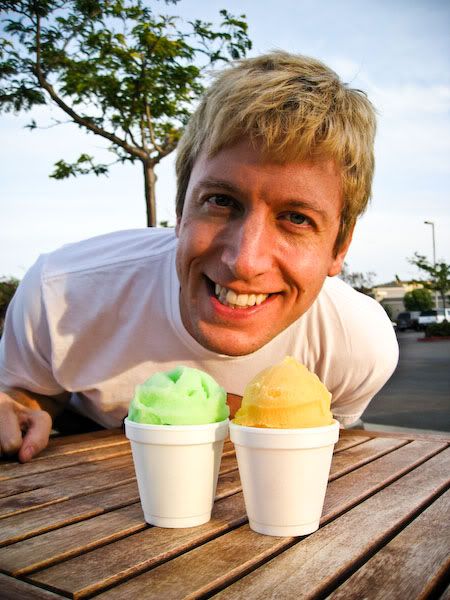 If you didn't watch the special pilot episode of this fall TV show called "
Glee
", you really need to go to Fox.com and watch it. Really.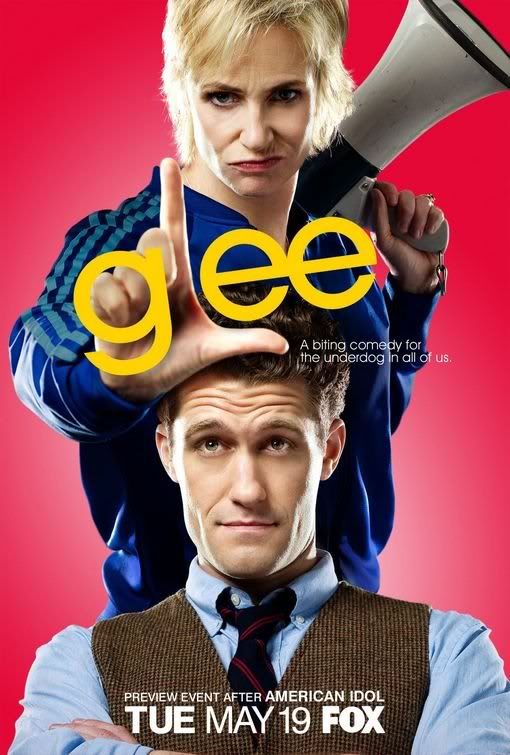 I don't normally get excited about TV shows, but this one was so much fun! A musical comedy about a high school glee club in Ohio. There's singing, dancing, and comedy... fun for the whole family. What else could you want? I totally loved the highlight of the entire episode (IMO), when they did the "
Don't Stop Believing
" number. I can't wait for the show to start this fall! Here is an extended trailer, if you don't have time to watch the episode at Fox.com. I didn't get around to making a layout for
this week's Digi Dare
, but I really wanted to let you know about it so that you can participate.
It's
Leora Sanford's
first hosting of the challenge as a new Darer, and I just LOVE her concept. I really wanted to scrap about the very last conversation I had with my mom before she passed away two years ago. Three nights before she went to heaven, we had our very last heart to heart conversation about everything, including how I felt about her going to heaven, and how she wanted my dad to find someone and marry again. I cried throughout the whole conversation, it was SO very difficult. But I knew it was SO important and precious, so I went and typed down as much as I remembered of the conversation as soon as I left my mom's room. I do want to scrap it sometime. But I haven't opened up that file since she died, and I'm just not emotionally ready to do it yet. I am a huge proponent of writing down conversations with loved ones, whether they are serious or funny. I do this all the time. Please go check out
the Dare
this week!