I slept for eight hours last night! I honest can't remember the last time that happened. It felt so good. What was even better was that my legs weren't all that stiff or sore when I got out of bed. :) I want to say a big thank you to all my friends IRL and online who cheered me on and prayed for me the last few days for my race, and also those who have stopped by to wish us a happy wedding anniversary. I am really touched by it all.
Anne
asked if I liked
Wild Ginger
, the restaurant that we had dinner at last night, because she had been there on recommendation, just like we were. I thought it was good! I liked that it was downtown and had an urban vibe. We sat at a corner by the windows so we could see the urban setting and people walking by. We had reservations so we didn't have to wait. We had some vegetarian Buddha Rolls to start.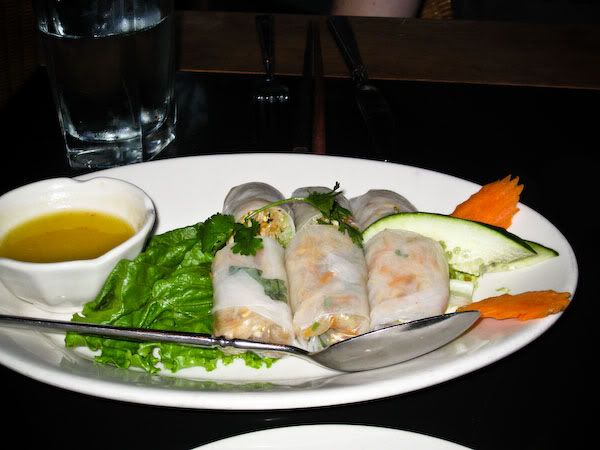 Then Todd had the Seven Flavor Beef and I had the Seafood Thai Noodles.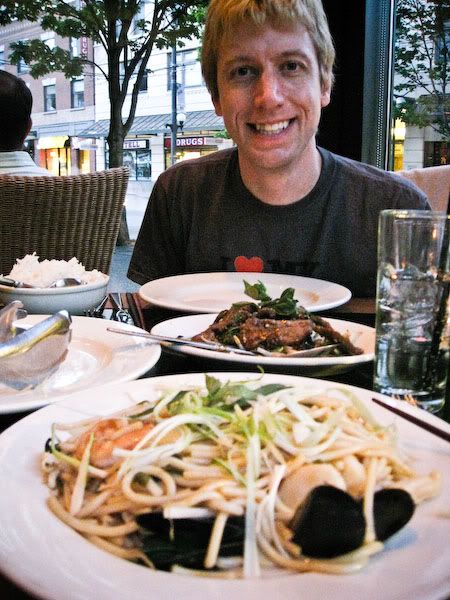 Then we had a baked cherry crisp ala mode for dessert. It was all good, but honestly, I was so tired by the time dinner was halfway over, that I felt like I could just close my eyes and go to sleep! After my good sleep last night, we went next door to Whole Foods Market again this morning for breakfast. Todd got a chai tea latte at the Allegro Espresso Bar inside.
He got the Belgium Waffle that he was denied two days ago, and I had a vegetarian frittata, which was fresh and delicious.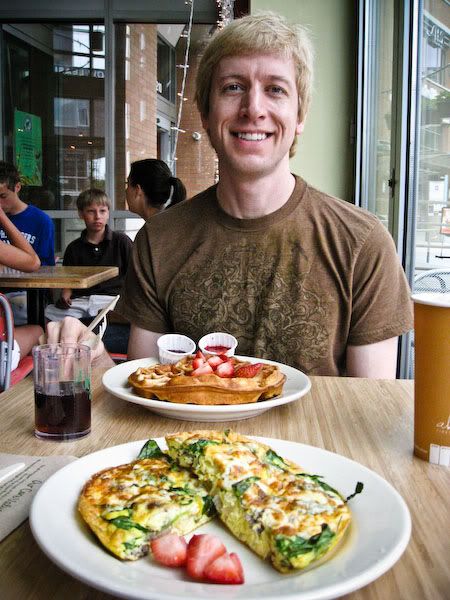 After that we pretty much packed up and headed to the airport. I slept some (no crying baby this time) and read some. The coolest view was when the captain announced that we were right over Mt. Hood in Oregon. I looked out the window and saw this. Wow!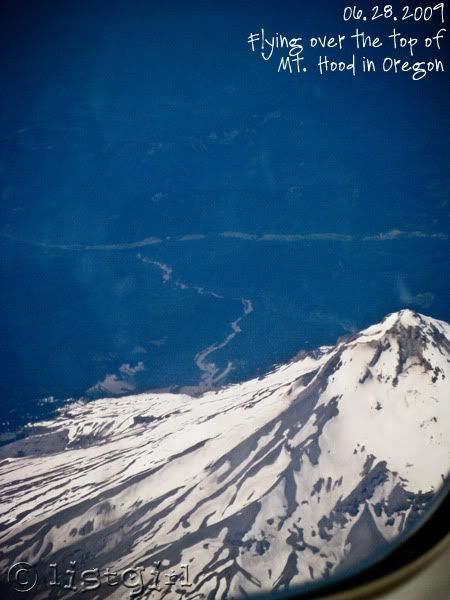 It's good to be home, even though we had a fantastic time in Seattle. It really is a fun city to visit. Oh, here are some of my answers to your questions/comments the last couple of days.
Anne commented on waiting for 45 minutes before I even got to the starting line of the half marathon. I must admit it was grueling. When you're ready to go, it is SO hard to wait that long! Plus my feet were already tired before the race started!
Peppermint said I've done it, now I can stop running, she gives me permission, LOL. My answer to that is that I *am* starting six months of "goal-less running". Not planning on running any more races the rest of this year. I'll concentrate on a bit more weight-training and cross-training. But I won't stop running. :p
AmyJo asked: "Did you run in a cute skort?" Why yes I did! It is a running skirt by Nike, with attached spandex shorts inside. And I do feel quite like a powerful girl in it. :)