We are SO close to having the remodel done! Today Louis, Mike, Brian, and Eric worked on the finishing tasks for our kitchen and bathroom remodel. Things progressed right along with all four of them here. Louis put in the pendant lighting above the kitchen peninsula, while Eric and Mike installed the hood.
There wasn't much room for the hood to fit width-wise, and then they ran into some problems with the shroud not being tall enough. Just a huge time-suck and struggle with installing the hood.
Eric finally said they will make a custom wood piece that matches the cabinets to cover the gap between the hood and the upper cabinet. Since they're going to have to come back with various new doors and drawer fronts anyways, I didn't care. But it seems like we run into problems at every turn... Where's the Easy Button when we need it??? Kevin the glass guy came and installed our two glass side panels in the master bath shower.
Hopefully now the splashing will be lessened. Brian installed baseboards and crown molding in all three bathrooms and the kitchen.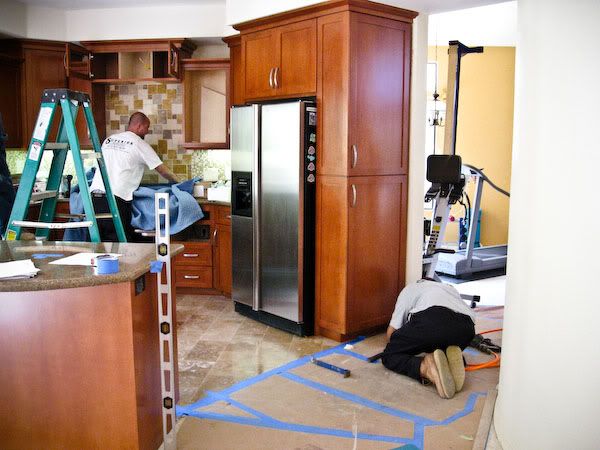 I am still amazed at how fast and efficient these guys can be, when things don't go wrong. They quickly took down all the cardboard floor coverings which have been on our floor for weeks.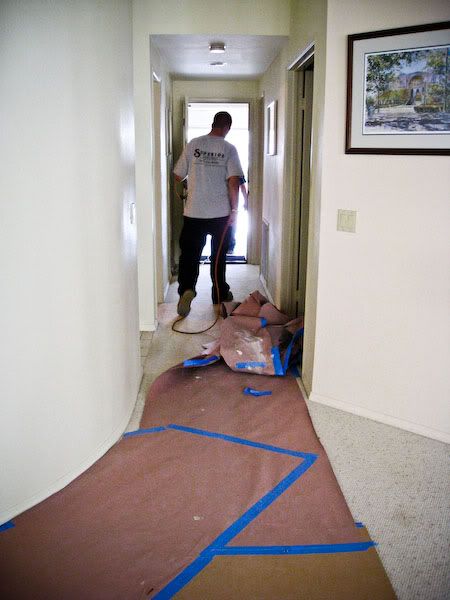 Pendant lights in, hood in.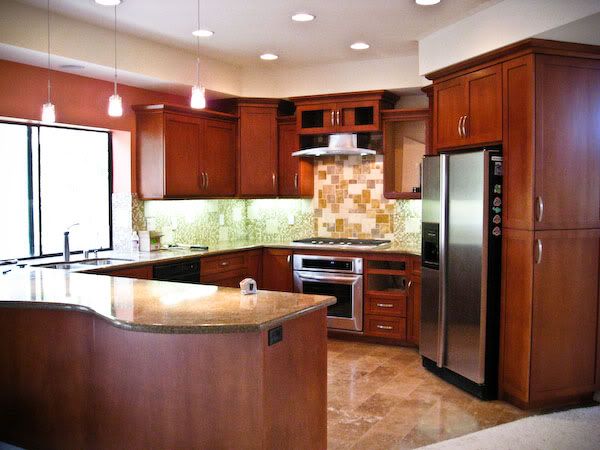 They threw piles and piles of boxes, trash, old toilets, old sinks, etc. into their truck. Our house suddenly was ours again, except for the dust everywhere that we need to clean up, and the dirty carpet that we need to steam-clean. The painter comes on Monday, then just the replacement doors and drawers, and we will HAVE OUR HOUSE BACK! Last Friday Eric said to me, "You're ready to have us out of your house, aren't you?" Well yea. As much as I like these guys. Hell yea.