Today we went to Wal-Mart to stock up on some essentials. We also got a fake Christmas tree. Last year, for the first time in my life (thanks to Todd for surprising me), we got a
real Christmas tree
. But we discovered it was very messy and there were pine needles everywhere. Our fake tree is 15 years old and starting to show its age, so we got a new one. A skinny 9 ft one! Can't wait to show you! We're going to freecycle our old fakie tree. Todd also stocked up on his popcorn there. Wal-Mart is the only place that carries his favorite brand of unpopped corn for a reasonable price.
After the wally world, we went to Tofu House for some Korean food. We love that place! They give you little Korean side dishes to go with your meal.
Todd and I both got their tofu soups, but different ones. I got the beef and mushroom variety, while Todd got beef and kimchi.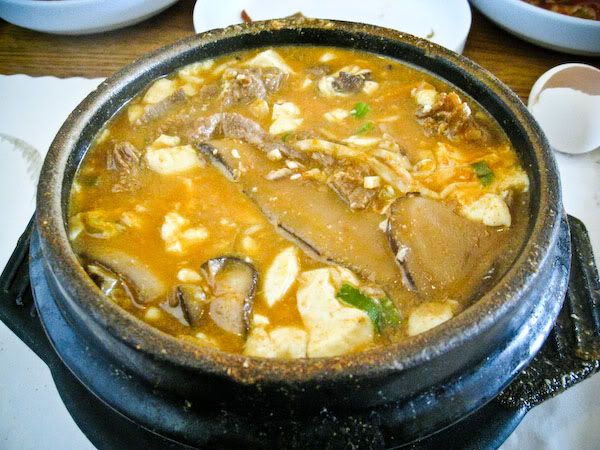 After that we went to Yogurt World next door and shared a small tart yogurt topped with chopped almonds, yogurt chips, and cocoa puff-like things.
In late afternoon, we headed to Miramar Lake to run. Todd wanted to try running six miles today. He hasn't run that long since before he got injured!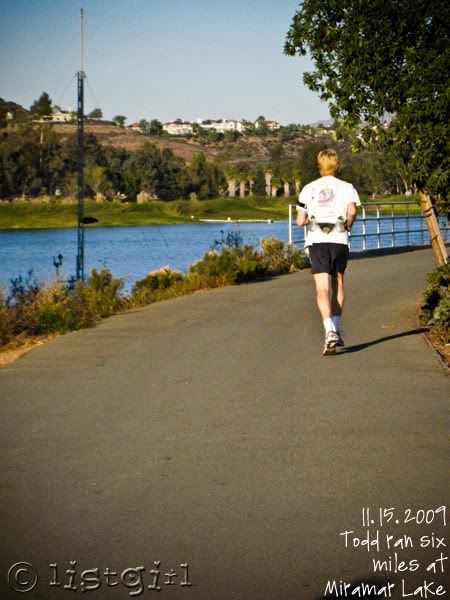 He did really well and we're so thankful that he has improved so much. I was feeling lethargic when we got there, so I didn't think I could run my five miles that fast. However, I played a game in the middle miles. Whenever I reached a quarter-mile marker, I would take a short walk-break, then run as fast as I could to the next quarter-mile marker. Well, who knew. I actually finished with one of my faster times there.
Miles: 5.04
Time: 53:18
Avg pace: 10:34/mile
Calories: 490 cal
I felt pretty good about myself! After running, we headed to Chile Peppers for an early dinner of Mexican food.
In the evening, I finished the last three cards for
Scrappers Give Thanks
.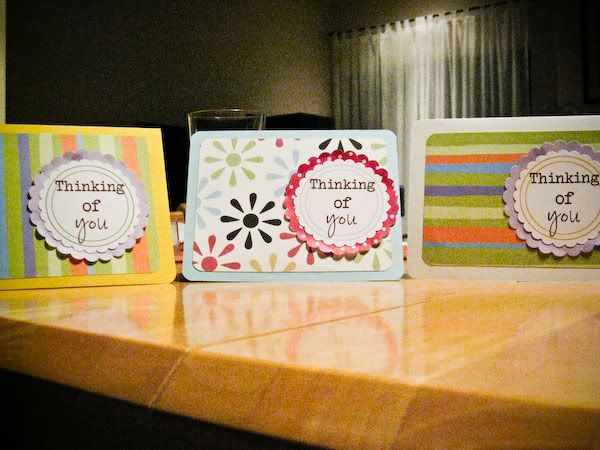 I did these traditional style with paper supplies, except for the center circle with the sentiment, which I designed in Photoshop, printed out, and used a scalloped circle punch to cut out. Now I've got my 10 cards done that I pledged to make for Operation Write Home. I can send them off this week.
Well, this weekend flew by, and I'm actually kind of tired from all the fun, LOL. I wish I had another weekend day to rest. :p