I woke up before Todd did this morning (as usual). I went downstairs and what did I see?
The first measurable rain in San Diego in 165 days!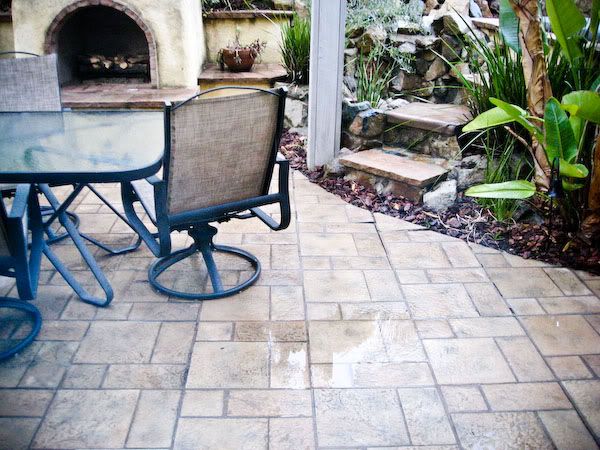 We had planned to go running this morning. I don't mind running on wet ground, but I don't like running with actual falling rain. Around 10am we both put our running clothes on and grabbed our gear. Upon opening the garage door, the rain was now falling pretty steadily. Hmm... that put a damper (literally!) on our running plans. We decided to go tomorrow instead. Darn, I was looking forward to working off some of the extra food I ate in the last couple of days, plus have some breakfast potatoes at the Potato Shack at the end of our run. (Now that statement sounded a bit ironic, ha ha.)
We went out to grab a quick lunch at Brett's BBQ and run an errand. When we parked the car it wasn't raining. After we ordered and got our food, we looked out the window and it was POURING. It is extremely rare to see that kind of volume of rain here in San Diego. I didn't have my camera so I didn't get a photo of it. But it was pouring so hard that we had to wait for quite a while for it to die down so we could even run to our car.
After lunch we put up our new fake Christmas tree while watching Elf. It's our favorite Christmas movie! "Singing's my favorite!" "Santa, I KNOW him!" "Ginormous!" Todd and I laugh out loud at different points in the movie all the time. Just repeating the lines makes me laugh.
Todd got all our Christmas storage boxes out of the attic.
Some of our new ornaments that we got in January for 90% off at Target!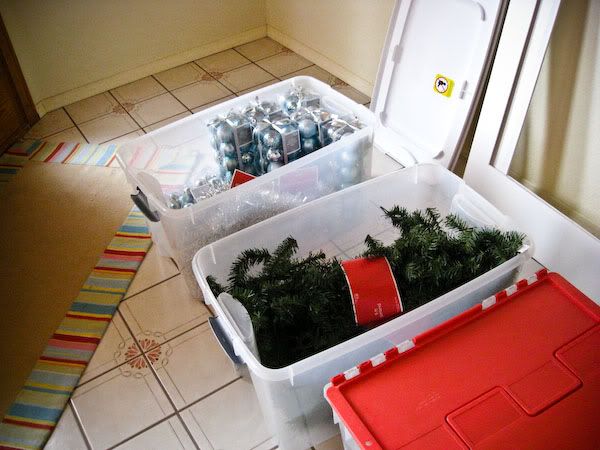 The progression of the tree.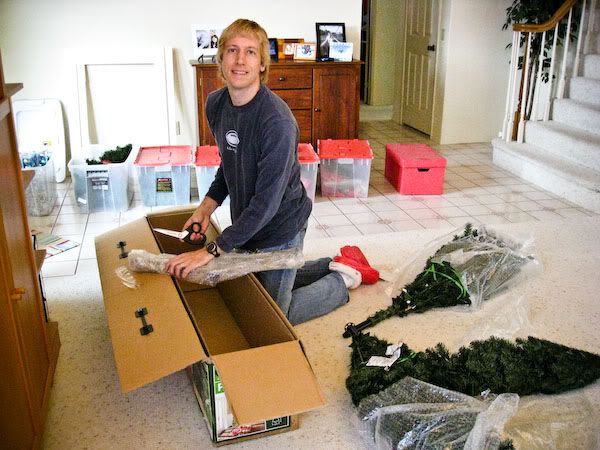 I was totally engrossed in "fluffing" up the branches. Occasionally I looked up to find Todd taking my photo.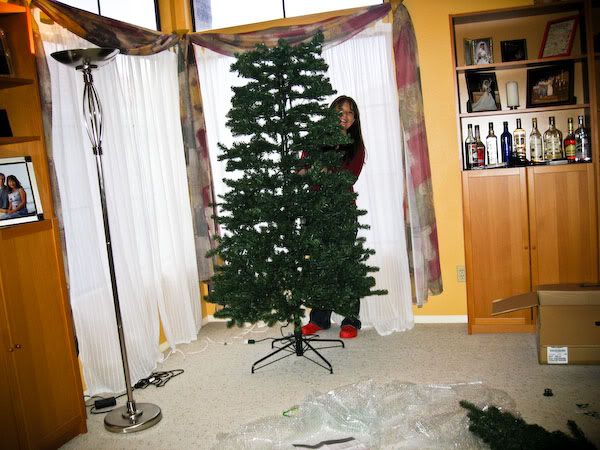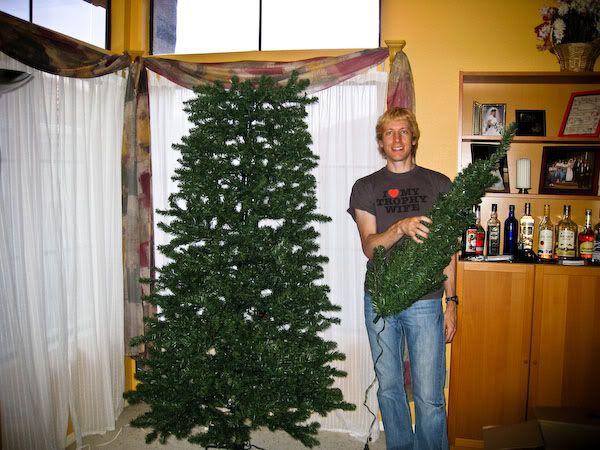 All up!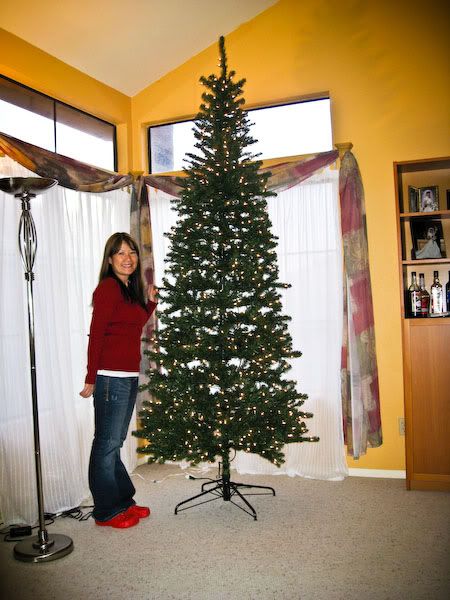 Notice our red furry Crocs?
We just took those out of storage today and wore them! I purchased them at deep discount a few months ago. It's finally a good occasion (and cold enough) to wear them. By the way, this week was the first time we turned on our heater! I noticed the inside thermostat was dipping to 66 degrees during the day.
Here's the tree all decorated.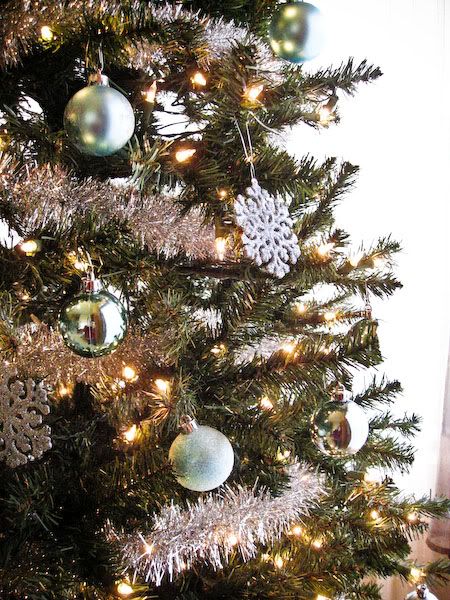 And then all lit up at night.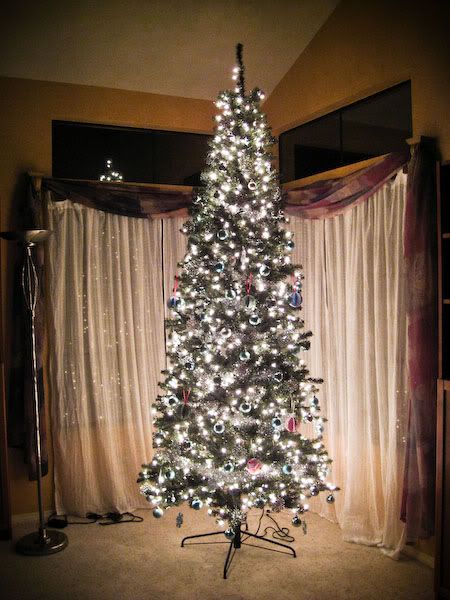 Closeup of some of the ornaments.
Todd cooked Tomato Soup With Pasta and Basil for dinner.
It was yummy and healthy! I can't find the link to link you up. :(
After dinner we played Little Big Planet on the PS3. It is such a CUTE game. Todd got it "for me", but I think he likes it himself, ha ha. Then I did a little Christmas shopping online. I mean, I told Santa what Todd wanted for Christmas!
I wanted to show you this layout I did for
Lili
for her new collab with Gina Miller called "
Merry Jingle
".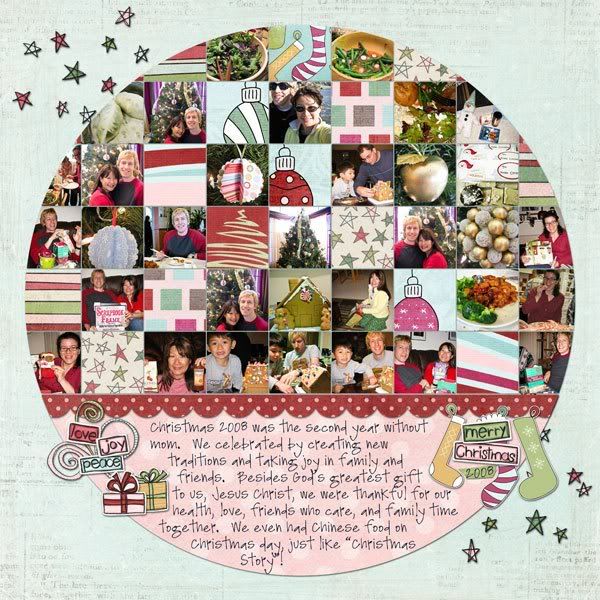 It is 20% off through Sunday! So cute and full of doodley goodness! Oh and be on the lookout for a template set in my store soon, including the one based on my layout above. :)