After some good sleep, we left for my dad's house at about 10:30am. He lives two hours away in LA County. The traffic up wasn't too bad. There were a few slow spots, but we made good time overall. We haven't made this drive in a couple of months. My favorite part about the drive up to my dad's (and Todd says it's his favorite too) is that we get to really tune out other things and talk to each other, just chat about what's on our minds. Todd and I talked about what we're thankful for this year.
Todd said he's thankful for his health. Even though he got a running injury this year, he has recovered from it and can aim for some fitness goals again. He's thankful to have a good job, and one that is challenging him intellectually. He's thankful to have friends at work. He's thankful for the functional (as opposed to dysfunctional) relationship he has with his family. He's thankful for the openness of our relationship, that we can talk to each other about everything on our hearts.
I'm thankful for God's grace. Because I fail all the time, and He still loves me and wants me to get closer to Him. I'm thankful that my dad is still around for us to enjoy his company. Thankful that he has a companion in Shelly. I'm thankful that I'm getting close to 40 years old, yet I still feel healthy and fit. I can set fitness goals and try to achieve them. I feel great on most days. I'm thankful that I don't have anxiety attacks anymore, and I know the early signs that could lead to one and can avoid them. I'm thankful that even with several years in the same job role, I can continue to grow and learn new processes and responsibilities. I'm thankful for my friends both IRL and online. I'm thankful for a hobby that's very fulfilling to me (yes, digital scrapbooking!).
Did you know that most Chinese restaurants and supermarkets are still open on Thanksgiving Day? Yea! When we got to my dad's house, we rested for only a few minutes. Then we headed out for a Chinese Thanksgiving lunch.
Dad and Shelly enjoying some good Chinese food.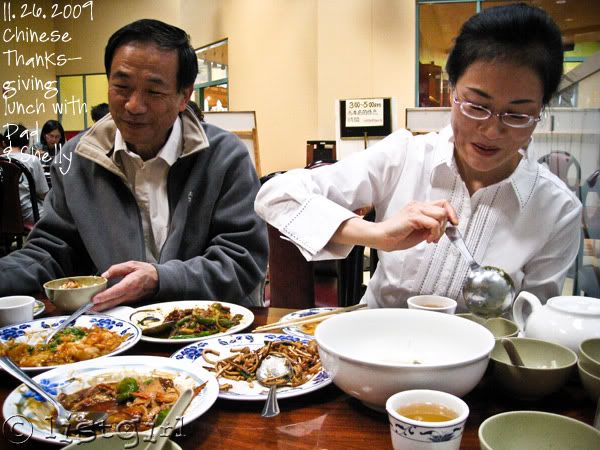 The spread.
Todd is really great with chopsticks, even compared to some Chinese people I know.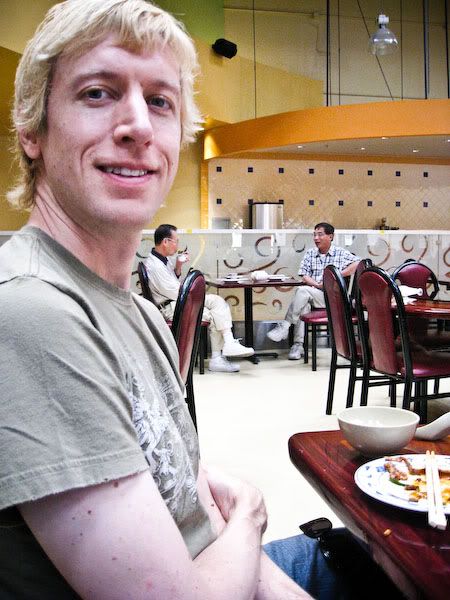 On the way out from the restaurant, we saw this cute snowman cake in the bakery.
His head is a little flat, but otherwise he's very cute. Todd wanted me to take a photo of him, but I was a little nervous. I had heard that ever since the Cake Wrecks blog came out, bakeries don't like it when people take photos of their creations. I snuck a photo, then ran away before anyone came after me. :|
After lunch we went back to my dad's house. Even though we were already full, my dad pushed more food on us. Isn't it funny how no matter how old you are, parents still push enormous amounts of food on you when you visit? My dad was the guava-pusher today.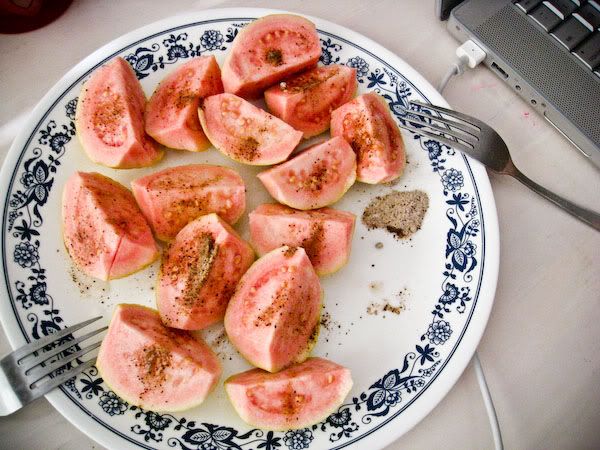 Can you believe that these delicious pink guava fruits just grows on the trees at my dad's office? Yum! The brown powdery stuff on there is some kind of tangy salt that you put on the guava and it makes them taste even better.
Shelly cooked a really great Chinese dinner that Todd even exclaimed that it was better than lunch.
Shelly made marinated eggplants, seabass with garlic & green onion, and ribs. Todd made
Creamy Carrot and Sweet Potato Soup
and
Green Beans with Garlic Vinaigrette
. It was all very yummy, and I ate too much.
After dinner we watched a DVD about the Forbidden City in Beijing. It was interesting but we got tired. (Maybe it was food coma, ha ha.) We went to sleep around 11.