Tuesdays with Todd is becoming Toastmasters with Todd it seems. Today I gave a speech for a project called
The Touching Story
. Not really playing to my strengths. But after a lot of consideration I came up with a topic that I thought was pretty nice. I'll share the condensed version here.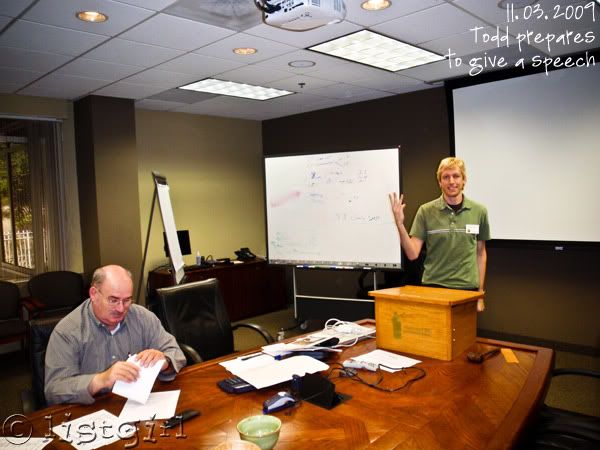 About 5 1/2 years ago, I suffered an unknown injury that caused a
very rare condition
which left me bedridden for about three months. I could write a lot of words about that period of time and what I went through but that's not my purpose for today. A lesson I took from the experience is not to be afraid to approach friends and family who are ill. Even though I was not dying or in any real danger of anything (except for an unknown period of lost productivity), some people were afraid to talk to me. I'm sure those folks would have said "I don't know what I would say." And if they were really honest they would say, "I'm afraid and uncomfortable." Other friends were stronger in how they handled the situation. For the purposes of my speech, I singled out
Matt
who I was in a band with until he moved to LA.
This is how I remember Matt, funny-faced and well-dressed. Me being laid out negatively affected Matt as I missed some important shows. Unlike me, music is Matt's career. Despite that and any discomfort he might have felt, he was a model friend during this time. He visited, brought me CDs and DVDs to peruse, and generally made me feel like I was still part of things. People suffer loss. People you know will suffer loss. Whether it's unemployment, the breakup of a relationship, or cancer. It is a part of life. By mentally preparing for the situation, you will be more equipped to handle it when it arrives. Considering this I decided (as I got well) that when I was on the other side of the fence I wanted to be more like Matt than like those who were more fearful. (And the same could be said for Christine, who I should point out was super fantastic during this period of time.) This became more than theoretical as our friend Barbara and her family struggled through her cancer and ultimately
her passing
. We made an effort to be a part of things, bringing them dinners and staying in touch. And of course Christine went way above and beyond when her mother went through the same sad journey despite her fears and sadness. And neither of those will be the last time. It is natural for people to be afraid when someone they love is not well. People won't want to say the wrong thing and make matters worse. So what do you say when you don't know what to say? First if all you can do is listen, that's not a bad place to start. In one study, a group of untrained folks were enlisted to be "therapists" for a day. They were not to give any advice or say anything substantive at all. Just things like "I see," "go on," and the like. Those who received the "therapy" gave universally positive reviews and many requested follow-up sessions. Sometimes a listener is all people need. But to get to the point of listening, you have to break the ice. If you are wondering how to do that, I defer to Leroy Sievers, a journalist who wrote a blog called
My Cancer
until his death. I can't improve on what he suggested:
I'm sorry. You didn't deserve for this to happen to you. Is there anything I can do to help?