I slept for nine hours last night! That hasn't happened in a long time. I think I just felt so secure with Todd by my side. I had not slept well earlier this week with Todd gone. Woke up to some cloudy views at our big window in downtown San Francisco.
Todd went to the conclusion of his conference this morning while I leisurely strolled down the street and got some breakfast from Peet's Coffee.
I got a Peppermint Mocha and some banana chocolate cherry bread. Mmmm... Then I went back to the hotel and surfed around on my laptop. When I came out of the shower and looked out the window, it was raining hard! The rain seemed to go sideways and covered the whole window.
I got all our luggage together and checked out. Then Todd and I had lunch inside a nearby busy shopping mall. We didn't have very much time to eat because our shuttle van was scheduled to arrive. We took the shuttle down to the airport with Todd's coworkers. We picked up our rental car and drove down to a different hotel in the south bay, so that we can be near my friend Minnie's house, whom we're visiting tomorrow.
We drove around the Bay Area freeways in the Friday traffic and that wasn't too fun. But what was fun was our dinner at Kingfish Restaurant in downtown San Mateo. Todd had dinner there when he came for some training back in August. It is New Orleans style cajun food.
Todd had the halibut, which he LOVED last time.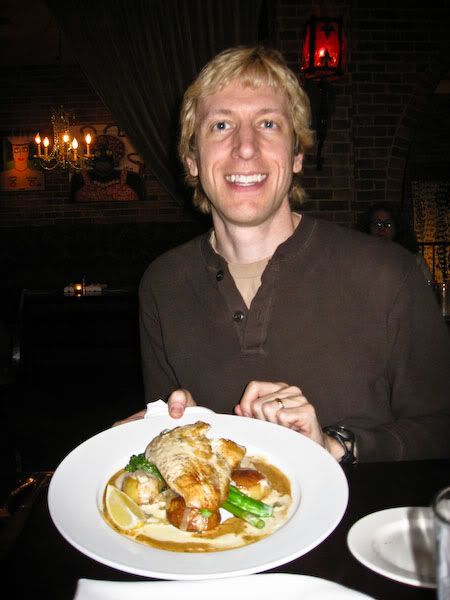 I had fried chicken, which is my favorite Southern food!
And then of course we had some bread pudding with ice cream and bananas foster for dessert.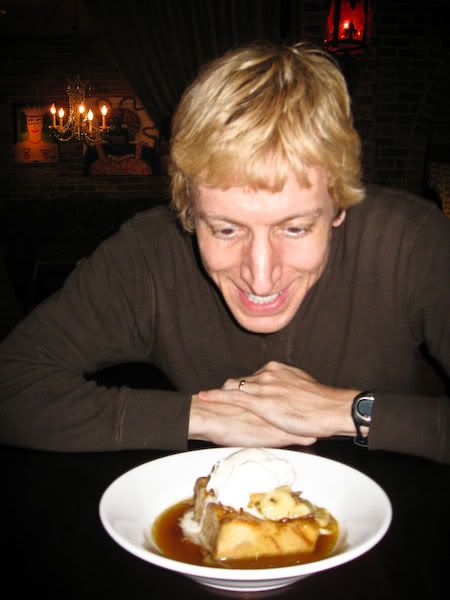 Today was a restful transition day. Can't wait to see my friends tomorrow!