I woke up entirely too early for a Saturday today. But it was all for a good cause, as Todd and I volunteered for aid station duties for West Coast Road Runners' famous "Train Run", in which runners take the train from Solana Beach north to Oceanside, then RUN the 16 miles back to Solana Beach. You can't quit cuz your car is at the Solana Beach train station! Todd and I aren't training for a race this season, so we're not in shape to run that long. Instead, Cathy and I made plans to meet at 7:15am at Moonlight Beach to run 3-4 miles before our 8am volunteer set-up time.
Todd ran ahead of us. Cathy and I just talked and talked and ran at the same time. We turned around after 20 minutes so we could make it back in time. However, something sidetracked us. Something called "
The Potato Shack Cafe
". :-| Cathy said we needed to get some breakfast because we were going to be volunteering until like 10am and we would go hungry if we didn't get something. No argument from me! We ordered two coffees, a breakfast burrito, and some fried potato wedges for Todd. The total came to a little over $21. Doh! Cathy only had a $20 on her! The waitress there was so nice, she let us have the food for $20. We were really embarrassed. (Todd would pay Cathy back later, and Cathy went back to give them the money.)
We took our heavy load of food and coffee and walked back to Moonlight Beach, since running with hot coffee and giant potatoes was not advisable. We ran into Todd at an intersection about two blocks away from Moonlight Beach. The boy had been running the whole time and ran over five miles! He was excited to see potatoes though!
What we didn't know was how giganto the servings were. The burrito was HUGE and it came with a huge amount of potatoes on the side too.
We started eating as more of our running friends arrived in the parking lot. We shared the potato wedges, because there were so many. We set up the aid station and there turned out to be many more volunteers and enthusiastic cheerers than I had anticipated.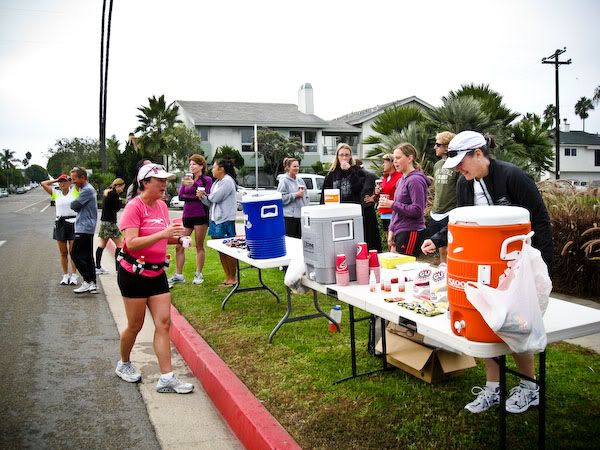 Cathy was the most enthusiastic of them all.
For reals - who can't use an enthusiastic friend like her?? This girl seriously inspires me! In the last few years, she lost over 90 lbs, quit smoking, and quit drinking. I'm in awe of her. Plus, she's very funny. So glad I met her at WCRR this year.
The runners arrived in batches to the aid station.
That's Perry with the Starbucks cup. Yes, someone made a Starbucks run as well! Perry is another amazing person. Just this year alone, he has already run something like 11-12 marathons and half marathons, and plans to run 14 by the end of the year. (He was up in Seattle running the Rock N Roll Seattle with us, back in June.) I'm also just in awe of him. Not only that, but he is a 4th and 5th grade teacher in San Diego Unified School District. I love to be around motivated and enthusiastic people and I was surrounded by them this morning. So inspiring.
Around 10:30am, after the last of the runners had left our aid station, we helped pack it up and left for home. After showering, it was Buckeye time! Earlier, the Iowa Hawkeyes suffered their first loss of the season to Northwestern. We didn't have high hopes of beating Penn State, but as the game went on, we got more and more hopeful. Todd was SO excited when we pulled out a big win, 24-7! Now we are in the driver's seat for being Big Ten Champions again. If we beat Iowa next Saturday.
In the afternoon, we stopped by our friend Mike' house for his 34th birthday celebration. Mike lost his wife, our friend, Barbara earlier this year to breast cancer. He has three young kids and works full time, so he has his hands full. His mom sent an email about a week ago inviting his friends to have cake and celebrate with him. We would not have missed it!
In the evening, we went to have dinner with my good friend from work, Daryl, and his wife Julie. We went to The Barrel Room, which we'd never been to before. It was such a nice evening and we had a lot of fun chatting, even though the restaurant was loud and it felt like we were shouting at each other the entire time, LOL. I forgot to take a photo while we were there, darn! But I foresee more plans in the future with Daryl and Julie, we like them.
Today was the most socializing I've done in a while. I think for three weeks, I was totally engrossed with designing products and getting my store up and running. I'm so glad for today and the chance to hang out with some of my friends again. :)