We stayed overnight at my dad's house after Thanksgiving. This morning, we had a traditional Northern Chinese breakfast. Well, sort of. The dumpling part was traditional. I hadn't eaten dumplings for breakfast in a long time. There were shrimp in them, so Todd didn't eat any. We also had soy milk and lots of fruits.
We don't like crowds, so getting up early and going Black Friday shopping really wasn't an option. We like "window shopping" online though! Todd was shopping for everyone else, but he ended up buying a couple of things for himself. When I asked him, "what are you doing?", he got a sheepish look on his face and said, "I got the best deal ever!" Ha ha, it's okay that he got something for himself. He's such an unselfish guy that I can't blame him.
For about an hour in the morning, Todd helped my dad put together some shelves in the garage. They started this project actually like a year ago! But the steel shelves were too tall for the part of the garage where the garage door rolled up. So somehow my dad finally found someone to cut the steel frame for him, for $10!
They were both excited to get that project done.
For lunch, we went to a Korean tofu restaurant (they have them in LA too??).
My dad and Shelly enjoying the food.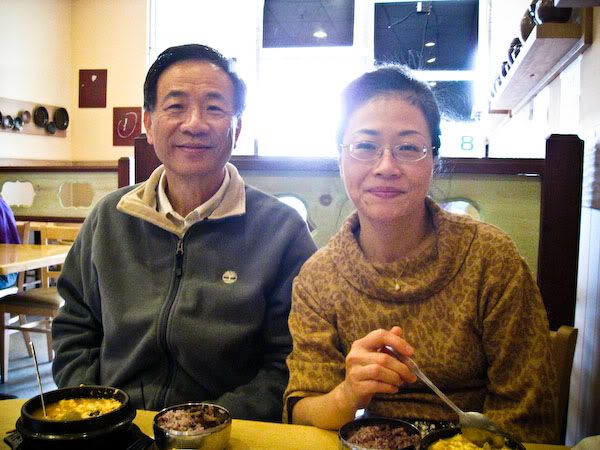 My "Combination Tofu". It had beef, shrimp, and clams in there, as well as tofu of course.
The funniest part of the day was when we were getting ready to leave for lunch, and my dad took out this bag and said, "I got a man purse!" So I told him, "oh, that's a MURSE! A man-purse is a MURSE!" So then Shelly and I giggled for a while. It didn't seem to affect my dad though. He said he needed a bag to carry his cell phone and pen and notepad. He carried his murse proudly.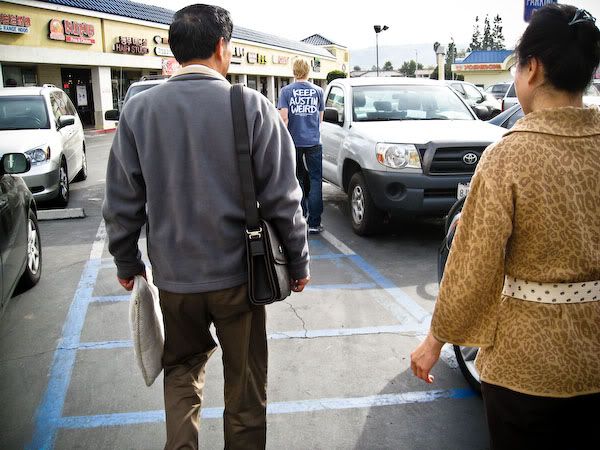 And I'd have to say, not many women my age can claim that their father carries a murse. I'm proud that my dad doesn't just bow to gender pressures, ha ha!
After lunch we left LA and drove home. We spent the rest of the afternoon and evening trying to get stuff done on our to-do list, with a break for dinner at Sbicca in Del Mar. We had purchased a $25 off gift certificate for $1 at Restaurant.com a few months ago, so we used that. The food was decent, but not great. I got roasted garlic chicken with mashed potatoes and collard greens. Todd got flat-iron skirt steak. We both felt that we wouldn't go there if we had to pay full-price. Now I remember why we haven't been back there since the first time we went years ago! I wonder why that restaurant is so well reviewed all the time? After a stop for a pumpkin spiced latte at Starbucks, we went home and tried to make more progress on our to-do list.