After a good night's sleep, we got up and got ourselves ready to go over to Minnie and Mike's house. I've been friends with Minnie since we met in 7th grade. Minnie and Mike just had a baby girl, Madison, about six weeks ago. I'm so excited for them and this trip to the SF Bay Area was the perfect chance to see Minnie and Mike and meet baby Madison.
We got to their house around 9:10am. Why so early? Well, the big rivalry game between Ohio State and Michigan was today! Minnie and Mike understand the significance of this game, because they're Cal Berkeley alums and today was their Big Game against Stanford. Their game was at 4:30pm and they had tickets to it.
We made breakfast together and watched the Buckeye game. Minnie made
Ebelskiver
(pancake balls filled with blueberry/strawberry preserves), topped with maple syrup. Wow, so yummy! We also had bacon flavored sausages (how clever!) and eggs. I fell down on the job and totally forgot to take photos of the yummy food.
The Buckeyes beat the Wolverines 21-10. We were ahead for the whole game and I didn't really think they would lose. The best way to end the season is with a win over the Wolverines! (And this makes six years in a row that we've done that!)
While Minnie and Todd went to pick up some awesome takeout food from
Refuge
, Mike and I played with Madison. Mike "assisted" her with the Cal cheer, since both Minnie and Mike are Cal Berkeley grads. Of course, Madison did the cheer perfectly!
After lunch we watched some other football games on tv and just hung out.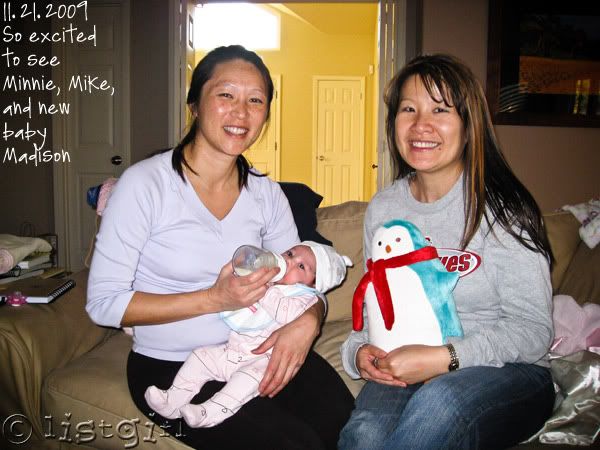 We also took a walk around the neighborhood. Minnie and Mike decided that they were going to skip the Cal-Standford game because of the late start. They thought it would get too cold for Madison. So guess who got to go to the game at Stanford Stadium???
Turned out that Stanford is only five miles south of our hotel. So Todd and I left Minnie and Mike's house, dropped by our hotel to pick up some warmer clothes, and headed to Stanford Stadium. We found parking and it was even free! (This would never happen at a Buckeye game in Columbus, LOL.) We were so excited to go because Todd had never been to Stanford before, and they have a new stadium. (I had visited Stanford when I was in high school.) Now we can officially add Stanford Stadium to our
list of stadiums
that we've been to. And to be here for
The Big Game
is just awesome! (I was never in danger of going to Stanford for college, but I did get into Cal-Berkeley and almost went there.)
We got to the stadium around dusk.
Stanford was already ahead 14-0 when we arrived into the stadium. We thought they would win for sure. But Cal scored in the 2nd and 3rd quarters while holding Stanford to no scoring.
At halftime, they inducted Tiger Woods into the Stanford Hall of Fame. He's the one in the red sweatshirt.
The Stanford band on the field during halftime.
The Stanford band is really strange... there's no other way to describe them. They just wore strange costumes and danced around. There was no marching whatsoever. And their mascot is a cardinal TREE. A dancing one at that.
We left somewhere in the fourth quarter and drove back to Minnie and Mike's house. Mike was totally engrossed in the end of the game. It was an exciting finish and Cal won! Minnie and Mike were excited, and we were happy that both our teams won today. We had Chinese take out for dinner and everything was delicious. We left their house around 9:30pm, filled with happy memories with good friends, football, laughter, and smiles from a new baby.