This morning I got out of bed and my legs were surprisingly unscathed after the 14 mile run yesterday. The bottom of my feet and my calves are slightly sore, but nothing else really bothered me. The human body really is amazingly made! We met
Jennifer
and Shawn in front of
Community Bible Church
at 8:50 AM for the 9:00 AM service. Pastor
Barry Minkow
has an incredible life story and personal testimony there, so we thought we'd check it out. Besides, Jennifer's friend Ana invited them, and they invited us to "double-date" church with them. :) When Ana's husband took his seat beside her, I was delighted to find out that it was Tony, this guy who works at my company who sits not far from me! What a small world! I've had so many "coincidences" lately regarding meeting people who happen to go to my church. I don't think they're coincidences at all, obviously. I think it's been a huge Godly encouragement and blessing to me and Todd. The rockin' worship music was really good, and the sermon was animated and fun. This afternoon I drove down to Pacific Beach to meet with Sally and Lara for a girls outing. I've known them both since we met in middle school when we were 12 years old! I hang out with Sally a lot, but somehow haven't gotten together regularly with Lara since they moved back from Hawaii. I think of these two long-time friends as yet another way that God blesses me in my life. None of us are from San Diego... we went to middle school and high school in the San Francisco bay area. Yet, somehow we all ended up here. And even though I hadn't seen Lara in two years, we eased back into conversation and there was never any awkwardness. The three of us chatted on about our current lives, what's happening with our other high school friends, and reminisced about the great times we had. It really was awesome and it filled my heart with fondness. Lara's husband took a photo of us in their backyard before we headed off to the beach.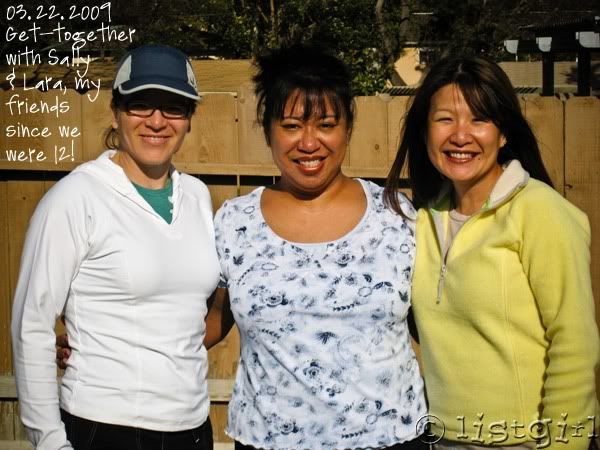 We found a really lucky parking space right by the beach. Then we walked and chatted on the boardwalk. It was a beautiful day at the beach.
But don't let the bright sun and blue skies fool you. It was incredibly windy and blustery! You don't see us wearing bathing suits, do ya?
Sally & Lara on the boardwalk:
A lifeguard station. Everytime I see one it reminds me of Baywatch...
Sally & Lara in front of a light green house:
After a while we got cold and hungry, so we drove up Garnet and went to dinner at
World Curry
.
Oh. My. They had Indian curry, Japanese curry, Thai curry, etc. Each meal came with a totally awesome salad. And I ordered a mango coconut banana lasse (basically an Indian smoothie):
Sally enjoying the salad:
So I made everyone wait to eat so I can take photos of the food when it arrived. Sally said, "now we know how Todd feels!"
Lara was so sweet! She baked us some lemon cookies that were SO delicious. And she put them in this super-cute butterfly bag.
We parted ways around 8:30 PM and vowed to make our get-togethers a regular thing. So back to last night's girls night out... Joanne picked me up at around 7:00 PM. Sandra had driven down to Joanne's to carpool, and the three of us headed downtown to
Buca di Beppo
. As luck would have it, we found a parking spot right in front of the restaurant because someone just left. I think I'm the parking good-luck charm. We waited for a while and finally everyone arrived and we ordered food. We sat at the Pope Table:
We had eggplant parmigiana, lemon chicken with capers, and linguini with clams, squid, and mussels (not pictured). The cake was free because FIVE of us have birthdays in March and we were celebrating all together.
The waiters singing happy birthday to us:
It was a really fun night. I sat between Erecca and Sandra and chatted with them quite a bit. I found out Sandra was involved with children's ministry at her church, so I asked her what church. Turns out she goes to my church too, and she's been going for years! Right, not a coincidence! As a small token birthday gift for the other March birthday girls, I made little labels for my homemade soap and packaged them up with a $5 Starbucks gift card and some Dove dark chocolate in little baggies.
I had a really fun two nights of hanging with the girls. But now I'm ready to spend some quality time with Todd. :)