A few people have asked me what font I use to journal on my photos of the day. It's called
CK Marissa
. It's on sale for $1 right now at
ScrapNFonts
. However, they are retiring all CK fonts sometime in the near future, so if you want to check out their sale, do it soon! I had a great day of doing things. I went to the office, worked, and had lunch with some work friends from my previous department.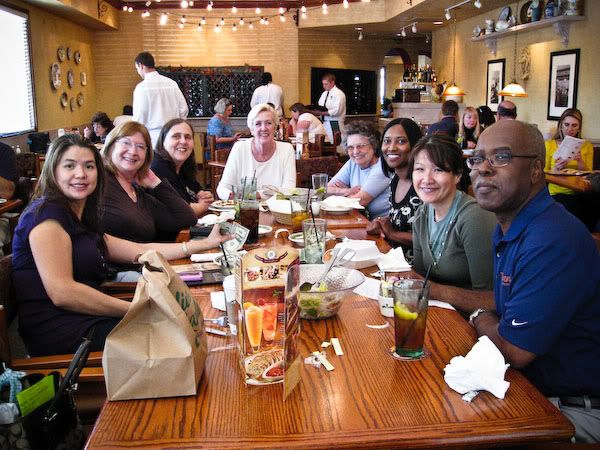 Then after work, Todd and I drove down to North Park to meet Sally for dessert at
Heaven Sent Desserts
. Sally was treating me dessert and dinner (yes, in that order) for my birthday, which was last week.
They have a special called "
Afternoon Delight
" (he he) that runs daily from 3:00 PM to 6:30 PM, whereby you get two desserts and two drinks for only $10! So that's why we had to eat dessert before dinner, so we'd get the special price. Here's Todd, in his element: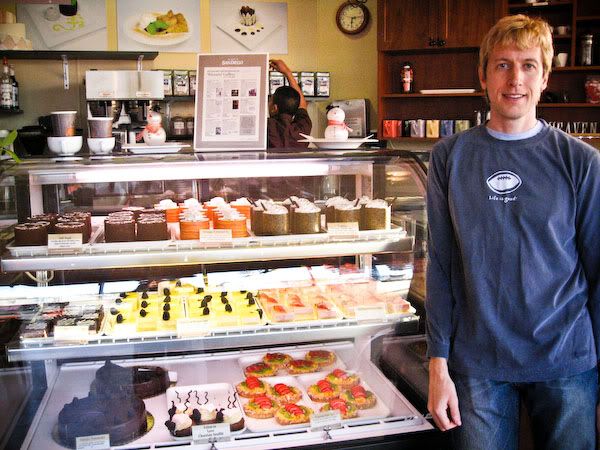 Sally & I:
Sally got this strawberry cake and it was delicious and light. (Yea... I had a bite.)
Todd and I got these mango coconut mousse cake and chocolate mousse cake, which only counted as ONE dessert! Apparently at Heaven Sent Desserts, 1+1=1.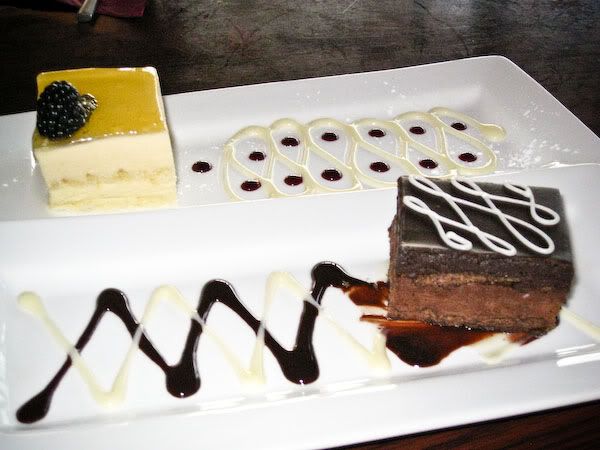 We also got a blood orange hot tea and an iced tea included in that $10 price. Such a great deal! Todd had to run off after dessert, because he was meeting with a philosophy club called "
Socrates Cafe
" at the
Urban Grind Coffeehouse
in Hillcrest. (Can everyone say..."SO-CRATES"? - ala Bill & Ted's Excellent Adventure, ha ha.) Todd had been to Socrates Cafe philosophy meetup twice before, but then the group disbanded. They just recently got back together and he was eager to meetup for some philosophical discussions. Tonight's topic that everyone voted on was "Why do we need validation?" Here's the group at the meetup:
So after Todd went off for the philosophy meetup, Sally and I walked around the corner to
Urban Solace
for dinner.
Todd had been wanting to take me here because we had heard it was good food. They serve urban comfort food. We sat at the bar:
The place felt hip yet homey. It was friendly & warm as if everyone knew each other. Sally got a portobello mushroom burger and I got a regular hamburger.
And we shared a side order of macaroni & cheese with tomatoes and bacon:
Sally & I took our time eating, and chatted and caught up with each others' lives. I hadn't seen her in a few weeks and it was too long! Great food, great friend, cool urban setting. I enjoyed it quite a bit! Then we drove back to Sally's place and Todd picked me up after his meeting. This was the perfect mid-week pick-me-up. :)