Photo today:
Today was the
San Diego audition
of season 15 of the CBS reality show
The Amazing Race
. Todd and I had planned on going. But after the long run yesterday and driving two hours to visit my dad and driving two hours back, we were loath to get up in the middle of the night to stand in line for the audition. AND... the application was 13 pages long.
And we hadn't had time to complete it.
AND we didn't have time to write a script for our two minute audition video. So... our once-in-a-lifetime chance at traveling the world and winning $1 million was gone. Poof! I blame all our hopes and dreams on making it into the Amazing Race on
Peppermint
. Here's a snippet of our conversation earlier in the week, on my birthday in fact. Me: Oh, Todd and I are thinking of trying out for the Amazing Race. They're having tryouts in San Diego. Peppermint: DO IT!!! Peppermint: Oh you have to!! Me: What if we get picked though? Do we have to quit our jobs? Peppermint: Don't you think they'd let you take time off? Peppermint: I mean, I imagine you'd start just by taking as much vacation as you can Peppermint: It's only a month long race I think. Peppermint: and you get paid partially for how you place, on a graduated scale on how high you finish. Me: I dunno. I don't think The Amazing Race qualifies as a leave of absence where they HAVE TO hold your job for you when you come back. Peppermint: Well no, but they might just out of the kindness of their heart Peppermint: and you can take vacation Peppermint: and if you win $1MIL who cares? Me: Yea, I do have a ton of vacation. Peppermint: And if you don't win, then you'll be back before your vacation runs out. Me: True Me: http://www.cbs8.com/global/Story.asp?s=9945650 Peppermint: Plus think of all the great photo-a-day pictures you'd get. LOL Peppermint: ANd the scrapping! Peppermint: DEAR LORD THE SCRAPPING! Me: What am I going to talk about for 2 minutes on camera??? Me: "I scrap" :: stare :: Peppermint: You just talk about how you and Todd are adventurous, you refuse to get "old and tame", you have a strong marriage, he's your best friend, you like to stay in shape, you're strong competitors, etc. Peppermint: All that bull the other Amazing Race people say Peppermint: This is an opportunity for a once in a lifetime adventure. Peppermint: Blah blah blah. Me: I've run a marathon, and I've jumped out of airplane. :: hopeful look :: Peppermint: Yea! Peppermint: you guys set your mind to something and you do it! Peppermint: Together! Peppermint: You're a team! Peppermint: And your mom died, and you realize life is short, and when else do you get chances like these. Peppermint: They'll eat that up. Me: But don't they look for people with drama? Todd and I don't have that. Peppermint: No, they don't. They usually put one "drama" team in Peppermint: although this season I haven't figured out who that is. Peppermint: No one is really combative. Me: Ooo, you're good at marketing me! Peppermint: Yea, you guys just worry about auditioning and I'll write you something up to memorize. Me: LMAO Peppermint: YOU HAVE TO GO!! Peppermint: At least try. Peppermint: Then you can blog about it. :: tempt tempt :: Me: Oh and I should tell them I'm doing Project 365. Peppermint: Yea .. Me: "I scrap." :: stare again :: Peppermint: Plus you get to lose a bunch of weight from running around doing all this crazy stuff! Peppermint: and go to, like, 20 countries or something. Me: That would be very cool. The going to the other countries. Me: Free trips! Me: I'm saving our conversation so I can fill out my form and memorize for my 2 min tape, if I get in to do it. Peppermint: LOL Peppermint: ok Peppermint: Well Todd has to speak for part of that too Peppermint: so you can do a minute and he can do a minute Me: Oh true Me: He's a toastmaster Me: He kin do it! Peppermint: exactly! Me: Oh and I'm taking hula lessons starting tomorrow. Peppermint: Yea, so you can talk about that Peppermint: How you guys are always trying new things Peppermint: like bird poop coffee Now she's all disappointed in me that I didn't go do it. :( Sorry I'm too lazy to audition for The Amazing Race Peppermint! Cuz, you know, I live a very full life of... eating...taking photos, blogging, and scrapping. :: stare :: So our next door neighbors Fred & Annie called us this morning and invited us over for some corned beef dinner tonight, in honor of St. Patrick's Day. Of course we couldn't turn that down. So we had a light lunch sharing a bowl of Vietnamese chicken noodle soup.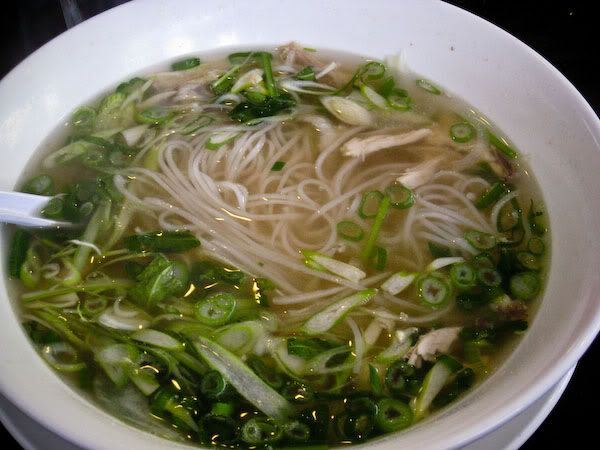 Then we watched the Buckeyes play Purdue in the Big Ten basketball tournament and lose. :( Then it was Irish dinner time! We walked the long trek next door and played with cats and ate good food. What could be better?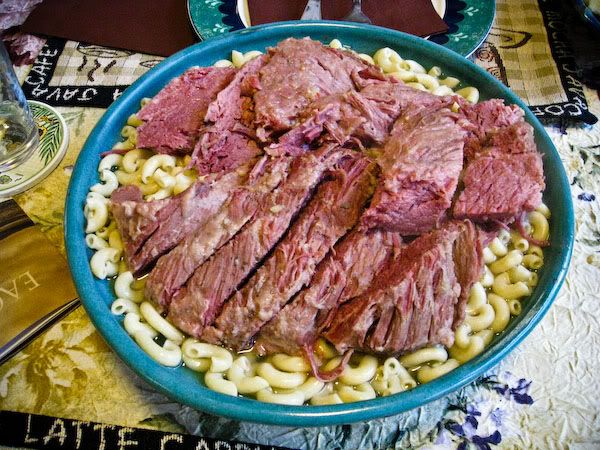 Fred & Annie & Todd:
AND Annie made a cake!
With neighbors like this, no wonder I'm not losing any weight. Oh and Annie said that all the materials that went into dinner, including dessert, only cost $12! And there was enough for another meal for four people. Wow! So back to yesterday because I didn't get a chance to post about our visit to my dad's house. I wanted to see him before he left on a trip to Asia. So we drove up to LA and visited for lunch and dinner and came home. Here's a lunch of SEVEN Chinese dishes for $24! Some fish filet and some kind of Chinese melon with mushrooms: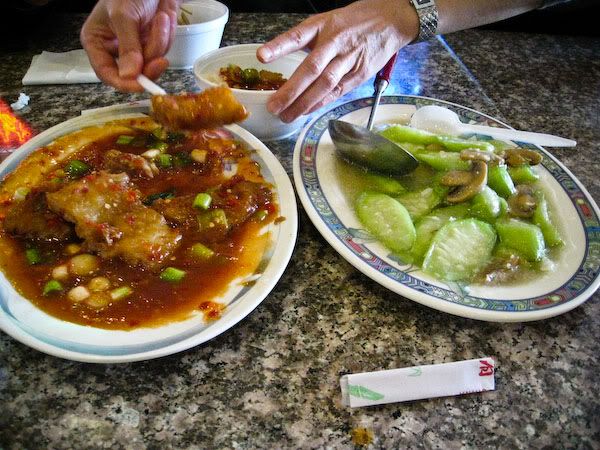 Some clay pot chicken:
Eggplant dish and beef with tomato dish: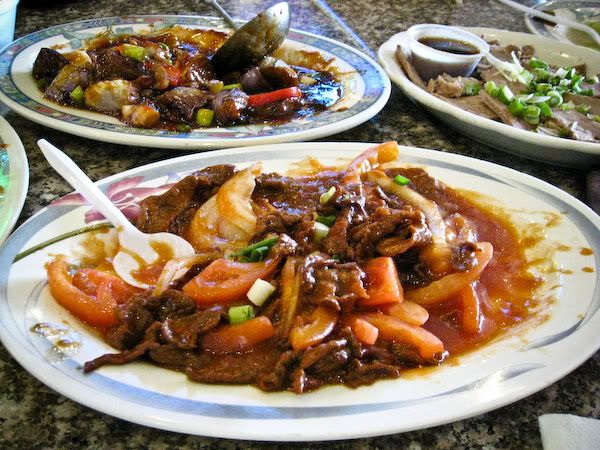 Pork dish, and tofu dish:
My dad and Shelly enjoying lunch:
After lunch we stopped by my dad's office, and there were lemon trees and orange trees there. They wanted Todd to pick some off the trees because he's tall and has long arms.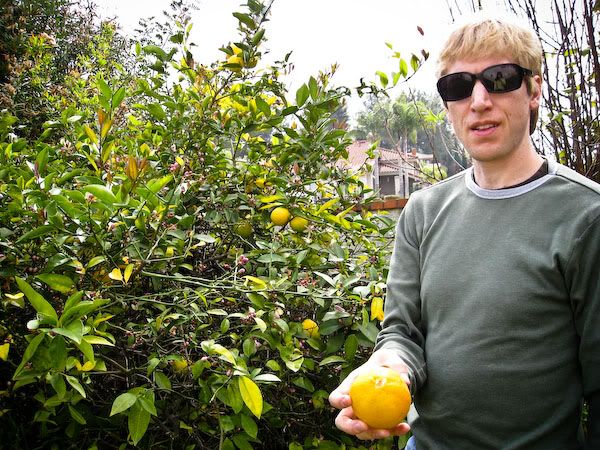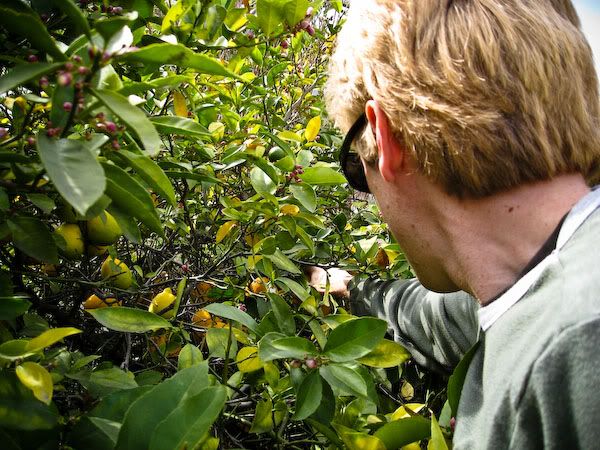 The orange tree had these beautiful and VERY fragrant blossoms going on:
The highlight of a dinner with leftovers was that Shelly made Todd's favorite Chinese dessert, sweet red bean soup! Todd was so excited, LOL.
There's rice balls filled with sesame and peanut paste. Very tasty!