Ever have one of those days when there's so much life and love that it's just busting at the seams? Yesterday was one of those days. Our next door neighbor Fred turned 60 years old, and all his peeps came to celebrate with him. And when Fred & Annie put on a party, THEY PUT ON A PARTY! So, after our eight mile run yesterday, we hurried home and took showers and cleaned ourselves up. I had balloon duty!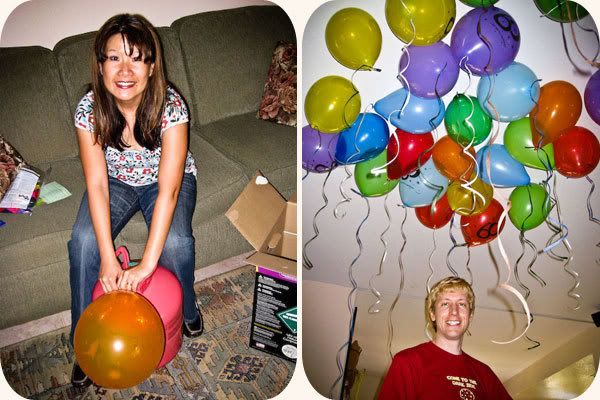 The amount of food that Annie got together was... incomprehensible. I bow down to her party cooking prowess! She did order some of the food from
L&L Hawaiian Barbeque
, but she cooked most of it. ~WOW~
Vegetarian and meat lumpia (my favorite Filipino food!)
Saffron rice
All kinds of nuts
Olive goodness
Salad
Chinese sesame crackers
Chorizo cheese nachos
Fruit salad
Pancit noodles (Filipino) and BBQ chicken (Hawaiian)
Baked gnocchi and veggie lasagne
Sausages
Meffuleta sandwiches
In addition, Annie labeled all of the food so we knew what we were pigging out on. She's very organized! The amazing Annie, doing the "Vanna White":
Besides the main dishes, there was a side table of good eats:
Heading over to the next room, the desserts:
Look how awesome these party favor chocolates are!
Heading over to the coffee table: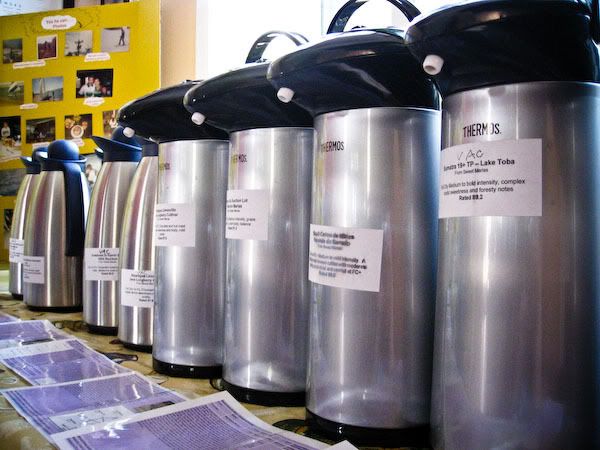 Yes, I'm serious. Fred really is a coffee nut, isn't he? But hey, we all get to benefit, so no complaints from me! Here are some of the labels closer up. Fred actually printed out a menu to hand out to guests.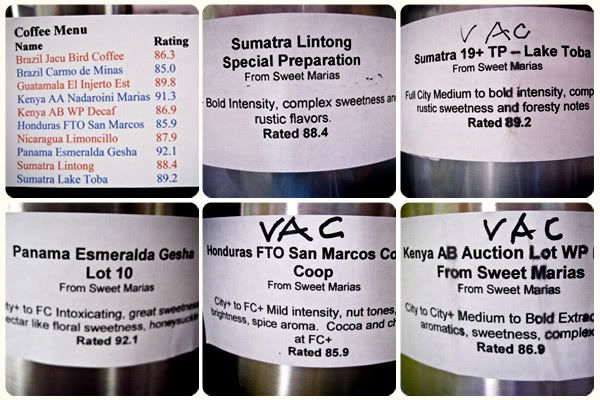 Above the dessert table, we all enjoyed this "Wall of Fred":
This one is even funnier. Annie made a panel of "Yes He Can" photos of Fred doing stuff like skiing with a gorilla suit on, riding motorbikes, sailing, etc.
Fred is an engineer. This is one of a number of patents that he owns:
At one point, some of Fred's friends brought in a well-designed and engineered "gift" for Fred. I present, the Geriatric Toilet: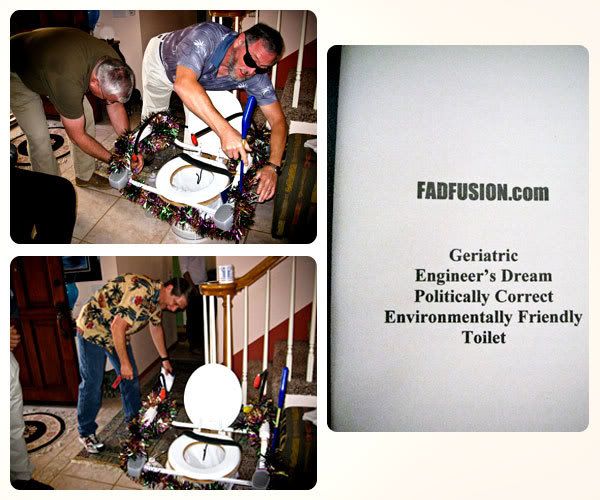 It comes complete with remote control sounds of toilet enjoyment, and the engineering manual. Fred was super-stoked to try it out. Ok, now onto the main topic of conversation of the party: the heralded Bird Poop Coffee. I present, the
Brazil Jacu Bird Coffee
:
Yes, the Jacu bird in Brazil eat the ripe coffee cherries and poop out the beans. They are then collected, cleaned, and dried. The owner of the farm considers it a form of natural selection of beans, whereby the birds pick the best beans to eat. The Bird Poop Coffee offered endless entertainment as Fred's friends jockeyed for position for a taste:
(Psst... I used Peppermint's
Macchiato Lightroom Preset
on these. I rather like how they turned out.) Of course, any good party has a wild party animal who livens up the party for everyone:
Andy with Fred. Andy is a huge connoisseur of coffee as well, and performed barista duties during the party:
Yvonne with Andy. Yvonne actually has a coffee cart in front of Kaiser Permanente on Claremont Mesa Blvd. She is a high-caliber barista beloved by many who travel far and wide for the pilgrimage to Yvonne's cart.
One of the highlights of the afternoon was when
Jennifer
arrived. She is a hula/Tahitian dancer and she's so graceful and absolutely fabulous. We were enthralled as we watched some hip movements that seemed to take her joints out of place.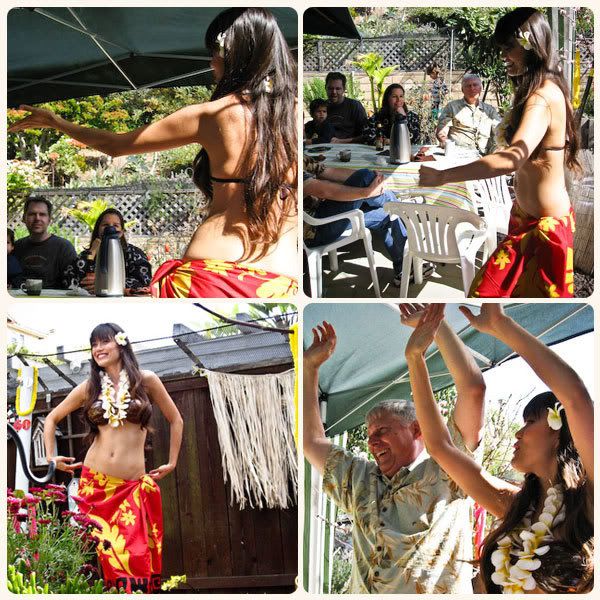 Sweet Annie secretly took six lessons from Jennifer, and together they performed a hula dance to Elvis Presley's "Blue Hawaii": Afterwards, there were hugs of appreciation of such a sweet and fun surprise: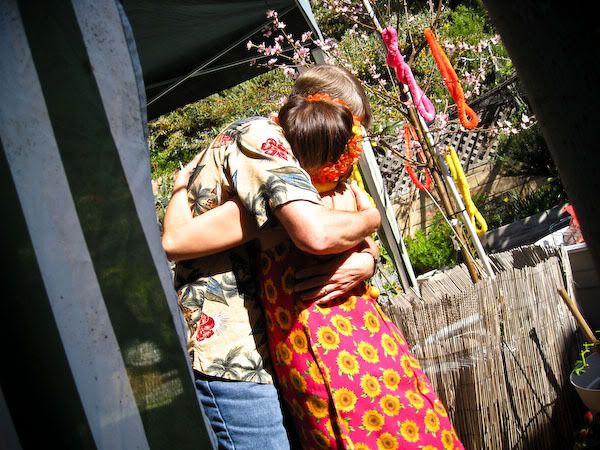 Fred & Annie with Jennifer:
Annie is dragging me to Thursday night hula lessons with Jennifer now. I can't wait. I already hurt my neck and shoulder from pilates. Can't wait to get my hips out of joint from amateur hula dancing. Yikes! I did get to talk to Jennifer for a while afterwards, and found out that we went to the same church! Not only is she a Christian, but her husband Shawn plays the guitar and used to play at the Thursday night College & Career service. AND Shawn works directly across the street from Todd. AND they live right down the street from us, within a few minutes of walking distance. I was so glad to meet her! Cake time! Check out this incredible birthday cake that has two of Fred's passions on it, coffee, and guitar playing: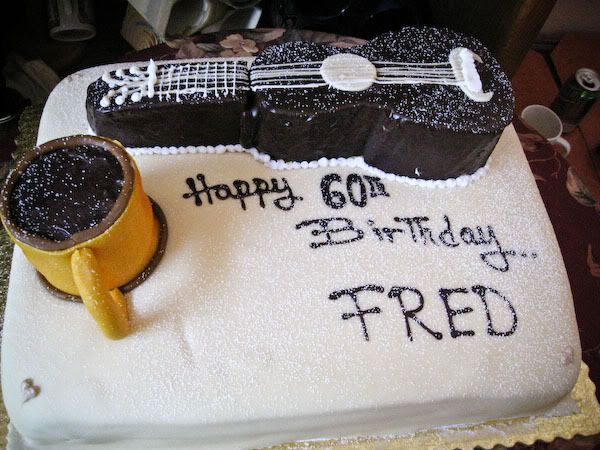 Fred after blowing out some candles. I missed the candle-blowing shot! :(
Todd helping Annie with the cake:
Lastly, Fred got some awesome gifts from his friends. Some were gag, some were not. This was of the gag variety:
An oatmeal box that turned out to be prune juice inside. Useful. Needless to say, this was a party to remember. Here's to Fred! Oh and I almost forgot my photo of today!
We went to AJ & Meera's church today, and to their house afterwards for lunch. Meera made taco salad and it was super delicious! Then Todd helped AJ with some computer programming homework. I love hanging out with them. :)